Cannelloni
Ingredients for 4 people:

300 g lean veal and pork - 100 g chicken breast - 1 chicken liver - 2 onions - 1 ripe tomato - 1 garlic - 1 small cup of brandy or similar, and another of cooking wine - Olive oil - 2 slices of bread (remove the crust) - 12 cannelloni slices - 125 g cheese that melts well like - Emmental - 25 g butter - 1 small tin of truffle. FOR THE BÉCHAMEL: 30 g butter - 30 g flour - 1 L milk - Salt, white pepper and nutmeg



Meat dishes
23 November 2018
Share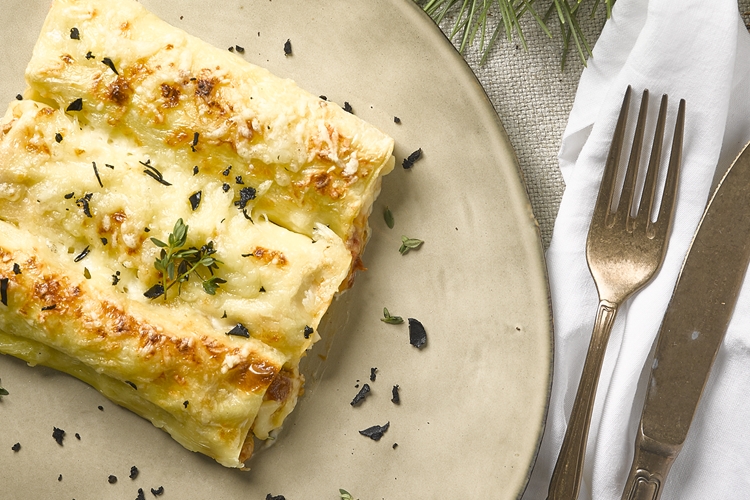 PREPARATION
We can use some helpers to dice up all the meat and the other ingredients.
1. Put a little oil into a pan and brown the diced meat. When brown, we add the sliced garlic, grated onion and cook for 5 minutes on a slow heat. We add the wine and brandy, and leave until it is reduced.
3. Then we add the liver and cook for another couple of minutes, we add the grated tomato and cook until concentrated.
4. We remove from the heat and add the breadcrumbs soaked in milk. We pass all the mixture through the mincing machine, season to taste and put on one side.
5. We boil the pasta sheets, dry them with a cloth and stuff each sheet with the meat mixture we had put on one side.
6. To make the béchamel, we heat the butter in a pan, add flour and stir for 1 minute; then we add the milk at room temperature, we season with salt, white pepper and nutmeg, and we cook for 20 minutes on a low heat, stirring now and again.
7. We spread béchamel on the base of an oven dish, we fill it with cannelloni, cover with béchamel and sprinkle with grated cheese and a few knobs of butter.
8. We put it in the preheated oven at 180º (without air) for 20 minutes, and just before serving, sprinkle with laminated truffle.