Christmas Soup: Southern area version
Ingredients for 6:

½ hen - ½ chicken in quarters - 4 pork backbones - 1 leg of pork cut in half or trotter - 2 veal bones from the knee part - 1 ham bone - 2 black butifarras (sausages) - 2 large peeled onions, cut into quarters - 2 peeled carrots, cut into quarters - 1 chopped leek - 1 peeled turnip, cut into quarters - 1 peeled parsnip, cut into quarters - 1 chopped celery stick - 2 or 3 large potatoes - 250 g dry chickpeas (leave to soak the night before) - 1 bay leaf - Meat balls - 240 g noodles



Meat dishes
29 November 2018
Share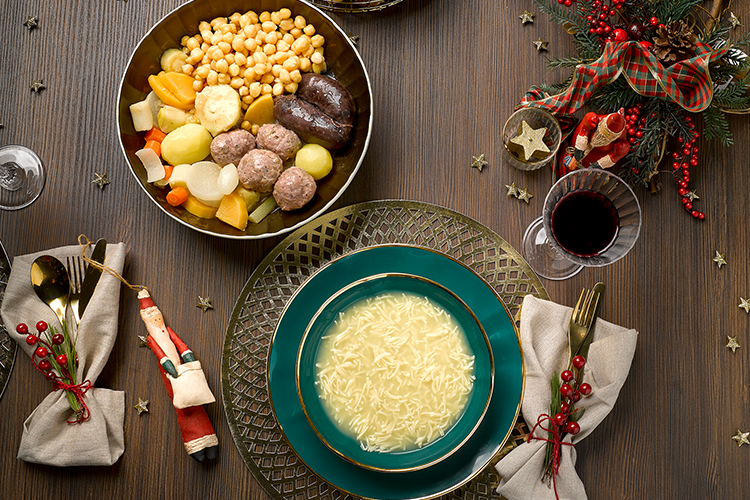 PREPARATION
Before we start to prepare the stock, we put the chickpeas in a mesh so it will be easier to remove them from the pan. Now, we put water in a very large pan and bring it to the boil. We add the chickpeas we have left soaking overnight, together with the bones and all the meat except for the two butifarras (Catalan sausages).
2. When the water comes to a boil again with all the ingredients, we skim off the fat that comes to the surface. We lower the heat and leave it to simmer for about two hours. We add salt, and the carrots, leek, parsnip, onion, celery and turnip. We allow the stock to boil and add more water when and if necessary. The water we add must be boiling.
3. After about thirty minutes, we will remove the chickpeas, all the meat, except for the hen, which takes longer to cook, and the vegetables from the pan. Now we add the potatoes, cut into large pieces, and the meat balls to the stock. We must make sure there is sufficient stock and if necessary add more boiling water. We leave it to boil for about 20 minutes.
4. Finally we add the two butifarras to the pan, after pricking them with a fork so they do not break, and leave them to boil for another 10 minutes. We sieve the stock very carefully and we make a soup with the noodles. To serve, we put the vegetables, potatoes and chickpeas in one serving dish, and all the meat, meatballs and butifarras in another dish.