Diced marinated salmon with soya
Ingredients for 4 people:

500 g fresh salmon. MARINADE: 50 ml soy sauce - 50 ml mild olive oil - Juice of 1 orange - Freshly ground salt and pepper - 1 grated garlic clove - Pinch of grated or powdered ginger. AVOCADO SALAD: 2 peeled and laminated avocados - 1 spring onion - Sesame



Starters
26 November 2018
Share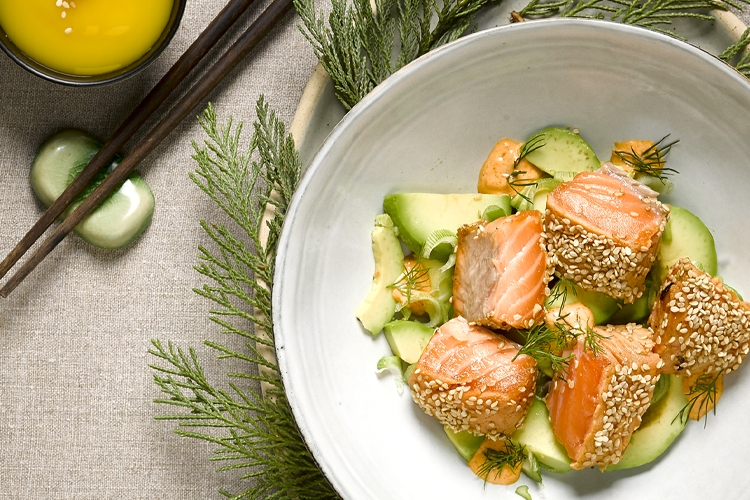 PREPARATION
It's always good to have someone to prepare the ingredients we need. In this case, the helpers can dice the salmon and put all the marinade ingredients in a bowl.

1. After submerging the diced salmon in the marinade, we cover and leave in the fridge for 20 minutes.
2. Meanwhile, we can prepare the avocado salad, laminating the avocados and the spring onion. Then we rub the onion with a bit of salt, washing it afterwards with cold water.
3. We take the salmon out of the fridge, drain it and dip it in the sesame.
4. We sear it well on all four sides on the grill or in a very hot frying pan, and then we cook it to the desired point.
5. We mix the avocado, onion, a bit of marinade and stir well. We will use this mixture as a bed to put the salmon on when serving on the plate.
Tip: If we add mayonnaise to the remaining marinade, we will get a very tasty sauce for dressing.