Duck magret à l'orange
Ingredients for 4 people:

2 duck breasts (magret) - 20 g brown sugar - 4 g freshly ground salt and pepper. FOR THE SAUCE: 300 ml orange juice - 75 g brown sugar - 1 tbsp. cornflour - 2 table oranges - 4 g salt flakes and freshly ground pepper to taste. FOR ACCOMPANIMENT: 1 mesh bag of onions - Grated peel from 1 orange - Pinch of ground pepper



Meat dishes
26 November 2018
Share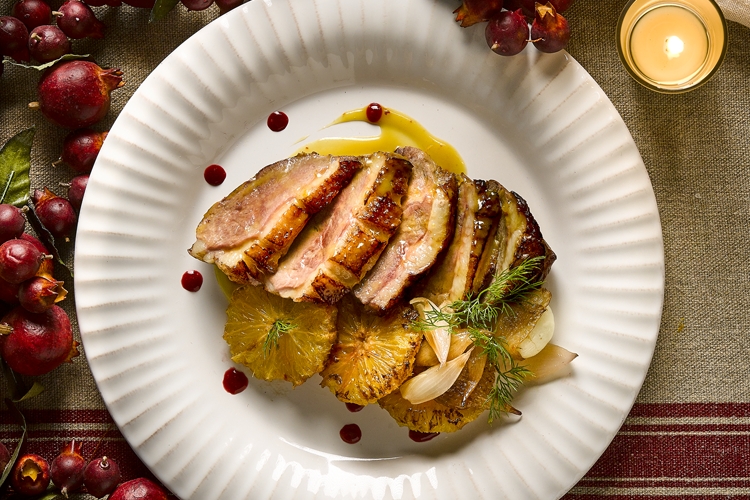 PREPARATION
First of all, we get the group organised! While some weigh the ingredients, others can peel the onions, to advance the work.
1. We take the duck breast out of the fridge 30 minutes before we prepare it and we preheat the oven at 200º.
2. For the sauce, we put the orange juice in a pan with the brown sugar, a pinch of salt and pepper, and boil on medium heat for 5 minutes. We add the previously diluted cornflour, stir and leave to reduce until it becomes slightly syrupy. We season the sauce to taste. We add the well-peeled oranges cut into slices and leave to stand for 15 minutes.
3. Then, we score the duck with a knife, making diamond-shaped cuts on the fatty part, we season and leave to stand for 10 minutes. On a very hot grill, we sear the duck on its fatty side first. We remove any excess fat it gives off and reserve it. We leave it for 2 minutes and turn it over, we cook for another minute and put it into the oven, after sprinkling with brown sugar and a bit of sauce. We roast it for 5 minutes. We take it out and leave to stand for 10 minutes before carving it.
4. Meanwhile, we sauté the seasoned onions on a low heat for 5 minutes, with a bit of the fat we have previously reserved.
5. We serve the carved magret with the sauce, we add the oranges after frying in a hot frying pan for 1 minute, and sprinkle the food on the plate with salt flakes, pepper and orange zest.