Homemade ring-shaped pastry with cinnamon
Ingredients:

8 g bread yeast - 20 ml warm water - 120 ml warm milk - 45 g fine brown sugar - 50 g melted butter - 335 g strong flour - 2 eggs - Juice of 1/2 lemon - Pinch of powdered cinnamon - Mild olive oil for frying



Desserts
19 November 2018
Share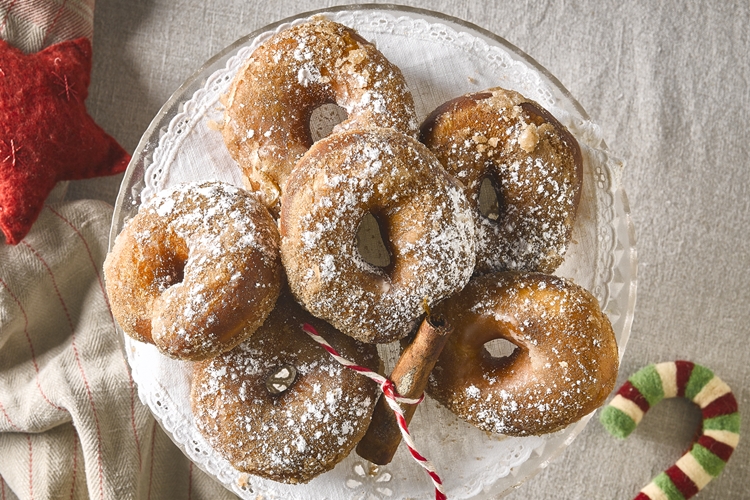 PREPARATION
This recipe is simple, although it is time-consuming as there are long waits between steps.
For it to take us less time, we can give a rolling-pin to a family member to help us with the dough.

1. We mix the bread yeast with the warm milk and water. We add 15 g sugar and leave covered in a warm place for 10 minutes until bubbles appear on the surface. When we see the bubbles, we add the melted butter, the sieved flour, eggs and another 15 g sugar to the previous mixture. We stir until it forms a sticky dough.
2. We also make a mix with the remaining sugar (15 g), the lemon juice and cinnamon. We stir it well and add it to the dough.
3. We put the dough on a slightly floured surface and ask our helper to knead it until it is smooth.
4. We put the dough in a bowl that has been greased with butter, we cover with a clean, damp cloth, and leave in a warm place for 45 minutes until it doubles in size.
5. Once again, we spread the dough on a floured surface and knead for five minutes. Then we roll it out until it is 1 cm thick and we cut into circles with a dough-cutter or a broad glass. Then we make a circle in the middle with a dough-cutter or smaller glass.
6. We put the ring-shaped pastries on a try and leave in the closed oven for 30 minutes, until they rise.
7. We put oil in a pan and fry the dough for one or two minutes until they are brown.
8. We put them on kitchen paper to remove excess oil, immediately sprinkle with sugar and, enjoy!