Hot meals: dishes to warm you from the inside out
Enjoying hot food is ideal now that the temperatures are beginning to drop. Today we bring you some delicious dishes to warm you up. Don't miss out!

on today's menu
Share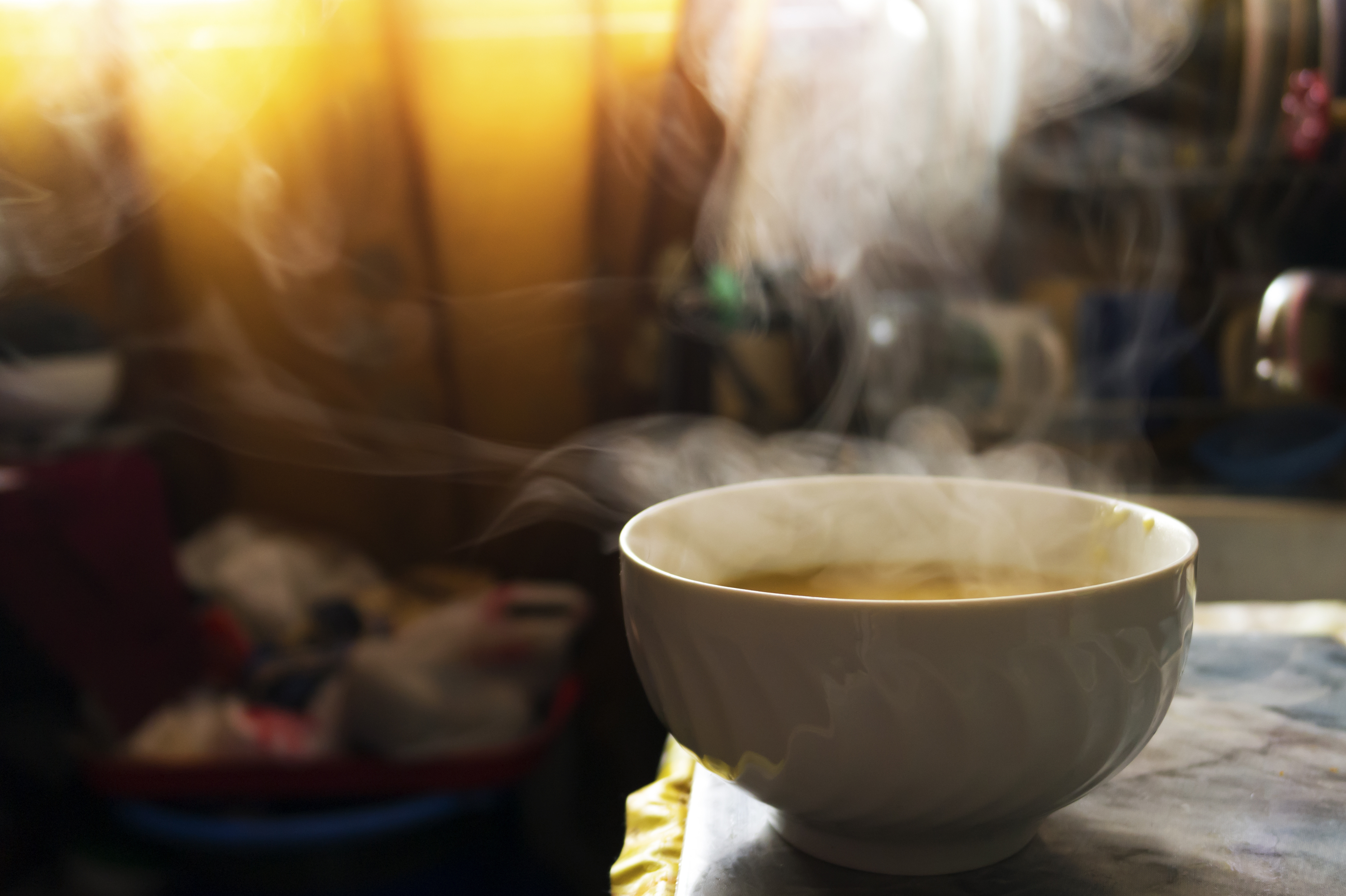 The Christmas holidays have come to an end and we have to accept that we are in the middle of winter - and that means counteracting those grey and cold days. Now as always we can rely on good food to provide some comfort - both for their warmth and for what they represent. Certain dishes remind us of our grandmothers, who would go out to the vegetable garden and with just a handful of ingredients make the most delicious of delicacies. Stews that slowly come together with the addition of different seasonings, which vary from house to house and tradition to tradition - but always made with a lot of love.
Comfort food takes centre stage - dishes such as soups, creams, stews or hotpots, with plenty of pulses and vegetables. The possibilities are endless: from restorative but light soups to imaginative and energetic stews with a wide range of ingredients. And let's not forget the chestnuts, almonds or walnuts; and among the fruits, oranges in all their splendor.
Here we bring you some suggestions for starters, main courses and desserts to brighten up those leaden days. Starting with a version 2.0 of the popular gazpacho, adapted for the winter season and with the interesting addition of the citrus flavour thanks to the addition of orange. A simple and tasty recipe for when you don't have much time for lengthy preparation. A main course with the magic of two starters. This recipe has two distinct parts: on the one hand, the chicken, which can be enjoyed alone, as a light starter to which a delicious chestnut sauce can be added; and, on the other, some sautéed mushrooms of different varieties. Put these two recipes together and you get a hearty and satisfying main course.
Along with these delicious dishes that warm our body and soul, we have a comforting dessert option that is a real delight for the senses: a moist and very tasty sponge cake.
GAZPACHO 2.0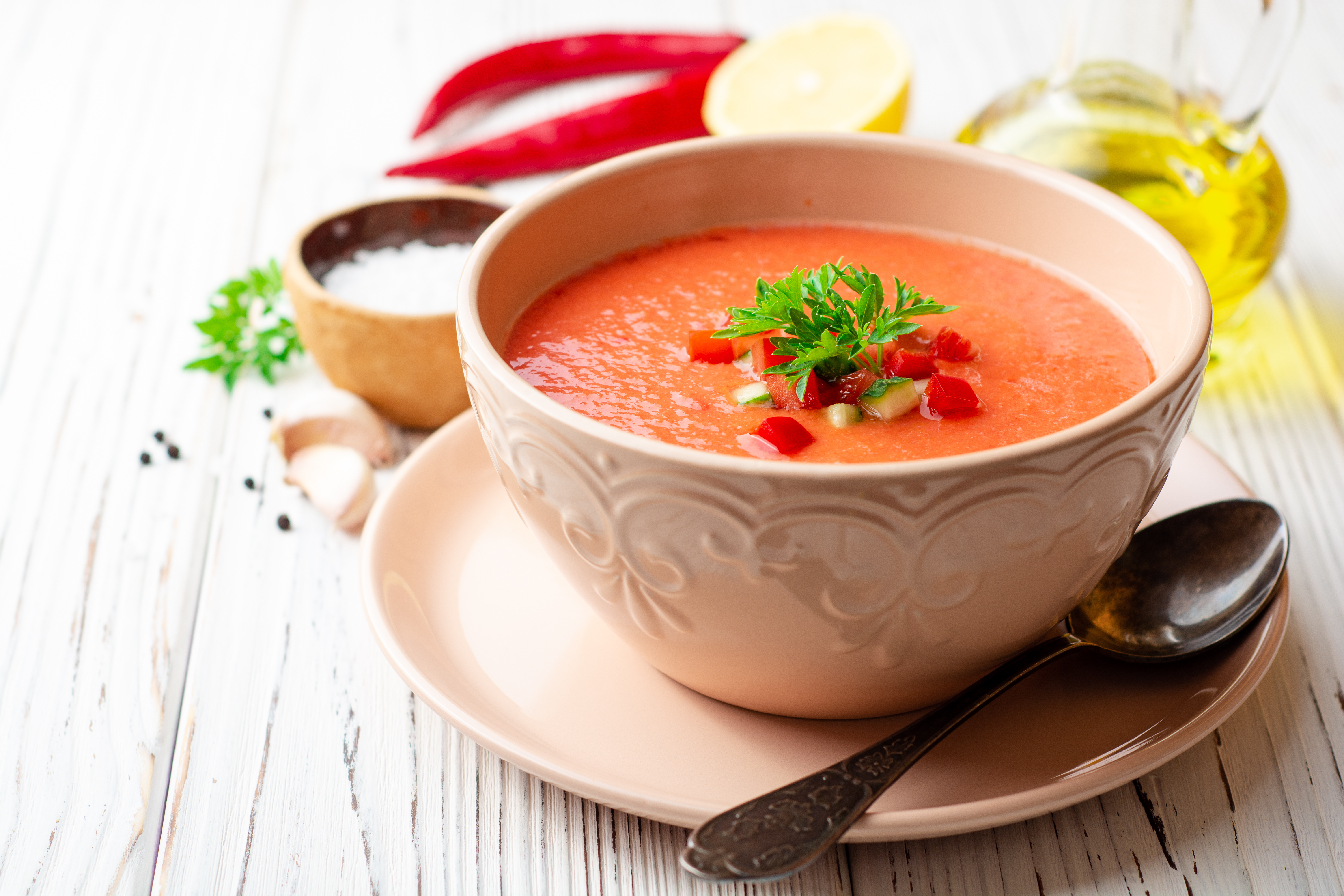 Ingredients (4 people):
- 240 g de cottage loaf
- 240 g roasted red peppers
- 1 garlic clove
- 2,5 g of sweet paprika
- 40 ml of extra virgin olive oil
- 120 g orange
Method:
1. Cut the bread into 1 cm slices, place them on a baking tray and toast them. Rub them very lightly with the peeled garlic and set them aside on the tray.
2. Chop the peeled roasted peppers into small pieces and mash them with a little salt.
3. Boil a litre of water in a pan and add the oil, paprika and pepper paste.
4. When it starts to boil, add the orange juice, stir for 1 minute and remove from the heat.
5. Place the bread in deep plates and pour the broth on top until they are well soaked. This can also be served with the bread on the side, so that each diner uses the amount they wish.


CHICKEN WITH CHESTNUTS AND MUSHROOMS
Ingredients (6 people):
- 1 kg of chicken in pieces
- 400 g of cooked chestnuts
- 400 g of assorted mushrooms
- 500 g tomatoes
- 6 garlic cloves
- 50 ml white wine
- 10 ml de cognac
- 100 ml of homemade chicken broth
- 1 sprig of parsley
- 1 sprig of thyme
- 1 sprig rosemary
- 40 g of bread
- 20 g de flour
- 60 ml of extra virgin olive oil
- Salt and pepper
Method:
1. Salt and pepper the chicken pieces, coat them in flour and brown them in a saucepan with half the oil. Remove them and set to one side.
2. Wash the mushrooms, cut them into medium-sized pieces and fry them in a pan with a tablespoon of oil, plus 3 finely diced cloves of garlic and chopped parsley. Season them. Increase the heat, pour in the cognac and let it reduce. Set aside.
3. In another pan with the rest of the oil, sauté the remaining sliced garlic cloves, then remove them and fry the slices of bread. Let the fried bread drain on absorbent paper and then mash it in the mortar with the garlic, until you get a fine paste.
4. Wash and grate the tomatoes, and fry them in the saucepan where the chicken was browned, until you get a slightly thickened sauce (10-15 minutes). Add the wine, the stock, the herbs and the fine bread and garlic paste and cook for 5 more minutes.
5. Add the chicken pieces and cook over a low heat for 45 minutes, with the pan covered. Add the mushrooms with their juice and the previously boiled chestnuts without skin, and cook for 10 more minutes with the pan uncovered.


CHOCOLATE, GINGER AND PEAR MUG CAKE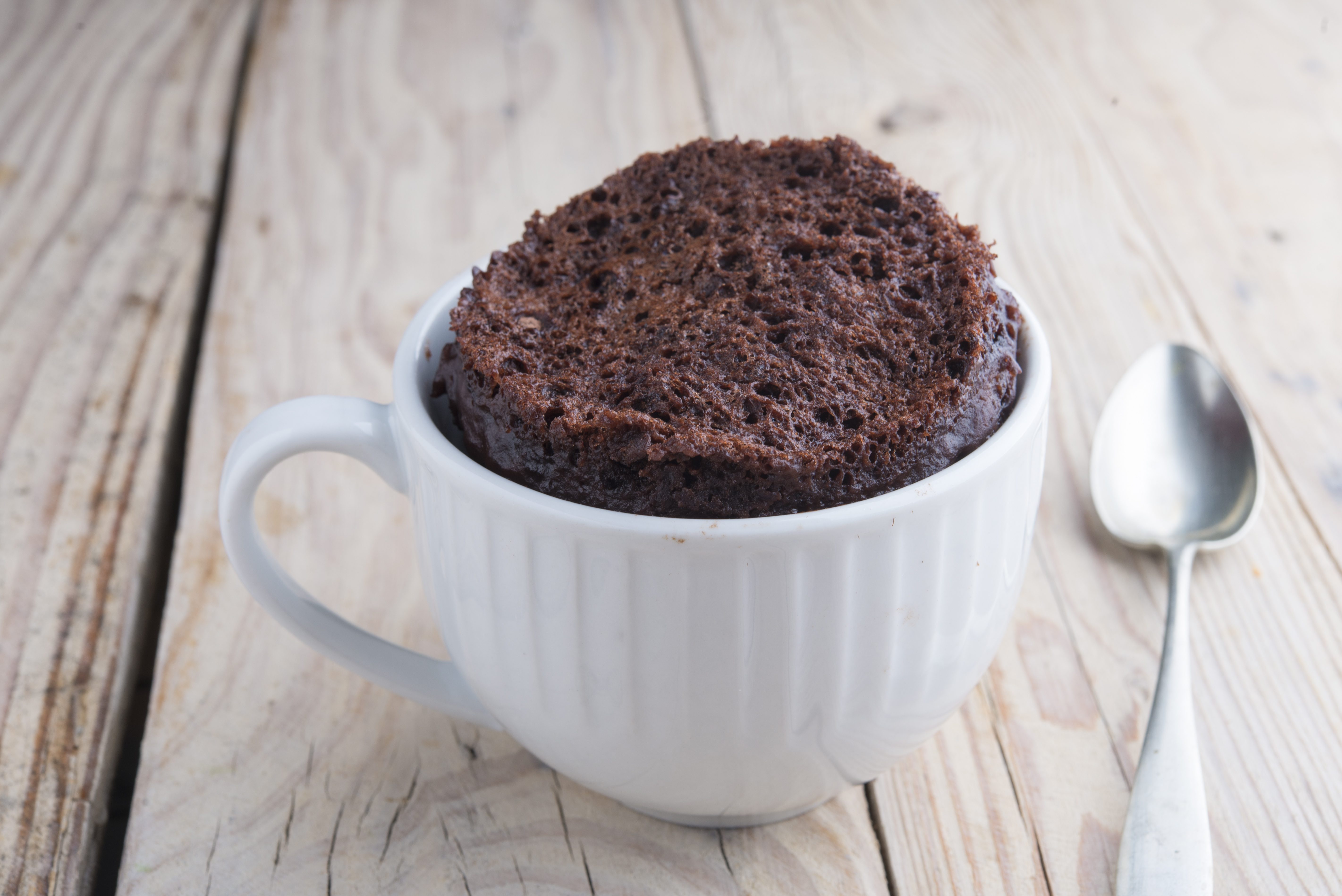 Ingredients (1 person):
- 10 ml of extra virgin olive oil
- 20 g of dark chocolate (for desserts)
- 5 g sugar
- 20 ml semi-skimmed milk
- 2 egg whites
- 30 g wheat flour
- 3 g baking powder
- 3 g ground ginger
- 120 g pear (ripe)
Preparación:
1. Place the chopped chocolate and the oil in a large mug, with a capacity of at least 300 ml. Put it in the microwave and heat it for 30 seconds at maximum power. Remove, stir and check if the chocolate is melted. If not, repeat, but take care not to over cook to avoid burning the chocolate.
2. Add the sugar to the hot and melted chocolate, and stir until dissolved. Then add the milk and stir again. Whip the whites into peaks and add them little by little, stirring gently so that they do not lose air in the process. Add the flour, baking powder and ground ginger and stir gently.
3. When you have obtained a homogeneous dough, peel the pear and place it in the centre of the mug, on top of the dough. Do not push it, just place it on top, to prevent it from sinking excessively with cooking. Put it in the microwave and cook it at 600 W power for three minutes. Remove it and let it rest for a few minutes before consuming.