Marinated lamb shoulder With vegetables
Ingredients for 4 people:

4 suckling lamb shoulders - 80 g lard - 1 L water and 10 g salt - 100 ml white wine and 300 ml water - Aromatic herbs: rosemary, thyme, oregano (a pinch of each) - A few cumin seeds and freshly ground pepper - 4 garlic cloves - 100 ml mild olive oil - 100 ml apple vinegar - 50 g brown sugar FOR ACCOMPANIMENT: 200 g broccoli, bimi or kale (chef's choice) - 50 g raw almonds - 100 ml olive oil - 100 g butter - 4 g salt flakes and freshly ground pepper



Meat dishes
19 November 2018
Share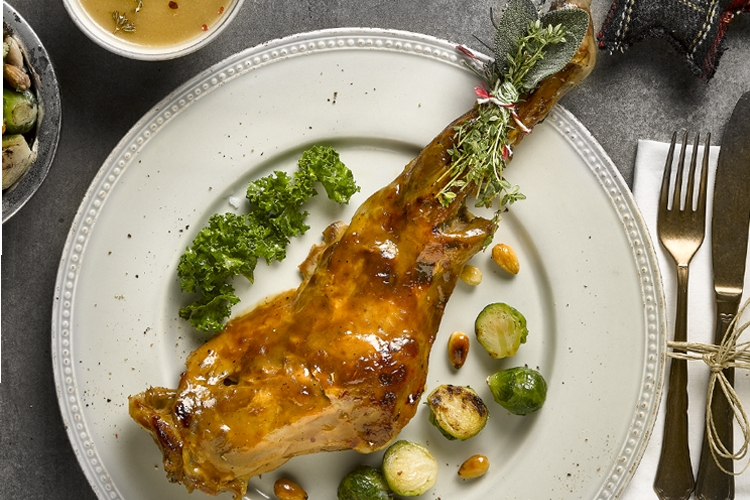 PREPARATION
Apart from weighing all the ingredients, your helpers can prepare the marinade by crushing the aromatic herbs, cumin and garlic in a mortar. They must mix it all well with olive oil.
1. We put the lamb shoulders in a pan with 1 litre of water and 10 g of salt. We let them to stand for 1 hour and dry them well.
2. We heat the apple vinegar with the sugar on medium heat for 5 minutes. We turn off the heat, add the mortar mixture and let it stand until it cools down. When cold, we add the shoulders to the marinade and leave for another two hours.
3. We preheat the oven at 170º. Meanwhile, we spread the lard on the shoulders, put them in an oven dish with the marinade, white wine, water and ground pepper. We sprinkle juice from the tray onto the shoulders every 20 minutes and when the meat starts to come off the bone and brown (approx. 1 h and 45 min.) it will be ready!
4. Meanwhile, we prepare the accompaniment. We melt the butter with the oil in a pan that we can put into the oven. We add the raw broccoli and almonds and bake for 10 minutes.
5. Lastly, we serve the shoulder with the seasoned vegetables and the cooking juice. Now everyone can sit down at the table!