Pork tenderloin in puff pastry
Ingredients for 4 people:

2 pork tenderloins, 500 g each one - 600 g puff pastry - Freshly ground salt and pepper, 1 beaten egg for basting. FOR THE FILLING: 200 g chopped onion - 250 g very finely chopped mushrooms - 120 ml cooking cream - 50 ml brandy or similar - One pinch of chopped parsley - 30 g butter - 100 g pâté de Campagne. FOR ACCOMPANIMENT: Cauliflower, cream and grated Emmental cheese - Mushrooms stuffed with sundried tomatoes



Meat dishes
19 November 2018
Share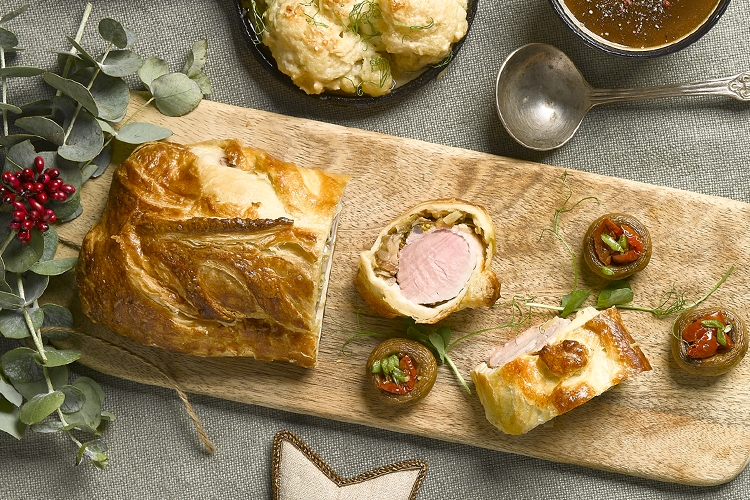 PREPARATION
Our helpers can help by decorating the puff pastry with Christmas motifs or letters.
1. We seal the previously seasoned meat in a very hot frying pan. We wrap in kitchen paper and let it stand in the fridge.
2. We melt the butter on low heat and add the onion. We toss in the finely chopped mushrooms and sauté for a couple of minutes. We add a little brandy and cook until it evaporates. We remove from the heat, season to taste and add the chopped parsley and pâté.
3. We roll out the puff pastry and cut into four rectangles of the size of the tenderloin, leaving 5 cm on each side. We put the mixture we have prepared on one half of each rectangle. Then we place the tenderloin on top, we cover with another rectangle of puff pastry and baste with the egg. We put it in the freezer for 10 minutes before baking.
4. We put it in the preheated oven and bake at 180º until the puff pastry starts to brown (about 20 minutes).
5. Meanwhile, we boil the cauliflower in salted water. We drain it and put it in an oven dish. We sprinkle with cream, salt, pepper and grated cheese.
6. Finally, we stuff some mushrooms with sundried tomatoes and bake everything together with the tenderloins.