Rabbit with mushrooms and sundried tomatoes
Ingredients for 4 people:

1 chopped rabbit - 1 onion - 4 garlic cloves - 1 tray of mushrooms or Portobello - 120 g sundried tomatoes - 20 g pine seeds - 150 ml white wine - 100 ml olive oil - Freshly ground salt and pepper - Rosemary - 1 lemon



Meat dishes
21 November 2018
Share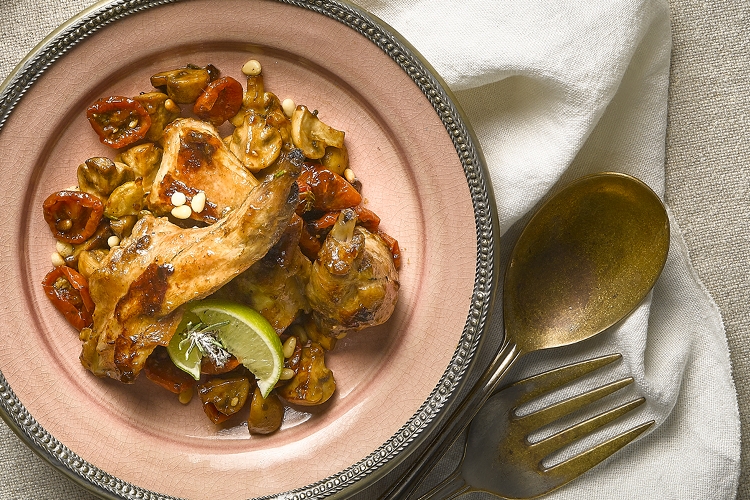 PREPARATION
This recipe is a classical, simple and very tasty dish. Kids can participate by weighing the ingredients and helping to prepare the mushrooms, removing part of the stalk, rinsing them quickly and drying them well. They can all feel like real Chefs at home!
1. Meanwhile, we heat the oil in a pan and sauté the rabbit well. When the meat starts to change colour, we lower the heat and add the chopped onion and coarsely chopped garlic cloves. We let the onion sweat and when it starts to brown, we pour the white wine over it.
2. When the wine has totally evaporated, we add the chopped mushrooms and sundried tomatoes. We cover with water or stock and sprinkle with salt, rosemary and a pinch of freshly ground pepper.
3. Then we cover the pan and put it in the preheated oven at 180º for 35 minutes.
4. Finally, we sprinkle with pine seeds and cook the mixture for another 5 minutes.
5. Now we only have to arrange it on the plates, decorate with lemon slices, and we're ready!