Tenderloin with honey in puff pastry with sweet potato purée, and parsnip and sweet potato chips
Ingredients for 4 people

2 pork tenderloins with honey, 1 fresh puff pastry dough, 200 g paté, 1 egg, Salt and pepper.



Meat dishes
5 December 2019
Share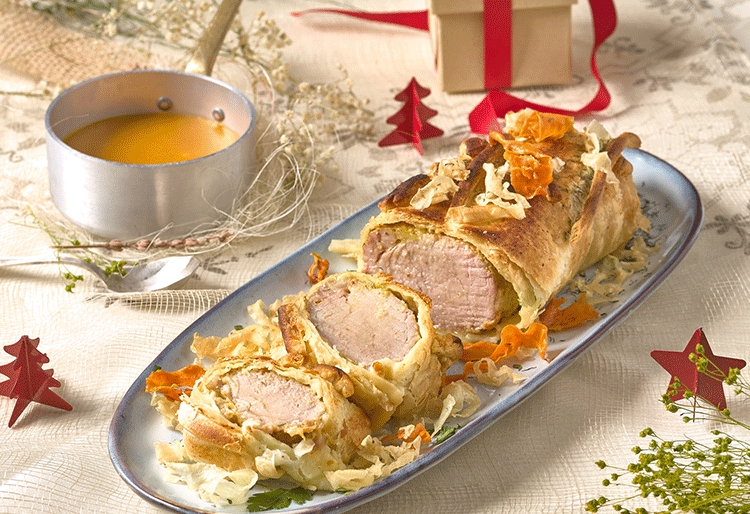 INGREDIENTS FOR THE SWEET POTATO PURÉE
- 400 g sweet potato
- 100 g butter
- 100 ml cooking cream
INGREDIENTS FOR THE CHIPS
- 1 sweet potato
- 1 parsnip
- Vegetable oil
PREPARATION
1. Preheat the oven at 200º. For the purée, place the whole sweet potatoes in an oven dish and bake at 200º for about 25 minutes. Leave to stand.

2. Then, peel them and mash them with the butter and cooking cream. Season and leave.
3. For the tenderloin, cut the puff pastry into two parts, spread paté on them and place the tenderloin on top. Wrap with the dough.
4. Baste the puff pastry with the egg and oven-bake at 200º for 20 minutes.
5. To make the chips, cut the sweet potato and the parsnip into very fine strips, using a peeling knife. Wash, dry and fry them in vegetable oil at medium heat until they are crunchy.

6. Serve the purée with the chips and the sliced tenderloin.