Veal tenderloin with blue cheese
Ingredients for 4 people:

1 kg veal tenderloin cut into 8 thick fillets of approximately 120 g each - 50 g butter - 4 g salt flakes and freshly ground pepper. FOR THE SAUCE: 150 g blue cheese - 250 ml cooking cream - 100 ml meat stock - Pinch of ground pepper. FOR ACCOMPANIMENT: 300 g carrots - 300 g beetroot - Mild olive oil - Freshly ground salt and pepper - Baked apples with a knob of butter (Golden)



Meat dishes
26 November 2018
Share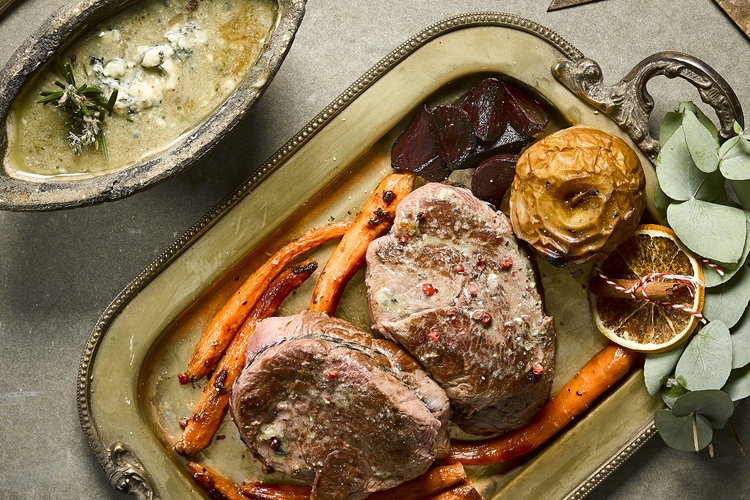 PREPARATION
The helpers can make the sauce, putting all the ingredients in a small pan on medium heat and stirring until consistent. They can also tie the veal tenderloins with string so they keep their shape and for them to be attractive when serving.
1. For accompaniment, we peel the carrots, cut up the beetroot and place them in an oven dish, we sprinkle with olive oil, season and bake for 25 minutes at 170º.
2. We can bake the apples with or without peel (the chef can choose), they only need a bit of butter on each one before baking at 170º for around 35 minutes.
3. We make sure that the meat has been left at room temperature for 20 minutes before we cook it. We sprinkle salt flakes and pepper onto the meat and grill or fry in a hot frying pan with butter until it is done. It is better to melt the butter previously. If you like it well-done, we can put it in a very hot frying pan first (to seal it) and then leave on medium heat for a few minutes making sure it does not burn.
4. Finally, we serve the tenderloin with the carrots, beetroot and apples, accompanied with blue cheese sauce, in the most imaginative way that occurs to us!