Sautéed octopus with mashed potato
Ingredients for 4 people:

4 cooked octopus' legs. FOR MASHED POTATOES: 500 g boiling potatoes - 1 level tsp. powdered garlic - 120 g butter - 120 ml cooking cream - 60 ml milk - Lemon zest - Virgin olive oil, salt flakes and freshly ground pepper - Sweet paprika and hot paprika

Starters
26 November 2018
Share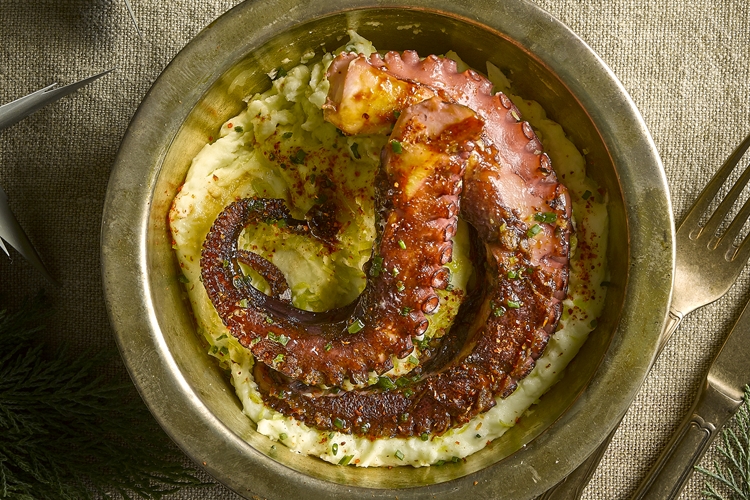 PREPARATION
The first task will be to find highly perfectionist volunteers to ensure that the potatoes are mashed finely.
1. We wash the potatoes and put them in a pan to boil, with skin, with a tbsp. of salt, for 25 to 30 minutes. When we prick them with a knife and they slip, they are ready. Then we drain them, peel them carefully and give them to the helper to pass them through the potato masher.
2. We put the milk and cream in a pan to heat, with the powdered garlic, lemon zest and freshly ground pepper. Do not let it boil.
3. We put the mashed potatoes in another pan on a low heat, stirring from time to time to remove any moisture. We add the cold knobs of butter, stir well and gradually add the cream with the milk.
4. We turn the grill up to a high heat to do the octopus' legs. They must brown, but not dry up. One and half minutes will suffice.
5. We arrange the food on the plates, putting the mashed potatoes on the bottom and then the octopus' legs. We add a splash of virgin olive oil, and sprinkle with salt flakes and paprika. Ready to eat!