Lunch at the beach!
Who hasn't heard that heat takes away hunger? Nothing could be further from the truth, after spending a few hours of sun and sea! That's when our appetite makes itself felt, and sitting on the sand, especially during the holidays, it is easy to be seduced by unhealthy foods...



on today's menu
13 June 2017
Share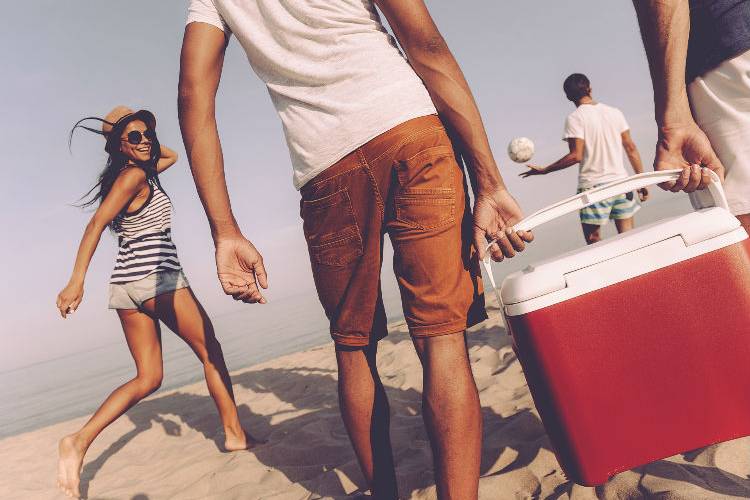 The beach offers endless culinary temptations both in the 'chiringuitos' or seaside restaurants, and in our own refrigerator, where it is often forgotten that health doesn't take a holiday. Our beach basket is filled with sugary drinks, salty snacks, sausages or pastries, with no room for lighter, fresher foods, which are really the most appropriate for this season.
Snacks and beach menus should meet certain basic requirements: be easy to carry, nutritious and healthy while guaranteeing they have been handled and stored properly. We offer some suggestions to accompany your perfect day on the beach with a menu that deserves ten out of ten.
Transporting food
• The refrigerated container should keep the temperature below 4°C with cooling plates or ice.
• It is advisable to try to separate the drinks from the food. When it's hot, we drink more, which means constant opening of the refrigerated bag, with consequent loss of cold.
• Food can be carried in plastic containers or reusable, food specific containers, and drink, in thermal flasks or aluminium bottles.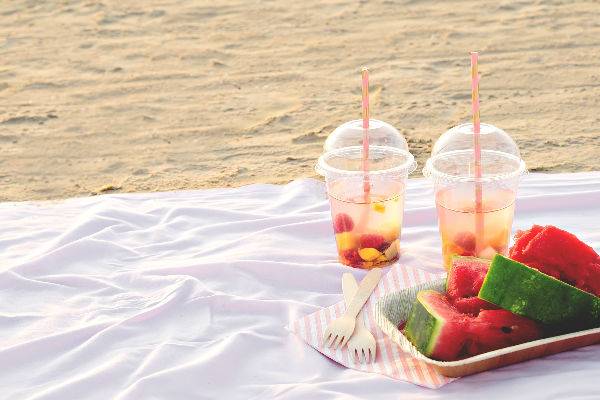 Selecting which foods to bring
The best strategy when choosing foods is to select fresh vegetables and fruits that provide water, minerals, vitamins and a low caloric intake, and opt for the simplest recipes for transporting and eating.
• Cold soups: the seemingly impossible combinations of vegetables and fruits are a surprising, appetising, nutritious and, above all, very refreshing option.
• Salads: combinations of vegetables with potatoes, corn, rice or pasta, nuts or seeds, whose dressing can be prepared beforehand with oil and lemon.
• Pizzas or savouries: it is advisable to opt for recipes with vegetables. They are easy to prepare and to eat.
• Vegetable sandwiches: avoiding, as far as possible, using sauces.
• Vegetable or fruit puree: humus, chickpeas or aubergines and avocado puree are recommended to accompany carrot, celery or cucumber crudités.
• Fruits: on skewers or diced. Watermelon, melon, peaches or plums are the most suitable because they are composed of 80% water, are high in fibre and provide vitamins.
Besides thinking about what food we will take to the beach, we must bear in mind that drinks play a fundamental role in summer. The ideal is to opt for water, lemonade, cold tea or homemade fruit smoothies, which can even be frozen the night before. This makes it easier to maintain their temperature, as they will thaw progressively, but will remain cool.