How to plan the perfect barbecue
The barbecue is the perfect excuse for anycelebration. It is always a good plan to gather around the table and enjoy agood meal with friends or family. The barbecue allows us to prepare, in a verysimple way, meat and fish with vegetables with an exquisite aroma and taste.

on today's menu
Share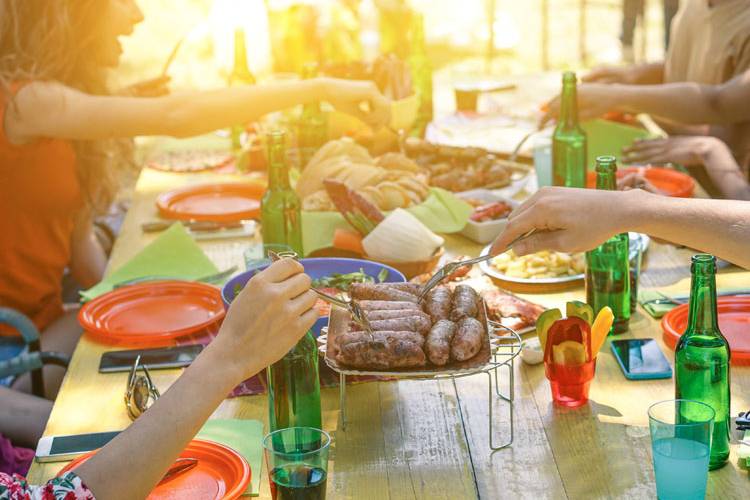 We propose a menu of light and healthy recipes to make in the barbecue.
A good barbecue just needs a selection ofthe best products: meat, fish and vegetables. Plan your shopping list in orderto prepare the best barbecue and become the perfect host. If there is avegetarian on your guest list, don't worry, all the vegetables will bedelicious on the grill!
As for any culinary technique, there is a trick to barbecuing too. Everything counts to achieving an unmistakable flavour: from choosing the wood or charcoal for the fire, to the main ingredient to cook.
Wood offers an exclusive range of flavours. Depending on the tree it comes from it provides a distinctive essence, which gives the food a characteristic flavour. The most frequently used are oak, olive or orange tree, among others. It is important that it is always completely dry, and to let it burn until you obtain good embers, first red hot and then slightly white, which is essential in order to avoid stoking the fire when it comes into contact with the fat from the meat. As for charcoal, it is best to use one of plant origins.
We propose a menu of light and healthy recipes to make in the barbecue.
7 STEPS TO PLAN A GOOD BARBECUE
1. Prepare appetisers, such as some cold dips.
2. Marinade meat and fish beforehand.
3. Calculate cooking times for each food, to serve them all at the same time.
4. To prevent vegetables from drying out, spray them with olive oil.
5. Make side dishes to accompany the main ingredients.
6. Avoid overcooking and letting a dark crust form on the food surface, as it can contain harmful substances.
7. And, as a secret, perfume dishes by placing sprigs of thyme, rosemary or lavender in a space among the embers, without burning them, so that your dishes absorb small touches of scent. You can also add pineapple and boost the flavour of your dishes.