Open window
Win cheques of € 10 and € 20 for sharing your tips and recipes

Home

Home-made degreaser
by Sunsi Andrés
Grease in the kitchen can sometimes stick around even though we have done a deep clean. If this happens to you, try this home-made remedy: mix one litre of water, lemon juice and a heaped tablespoon of baking soda. Spray on to the affected area: stoves, the extractor fan or inside the oven, and leave to act for 5 minutes. Then, simply remove with kitchen towel. The shine will return!
---

Beauty
Soft hair all year round
by Lorena Terrón
Have you damaged your hair a lot this summer? Try bringing the softness back to your hair with this home-made mask. Empty one half of an avocado and mix it with two tablespoons of honey. Stir until it forms a fairly even mixture. Apply it to your damp hair and leave to act for 15 minutes. After this time, rinse it off with warm water.
---

Kitchen
Kitchen cloths, as good as new
by Carmen Roglá
If we leave cloths wet for a long time, they may turn black. To keep them in a good condition for longer, try leaving them to soak overnight in water with a few drops of bleach with detergent. The next day they will be as good as new!

Beauty
Goodbye blackheads
by María Julia Beltrán
If you have blackheads and want to remove them from your face, try mixing four tablespoons of honey with one tablespoon of ground cinnamon. Stir everything until it forms a paste, then apply it on to them. Leave it to act for 20 minutes then remove with warm water. You will see the results in a few days.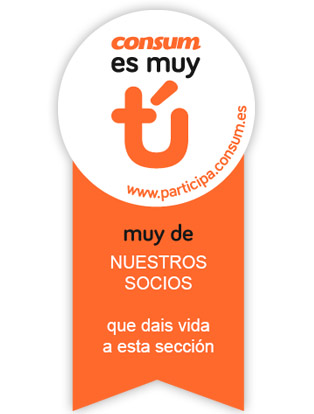 Home
Impeccable collars and cuffs
by Elena Radoselovics
If youput white shirts and slippers in the washing machine but they don't come out aswhite as you would like, pre-scrub the dirtiest areas with a used toothbrushthat has been dipped in a few drops of dishwasher detergent. After this, useyour usual washing machine cycle. You will notice the difference.
See all tips

Cheesecake
by
Ingredients:
6 medium-sized eggs
6 cheese triangles
4 processed cheese slices
2 pots of natural yoghurt
240g baking flour
240g white sugar
1 carton of sour cream
1 sachet of yeast
150g digestive biscuits
15g butter
Recipe:
Preheat the oven to 180ºC whilst preparing the ingredients. Break up the biscuits, preferably with a blender. Heat the butter for 30 seconds in the microwave, then mix it well with the crushed biscuits. When well mixed, distribute it into the base of the detachable cake tin and pop it into the fridge. In a bowl, beat the eggs, add the cheese triangles then mix again and add the processed cheese slices and tubs of yoghurt. Then add the flour and mix again. Next, add the sugar, after you have passed it through a sieve to remove the lumps. Add the cream and mix everything again, finally adding the sachet of yeast. Take the tin out of the fridge and apply the mixture on top of the base. Place the cake into the oven for 30-40 minutes. It's ready when you pierce the surface with a fork and it comes out clean. Leave to cool, then dig in!
See all recipes
See on social networks
On Twitter
Consum reconciles
Our online store reaches one million customers!
Food collection at Consum!
On Facebook
Consum with abandoned animals
Consum amb the fallas!
See all messages