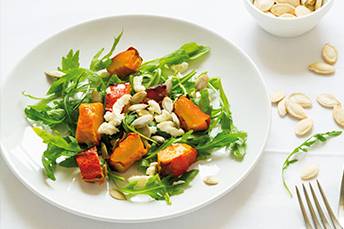 Pumpkin salad with rocket
Ingredients (4 people)
1 kg pumpkin

20 ml olive oil
10 ml balsamic vinegar from Modena
100 g of rocket,
10 g pumpkin seeds
20 g sesame seeds
5 g black pepper
Preparation
Preheat oven to 180 ° C and prepare a tray. Peel the pumpkin and remove the internal seeds and filaments. Cut into 1-2 cm cubes. Mix with olive oil, balsamic vinegar and freshly ground black pepper.
Distributes in the tray and bakes for about 25-30 minutes, stirring halfway through cooking until tender. Let it cool.
Wash and drain the rocket well. Place in a salad bowl or share in deep individual dishes. Add the already cold pumpkin, pumpkin seeds and sesame seed. Whisk all the ingredients together, adjusting the amount of Modena vinegar to taste and serve.
Nutricional information (per serving)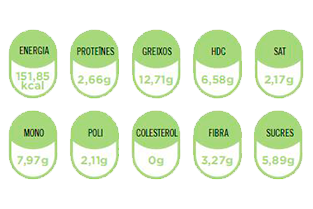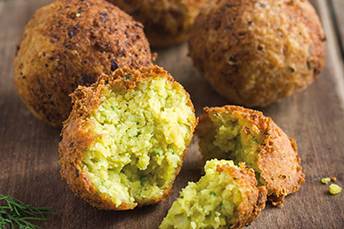 Broccoli florette croquettes
Ingredients (4 people)
500 g broccoli florette
80 g ground bread
60 g chopped white onion
40 g grated
Manchego cheese
10 g of italian herbs
10 g cilantro or parsley
20 ml extra virgin olive oil
1 egg
Salt
Pepper
Preparation
Preheat oven to 200° C and grease a baking dish.
Blanch the broccoli florets for 1 minute in boiling water and then plunge them into freezing water for 3 minutes.
Cut the broccoli finely, place in a bowl and mix with the egg, chopped onion, manchego cheese, ground bread and aromatic herbs. Take portions the size of two tablespoons, press together and shape each of the croquettes. Put them on the baking tray
Cook in the oven for 25 minutes or until golden and crispy, turning after half the time has passed.
Serve hot.
Nutricional information (per serving)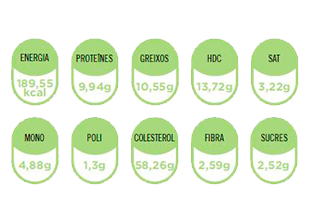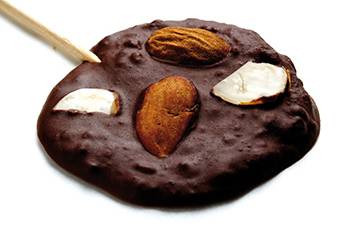 Glass of white wine flavoured with a chocolate lollipop
Ingredients (4 people)
500 ml verdejo qhite wine
80 g black chocolate coating
40 g sugar
25 g black pepper
20 g chopped nuts
20 g orange peel
5 ml of coffee liqueur
2 dry chilies
Edible flowers
Preparation
Put the wine in a saucepan and when it begins to boil, add the orange peel, pepper, cinnamon, chilli and coffee liqueur. Cover and leave to cool in the fridge.
Meanwhile, melt the chocolate in the microwave for one and a half minutes, taking care not to burn it and then place it in a pastry bag.
Cover a cold dish with greaseproof paper and place the skewers on top. Pour chocolate over the end of each skewer forming a circle and cover with nuts and dry flowers. Place the lollipops in the freezer until the chocolate is set.
Serve the wine in a glass or colourful receptacle accompanying the lollipops and serves.
Nutricional information (per serving)