Open window
Win cheques of € 10 and € 20 for sharing your tips and recipes

Home

Keep cables tidy with pegs
by Vero R.
If keeping the cables of small home appliances and headphone leads tidy is like an impossible mission in your home, try keeping them secured with clothes pegs. Just pass them over the ends several times and then secure them with the peg part. They will stay tidy and to hand at all times.
---

Beauty
Enrich your moisturiser
by Maru A.
Essential oils, such as rosehip or argan, that have been used for a specific treatment are often left unused. Both of these oils have regenerative properties. Avoid wasting them by adding a few drops to your face cream or to your body milk and mix well with a spatula.
---

Kitchen
Madeleines that stay spongy for longer
by Alberto L.
Are your breakfast or snack-time Madeleines alittle dry? Eat them as if they were just baked by coating the tops with alittle milk and putting them in the oven for a few minutes. They will come outspongy and ready to eat.

Beauty
Basic soap for combination skin
by Roxana V.
If you have combination skin, try using a bar of glycerine soap with a facial sponge for basic cleansing. Cleanse the skin by massaging softly and then rinse with cold water. Afterwards, use your usual hydrating cream and you're ready to go. Clean hydrated skin at a very low price.

Home
Spotless furniture
by Raquel V.
A trick that never fails when cleaning the house is to use Kh7 or a similar de-greaser. For example, if I am going to clean my wooden kitchen furniture, I use a mixture of 20 per cent Kh7 and 80 percent warm water mixed together to dampen a cloth and wipe down my furniture. Then I dry it with another cloth and it really shines.
See all tips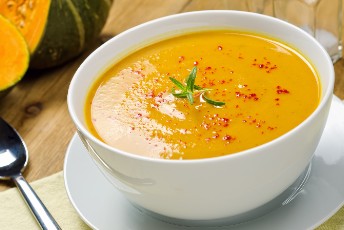 Tasty chilled soups
by Núria D.
Ingredients
1 onion
1 courgette
2 or 3 carrots
A small piece of pumpkin (optional)
Water
Milk
Pepper
Salt
Bread
Instructions
Fry the onion in a frying pan with a little oil until browned, then add the washed, peeled and diced vegetables. Brown them a little and add water until the liquid is a finger deep over the vegetables. Cook on a medium heat until the vegetables are soft. Don't rush them. Wait until all the vegetables are cooked. Then blend thoroughly until you have a smooth cream. Add a little milk, salt and pepper to taste. Cut a small piece of bread into cubes and brown them in hot oil to add to the soup as croutons. Serve chilled, and break away from the classic gazpacho.
See all recipes
See on social networks
On Twitter
Smiles even with a mask
@Consum
Acabo de comprar en su tienda de la calle Mendizábal en Valencia, y deseo felicitarles por la amabilidad y buen trato que dispensa su personal. A pesar de las mascarillas, se adivina su sonrisa incluso en momentos como los actuales.

— Enrique Gómez - Ánimo madrileños. Con vosotros (@e_GA1957) March 24, 2020
Love medlars of Callosa d'en Sarrià!
Mmmm, three chocolates icecream!
On Facebook
Applause to the workers of Consum Albir!
Thanks!
See all messages