Brown container, the new container of organic
Did you know that there is a fifth container? In addition to green, yellow, blue and grey, we have to welcome the brown newcomer: organic waste. What should be thrown away in each one? How is this waste processed? We'll tell you what's new in waste separation and we'll review the 'ecosystem' of containers.


IT'S ECO, IT'S LOGICAL
Share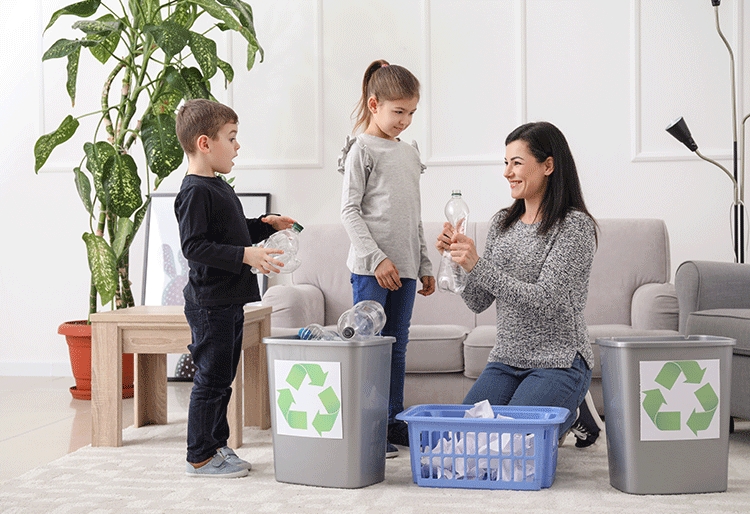 The gradual arrival in our cities of the container for organic matter, the brown one, transforms the separation of waste and recycling in our homes. A change which is here to stay, in line with the road map of the European Union, which proposes two goals for 2020: reducing the waste generated by 20% and ensuring that 50% of waste is ready for reuse and recycling.


How to assuade our doubts when we don't know where to put something? You always have to think about the material which makes up the highest percentage of the whole item. That will be the preferred container.

Organic container (Brown)
What can I put in it
Remains of meat, fish, bread, fruit, vegetables, eggshells, shellfish and nuts, cork stoppers, teabags, coffee grounds, kitchen towels, remains of plants and herbs.
What does it become
The cleanest organic waste is used to obtain compost, a useful fertiliser for agriculture and gardening.

Remember:
You must use biodegradable bags. These bags allow you to obtain a higher-quality fertiliser, because they degrade with organic matter.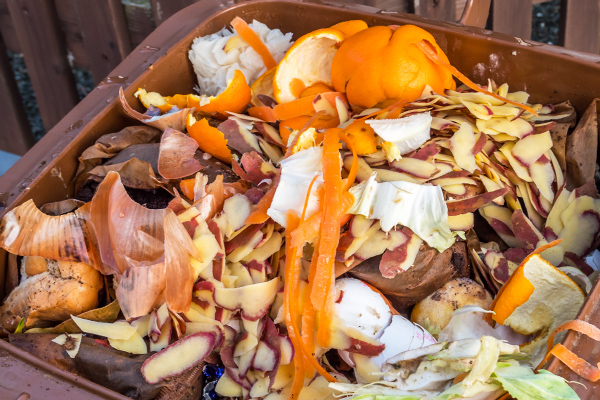 Container for leftover rubbish (Grey)
The brown containers will coexist with the grey ones in this period of adaptation, but from next year, only the grey containers will be reserved for leftover rubbish, but what do we have to throw away in this container?


What should I put in it?
All waste which is not recyclable, and can't be used to make compost. Plastics which are not containers or wrappings: toys, ceramics, porcelain, dummies, kitchen utensils, nappies, compresses, wipes, cigarette butts...
What should I NOT put in it?
- Fruit peel, remains of meat or fish, plants, eggshells, coffee or tea grounds, used napkins--- Brown.
- Batteries, mobile phones and computer equipment--- Clean point.
- Furniture and appliances--- Clean point.
- Medication --- SIGRE points (in pharmacies)
What does it become?
This waste which cannot be reused is deposited in landfills. They can also be used for sanitary landfills in the construction sector. After an impact study and the waterproofing of the soil, the waste is compacted and deposited in layers covered by earth, until it is completed.
Glass container (Green)
What can I put in it?
You just have to put bottles and glass containers in it. Lids go in the yellow container and corks in the brown one.
What does it become?
Bottles, jars, glasses and other objects, identical to those made with raw materials. The glass is 100% recyclable and maintains 100% of its qualities.
Remember:
You should never throw glass into this container (lightbulbs, glasses, lightbulbs, windows, mirrors, etc.) Although they may look similar, we shouldn't mix them. Crystal, always at the Clean Point.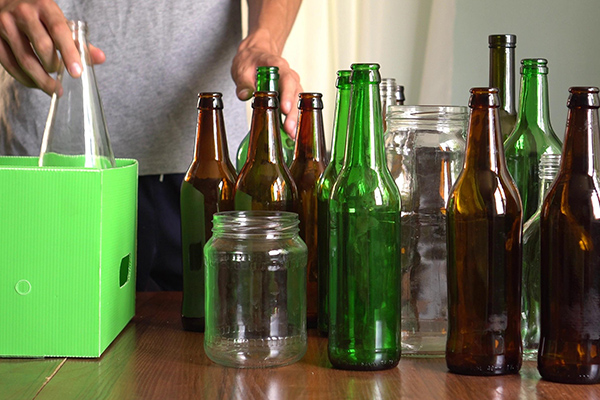 Paper/cardboard container (Blue)
What can I put in it?
Newspapers, magazines, cardboard boxes, notebooks, envelopes, paper bags, folios, wrapping or gift paper...
What does it become?
Recycled paper to make new boxes, wrapping paper and sacks for construction. It also makes stationery and is used for printing magazines, newspapers and books. It even turns into toilet paper.
Remember:
The used paper napkins go into brown. Recycling paper and cardboard saves 85% on water. Energy consumption is reduced by 65%, as is that of virgin raw materials.

Packaging container (Yellow)
What can I deposit?
Bricks, plastic containers and bags, metal plates and lids, drinks cans, tin cans, aluminium foil, yoghurt containers, EPS trays....
What does it become?
Depending on the material, they can be converted into bags and containers of all kinds: folders, litter bins, street furniture, etc. for example, in the case of plastic. Steel (cans), aluminium (drinks cans), PET (water bottles) and HDPE (milk bottles) can be effectively recycled.
Remember:
Deposit empty containers so they can be recycled. Recycle aluminium. Although there are still plastics materials which are difficult to recycle, they are very harmful to the Environment.