Gazpacho, salmorejo, ajoblanco... the summer queens of summer
Summer has now officially begun although the thermometer had been telling us that for weeks. In the next three months, the appearance of our fridges and pantrys will change and will be filled with light foods to combat the high temperatures, while providing us with all the nutrients we need. And the cold creams on this menu will definitely be a big hit this summer.

TRIED AND TESTED
Share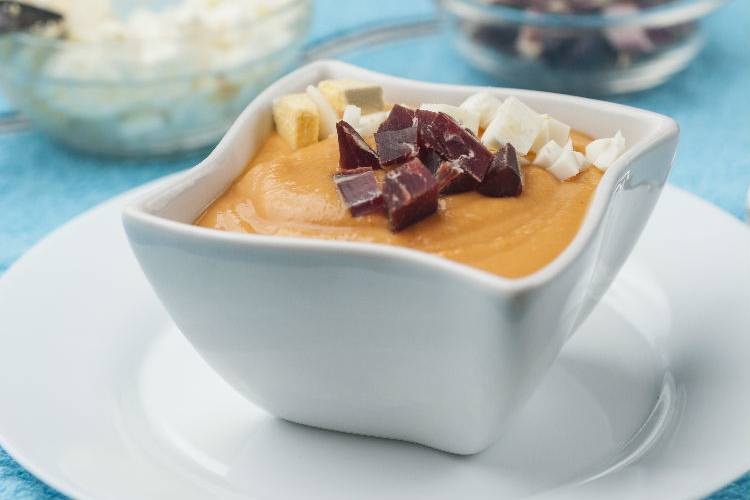 Our diet is adapted to each season and the caloric needs of winter and summer are very different. During these months we tend to forget about heavier dishes such as legumes or stews and we usually like to take advantage of those naturally available seasonal products, including seafood. Until not long ago salads were at the top of the rankings for summer foods, but in the last few years there has been stiff competition from another delicious and refreshing dish with numerous variations: creams, or cold soups. These allow for a wide range of variations and are known for being low in calories, but rich in fibre, vitamins and minerals.
Among all the creams and cold soups, the queen of the summer has to be gazpacho, probably the most popular dish at this time of year. Gazpacho, is more than just a dish and has become a whole method with lots of different variations. However, the most well appreciated has to be Andalusian gazpacho, which takes full advantage of the vegetables that are available at this time of year: tomatoes, peppers and cucumbers, which are blended with olive oil and sherry vinegar to create one of the best dishes of the season.
Gazpacho, is more than just a dish and has become a whole method with lots of different variations
Gazpacho has long ceased to be only an Andalusian dish, and has become a favourite whenever we need something that is tasty but also light. To make a good Andalusian gazpacho, the most important thing is to stock up on good quality tomatoes, with the pear variety being the most suitable for this cold soup. To make a really tasty gazpacho it's also important to use ripe tomatoes and mix all the ingredients well.
But gazpacho doesn't only have to be made with tomatoes, other seasonal fruits and vegetables such as beet or peach can be added to it, that will also give it a bright colour. You can also remove the whole tomato and replace it with other ingredients. The cherry and watermelon gazpacho is exquisite.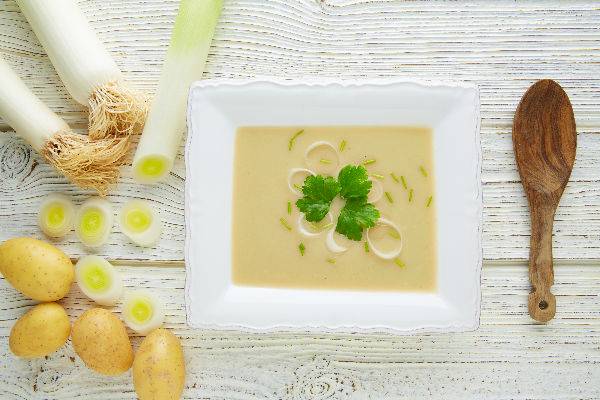 Another of the most appetising cold creams for the summer months is salmorejo, a Cordovan dish based on tomato, bread, garlic, oil and vinegar, that is usually accompanied with hard-boiled egg and ham. Because of the bread it is somewhat heavier than gazpacho, but we can replace it with apple in order to thicken it while reducing the calorific component. Salmorejo also has a few variations. We can add cherries, beets, mango or papaya, or serve it with prawns, anchovies or cheese.
And another classic seasonal dish is the vichyssoise, a cold cream that is made hot and then allowed to cool in the fridge. It is made with leek, onion, potato, milk and cream. This soup is known internationally and its nationality is disputed as being either French or American. There is even a theory that attributes its invention to a Basque chef, who created the cream based on the traditional Porrusalda.
And speaking of tradition, another very popular dish that is known as white gazpacho in some places, is the ajoblanco, a cold soup based on almonds, bread and garlic that is considered to be part of Al-Andalus cuisine because of the use of almonds, which are so common there. Ajoblanco also has a number of variations, you can add coconut or melon, but always while respecting its main ingredient, almonds.
Making all these recipes is very simple, just wash the vegetables and fruit, peel them (the cucumber or the peach, but not the tomato) and blend the ingredients well. If there are any seeds or skins, we would put the cream through a blender. In case we want a thicker texture, we can add a splash of cream or a couple of tablespoons of white yoghurt. If, on the other hand, the cream ends up a bit too thick, we can always add a glass of water. All these soups and cold creams can be served with small pieces of vegetables or other garnishes such as croutons, sprouts, seeds or aromatic herbs such as basil or mint.