Balearic Islands: The Mediterranean Islands
Did you know there are 5 Balearic Islands? Mallorca, Menorca, Ibiza, Formentera and yes! Cabrera. Cabrera always fails to get a mention. Known all over the world for their impressive beaches, privileged climate and impressive landscapes, they are a real hive of activity in the summer and a perfect getaway (quiet and cheaper) for a short break.


TRAVELLING WITH TASTE
1 May 2019
Share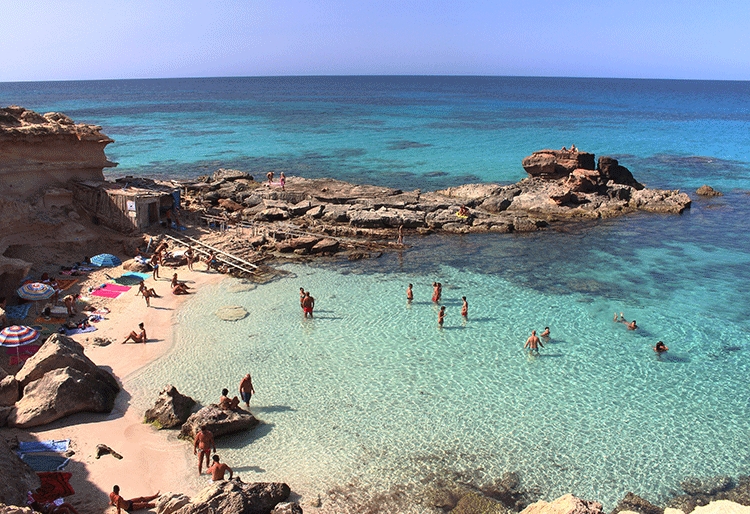 And although the Balearic Islands catch your eye, they also convince you with their flavours. Its well-loved ensaimadas, whether sweet or savoury, sobrasada, rice with fish, fried foods, cheeses, bread, traditional sweets. A whole sea of flavours.


Mallorca
Visiting some of the coves and beaches which are notable for their features is a must, for example: Cala Sa Calobra, Cala Deià, Cala Tuent, Cala Mondragó, Cala des Moros, S'Almunia or S'Amarador beach.

But Mallorca is not just beaches, and you should not miss a visit to Palma Cathedral, Bellver Castle and les Coves del Drach. Places like Sóller, Andratx and Pollença deserve a 'photo' and, the romantic Carthusian monastery of Valldemossa in the Tramuntana mountains.

When visiting these locations, let yourself be tempted by the tasty Mallorcan frito, based on vegetables and meat, the ever-appetising pa amb oli, pan de pagés with oil and varied 'toppings' or the Mallorcan tumbet.

Menorca
Quieter than its big sister, Menorca offers beach, culture and nature. Its best known coves are Cala Turqueta and Cala Salada, but a more complete route includes Cala Pregonda and the pristine beach of the north, Cavalleria.

If you are looking for interesting cultural options, you will find them in the Ciutadella, the Castell de Santa Àgueda, the Naveta des Tudons and the Cova des Coloms.

Essential menu to try: Mahón cheese, lobster stew on Fornells beach, and pastissets dessert, filled with angel hair or pumpkin jam.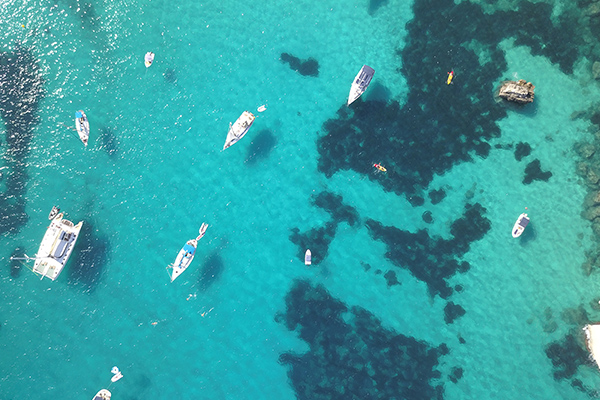 Ibiza
There are some truly magical places on Ibiza. Apart from its turquoise seas and white sandy beaches, such as Es Pou de Lleó, Cala Llenya, Llonga or Mastella there are locations with a special atmosphere, film "sets", and landscapes full of symbolism. The sunset at San Antoni, the Las Dalias market, Dalt Vila or the Can Marçà cave are examples of this.
And what better way to enjoy this island than with a typical sweet, the flaó. A goat and sheep cheese cake with mint and anise. Whoever tries one wants another.


Formentera
The little island of Formentera is one of the most desirable islands and all its paths lead to the sea. The photographed lighthouse of Cap de Babaria, Ses Illetes, Cala Saona, the islet of Espalmador, Caló de Sant Agustí and Caló d'es Mort... Its impossible not to want to return.
Special mention should be made of frígola, a sweet liqueur based on thyme that is never missing from the island's dinner tables.


Cabrera
It is the most forgotten island, but its natural wealth makes it an authentic treasure. The landscape of Cabrera offers many opportunities for sports and leisure activities: bird watching, photography safaris, dream sunsets... Its main point of interest is the Cova Blava (only accessible by boat). The sunset blues that are created in the grotto make the journey truly worthwhile.