The 5 best markets to visit this Christmas
Do you know the best Christmas markets? Discover which cities in Spain have incredible Christmas stalls that you simply cannot miss. Let's make a start!

TRAVELLING WITH TASTE
Share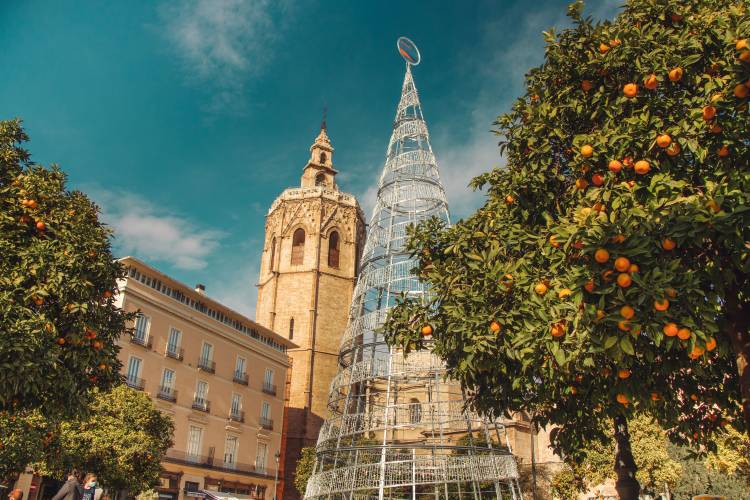 Fira de Santa Llúcia, Barcelona
This is, perhaps, the most traditional of Barcelona's street markets, with a history spanning more than 235 years. The fair, situated in Barcelona's Avenida de la Catedral, boasts more than 300 stalls, 140 of which exclusively sell Christmas products: figures, nativity scenes, Christmas trees, decorations and much more. The rest of the space is taken up by thirty stalls dedicated to hand-crafted gifts, such as textiles, ceramics, jewellery, leather, etc.
Catalan Christmas figures, such as the infamous "caganer" ('pooper' in English) or the "tió de Nadal" (Christmas log), take the place of honour at the market. However, among its stalls we can find all types of ideas for decorations and gifts, from the most classic products to the most modern and original. It is worth a visit and you should try the 'neulas', a typical Christmas sweet, from the wafer family but with a much lighter flavour, which is general rolled into a cylinder shape. They are made with flour, sugar, butter, egg white and lemon peel. Watch out though, they are addictive!
Plaza Mayor Christmas Market, Madrid
This is possibly one of the best-known Christmas markets in the country. More than 100 stalls and 100 years of history dedicated to selling traditional products. Nativity scenes are real winners in this corner of Madrid, as well as toys and joke items.
The tradition has also extended to other parts of the capital where the streets also fill with the magic of Christmas at this time of year. In addition to those organised in Plaza de Isabel II, opposite the Teatro Real (Royal Theatre), or in Plaza de Juan Goytisolo, next t the Reina Sofia Museum, you can also find the festive atmosphere in neighbourhoods such as Carabanchel, Chamberí, Arganzuela (Madrid Río) or Puente de Vallecas, among others.
Although the market doesn't have a specific gastronomic corner, there is no better setting to enjoy the delicacies of Madrid than the Plaza Mayor. Essential for starting the day with some churros for breakfast.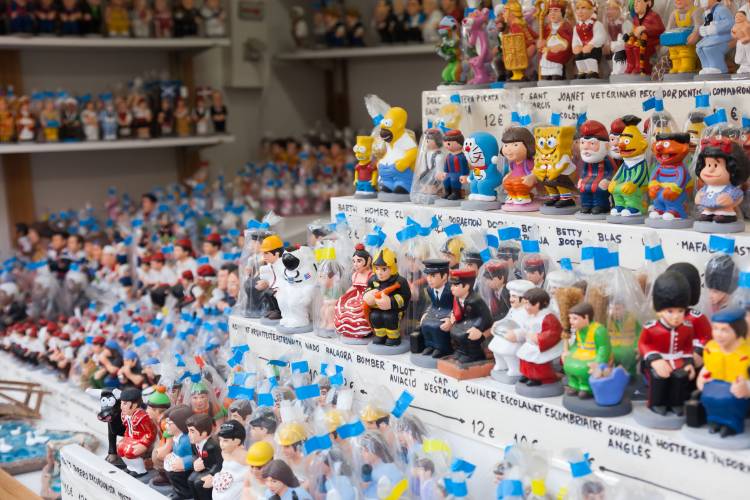 Craft Fair, Valencia
Each year, the city of Valencia conjures up magic at the 'Feria de Artesanía de Navidad' or Christmas Craft Fair. With nearly 30 stalls, this year will take place in its usual location, Plaza de la Reina, which has been recently renovated. We also recommend visiting the 'Mercado de Colón' market, which is decked out even more, if that's possible, with a tree and Christmas nativity scene. In this space, a variety of activities are also organised for children.
Nougat, marzipan and, of course, the 'patissets' (like fried cakes) with sweet potato are Valencian Christmas sweet specialities that you really should try.
Nervión Christmas market, Seville
The Gran Mercado de Navidad de Nervión (Great Christmas Market of Nervión), situated in this iconic district of Seville, consists of white wooden huts full of all types of hand-crafted products for gifts, decorations and jewellery. It is located in Avenida de Luis de Morales, next to a shopping centre.
Nervión Christmas market coexists alongside two other Christmas markets: one situated opposite the Town Hall and the traditional Christmas Craft market. Its uniqueness resides in the quality of the products and in the representation of a wide variety of crafts: leather, silver jewellery, hats, wood, cosmetics, glass, pottery, dried flowers, ceramics or etchings, among others.
Christmas Market, Granada
More than fifty craft stalls will delight anyone that strolls between the Plaza de Bib-Rambla and the Batallas fountain this Christmas, in Granada's Puerta Real. Visitors will be able to find gifts, hand-crafted items, flower wreaths, books, plants, Christmas trees, sweets, traditional local ceramics, fired enamels or natural cosmetics, among other things. In addition, they will also be able to enjoy the activities that have been specially created for families, such as workshops that you can watch or take part in.
If you opt for one of these Andalusian destinations, you are bound to quickly find the typical 'roscos de vino' (wine doughnuts), a traditional sweet that children usually leave out for the Three Kings on January 5th.