Chickpea hummus: the secret is eco
Chickpea hummus is a delicious and healthy dish that can be made at home in just a few minutes. Hummus is already full of great properties, but there's one more we can add by using ecological ingredients. We will show you step-by-step how to make this hummus to die for!

IT'S ECO, IT'S LOGICAL
Share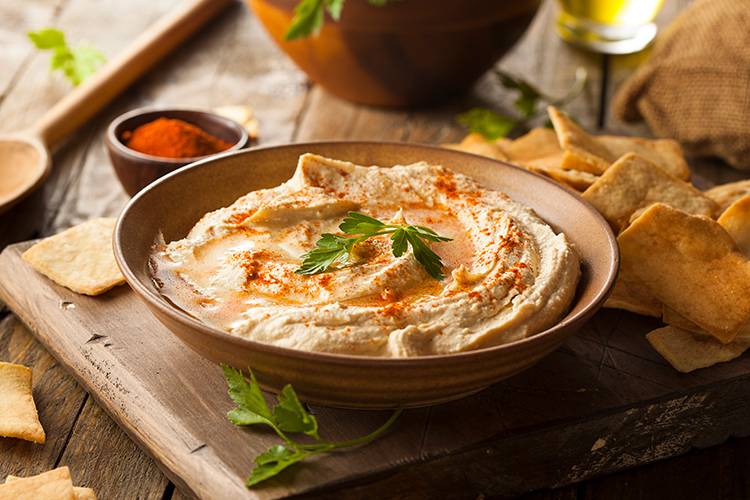 Hummus is dish that is popular all across the Middle East. Lebanon, Palestine, Turkey, Syria, Armenia, Cyprus and Israel are some of the main countries where this dish is traditionally made, which is now popular across the West as well. In Arabic, the word 'hummus' simply means 'chickpea'. It basically consists of puréed cooked chickpeas with lemon juice, tahini (ground sesame seeds), garlic, olive oil and salt. Some ingredients vary according to local methods.


It is usually served in a bowl or plate, served with pita bread to spread it on. This is the most traditional version, and if we want to turn it into a light dish, we can have it with vegetables cut into batons (carrots are perfect for this). If on the other hand we want to make it into a party snack, we could have it spread on tortilla chips. There are many hummus recipes that add other ingredients such as avocado or beetroot, to give it some colour or a slightly different flavour. Hummus is a dish often used in vegetarian and vegan cooking. We can make it into an ecological dish by using ecologically prepared chickpeas.
Hummus is perfect for serving as an appetiser or mid-morning or afternoon snack. Because of its ingredients, it is much healthier than many other appetisers and can also be made at home very easily. Its main ingredient, the chickpea, is rich in proteins, fibre, folic acid, potassium and phosphorus.
Hummus is a dish often used in vegetarian and vegan cooking.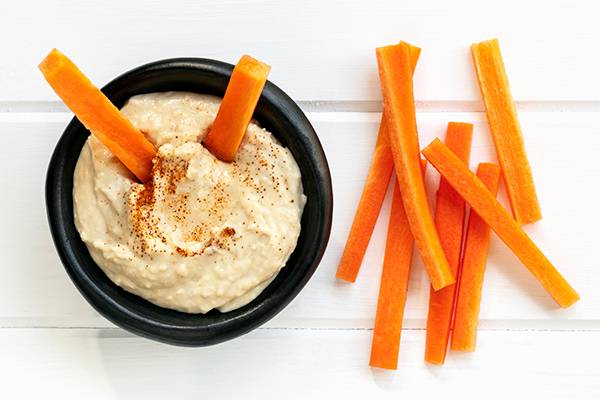 Although it can be bought ready-made from supermarkets, making it at home won't take more than five minutes. And the result is amazing!
Ecological hummus recipe


INGREDIENTS:
• Half a kilo of ecologically prepared chickpeas
• 1 clove of garlic
• A dash of lemon juice
• 2 large tablespoons of tahini (ground sesame seeds)
• 1/2 teaspoon of cumin
• 1/2 cup of olive oil
• 1 teaspoon of salt
• A pinch of sweet paprika to serve
METHOD:
1. Thoroughly rinse the chickpeas under the cold water tap. Drain and empty into the container of a mixer or food processor. We can set aside a tablespoon of chickpeas for presentation.
2. Add in the peeled garlic glove, salt, cumin, lemon juice, olive oil and tahini. Blend until the mixture is creamy but thick. If it is a little dry, try adding a small amount of water until it has the desired texture.
3. Serve on a plate or in a bowl with some sweet paprika and a dash of olive oil.