It feels great to look after ourselves!
Consum Perfumery is launching a new web page. Here, you can find tips to take care of yourself inside and out, tutorials to try out at home, advice on the best make-up and the perfect hairstyle for when you have to attend all kinds of events this season, contests and also the latest issues of the magazine "Bonita" (Beautiful).

health and beauty
19 April 2017
Share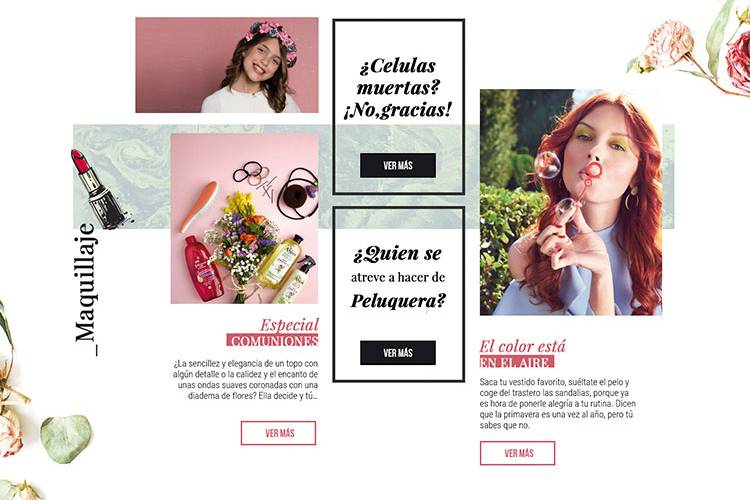 Here at Consum we've just launched our new web page https://cuidarnos.consum.es/ giving prominence to our perfumery section. In this new online space, you will find, in addition to lot of tips and advice on taking care of yourself, curiosities and style tips from the magazine Bonita, all types of brand names, guides to how you can achieve the most original make-up and hairstyles step-by-step, and also video tutorials to encourage you to try them out at home.
This new online space will have some permanent sections on makeup, beauty, hair, a men's section and a children's page and videos, as well as a tab to download the latest issues of the Consum's magazine Bonita. All content will be regularly updated with the latest trends on taking care of ourselves, inside and out, depending on the changing needs of each season.
Another of the innovations offered by our online perfumery space is that users can actively participate in contests and surveys.
In addition, the website will have information on all the perfumery and cosmetic products that can be found in our supermarkets, both top name brands and Consum's own brands: Kyrey, Kyrey Pharma, Consum Kids and Kyrey for Men.
And what better time to launch this page dedicated to beauty than Spring, when everything is coming back to life again! Right now, pastel colours are a trend, casual hairstyles are in fashion for everyday wear, and more elaborate styles are in vogue for the typical events associated with this season: weddings, communions, baptisms… in make-up, pink, fruity or nude shades are taking over from darker ones in lipsticks and shadows and we are all starting to get ready for Summer. We've got everything to help you look your best this season!!
Even more beautiful
The magazine Bonita, the specialised publication in our Perfumery section this year increases its presence with an extra issue. In addition to our publications for Autumn-Winter, Christmas and Spring, Summer will see a new edition with more ideas on looking after ourselves, also essential in the warmest season of the year.
The last number corresponding to Spring, which you can find in printed version in your local supermarket, comes loaded with ideas for enjoying the good weather. Because Spring tempts to spend more time outdoors and to jazz up both our daytime and evening looks with more daring makeup and hairstyles. It is a season when our diaries start to fill up, or when we may feel like taking a little break, and in the magazine, you will find a guide to the essentials for your suitcase and your make-up bag so you do not lack anything to make you feel good even when you are far from home. Spring is also marked by social and family events, such as communions, and for this reason Bonita wanted to dedicate a section to this special day.