A sweet route for Easter

TRAVELLING WITH TASTE
21 March 2019
Share
If there is any traditional festival that stands out because of its attractive gastronomy, it is Easter. Cookery that is as filling as it is traditional, dishes with fish as the main protagonist, and, of course, mouth-watering desserts and snacks for enjoying Easter outdoors.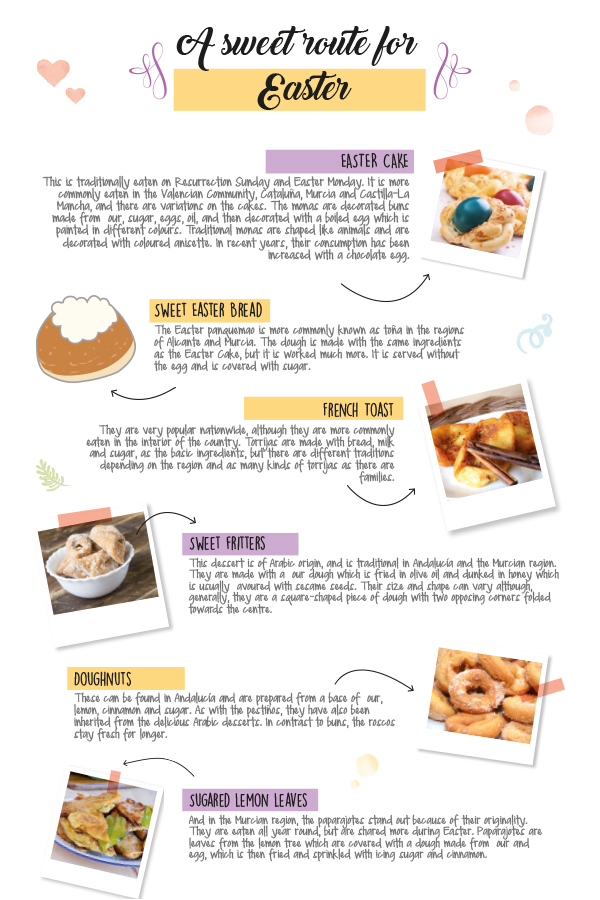 MONA DE PASCUA (Easter Cake)
This is traditionally eaten on Resurrection Sunday and Easter Monday. It is more commonly eaten in the Valencian Community, Cataluña, Murcia and Castilla-La Mancha, and there are variations on the cakes. The monas are decorated buns made from flour, sugar, eggs, oil, and then decorated with a boiled egg which is painted in different colours. Traditional monas are shaped like animals and are decorated with coloured anisette. In recent years, their consumption has been increased with a chocolate egg.
PANQUEMAO O TOÑA (Sweet Easter Bread)
The Easter panquemao is more commonly known as toña in the regions of Alicante and Murcia. The dough is made with the same ingredients as the Easter Cake, but it is worked much more. It is served without the egg and is covered with sugar.
Torrija (French Toast)
They are very popular nationwide, although they are more commonly eaten in the interior of the country. Torrijas are made with bread, milk and sugar, as the basic ingredients, but there are different traditions depending on the region and as many kinds of torrijas as there are families.

(How to cook torrijas)


Pestiños (Sweet fritters)
This dessert is of Arabic origin, and is traditional in Andalucía and the Murcian region. They are made with a flour dough which is fried in olive oil and dunked in honey which is usually flavoured with sesame seeds. Their size and shape can vary although, generally, they are a square-shaped piece of dough with two opposing corners folded towards the centre.
Roscos (Doughnuts)
These can be found in Andalucía and are prepared from a base of flour, lemon, cinnamon and sugar. As with the pestiños, they have also been inherited from the delicious Arabic desserts. In contrast to buns, the roscos stay fresh for longer.
Paparajotes (Sugared lemon leaves)
And in the Murcian region, the paparajotes stand out because of their originality. They are eaten all year round, but are shared more during Easter. Paparajotes are leaves from the lemon tree which are covered with a dough made from flour and egg, which is then fried and sprinkled with icing sugar and cinnamon.