Make the most of your hair this summer
The heat is coming and hairstyles are a perfect way to deal with it. We bring you the most practical and easy to do summer hairstyles. Time to take note!

health and beauty
Share
The easiest hairstyles for summer

With the arrival of the high temperatures and the summer season, if there is one thing we spend less time over it is being in front of the mirror trying to tame our hair. Moreover, not all hairstyles are suitable for this time of year. As far as possible, we all want to be rid of the hairdryers, irons and tongs that accompany us throughout the rest of the year.
The simplest and most versatile option if we want beautiful hair, whether we wear it short, mid-length or long, are some surf waves.
If we choose this type of hairstyle, we can do it in several ways:

- Putting our hair up in braids the night before and letting them out the next day.
- Shape your hair whilst it is damp, and preferably with products that contain salt water.
- If you are always in a hurry, remove excess moisture from your wet hair with a towel and make a very high bun, with your fingers. When you notice that your hair is almost dry, you let it out and let it finish drying in the wind.


However, if we want to give it a more sophisticated touch we can always opt for:
- Low buns: You can gather all your hair back with a fixing product and roll it into a low bun, at the nape of the neck.
- Hair down, slicked back, with a wet effect.
- A ponytail, high or mid-high, adorned with a silk scarf in summer colours.
- A low ponytail, with all the hair pulled back and a scarf tied a bit like a bandage, can save you from a summer night where you need to be a little more groomed.
- Even a scarf tied around the head, in true pirate style, will give a very chic touch to your looks.
- If you have curly hair, make the most of your curls by giving them all the volume you can - the more volume the better. In summer anything goes!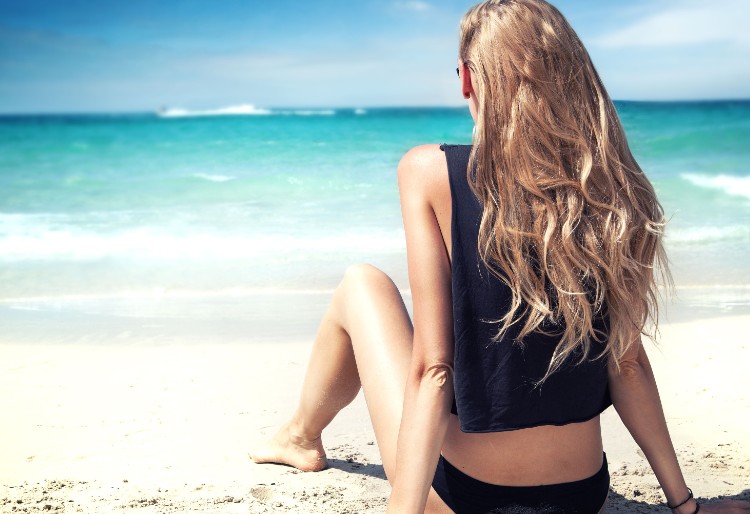 Summer braids
If there is a hairstyle par excellence for this season, although it has come to stay year round, it is braids. From the simplest to the most complicated. With braids you can achieve great variety, from a very natural and comfortable look to a much more sophisticated one. We give you 5 ideas for braiding your hair this summer.
- Simple braid that starts from the nape of the neck. Part the hair into three and braid it to the end.
- Braid from the roots, gathering hair from the top of the head.
- Two root braids that start at the temples and go all the way down. This type of braid can work even with mid-length hair.
- Fishtail braid: in this type of braid, the hair is divided in two, and small strands of these two parts are taken and combined. This type of braiding makes a wide braid but the strands that make it up are very narrow.
- If you want to give your braids a more sophisticated touch, you can add a scarf as part of the braiding, or wind it up in a low bun; if you have made two braids, you can pin them up like a crown or you can even add a large bow at the end of the braid.