Escape to Toledo
Are you thinking about a weekend break? An escape to Toledo is just what you need! Today we will show you what to do during a weekend in Toledo.

TRAVELLING WITH TASTE
Share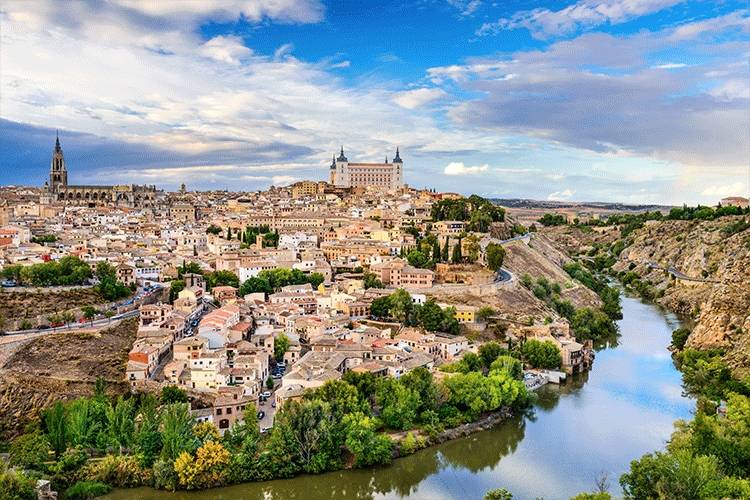 Declared a World Heritage Site by UNESCO, Toledo is one of the Spanish cities with the greatest historical and cultural wealth. It is impossible to get bored whilst there, and it is also impossible to leave without having enjoyed its gastronomy.
Known as "the city of three cultures", Toledo has been home to Muslim, Jewish, and Christian cultures, and its streets and typical dishes bear traces of its past.
What to see in Toledo
The Santa María Cathedral. This gothic style cathedral is considered one of the most important architectural works in Europe.
Alcázar. Now home to the Army Museum, it was first built as a Roman palace in the 3rd century, but it has undergone numerous attacks and restorations over the years.
Santa María la Blanca Synagogue. It was built at the end of the 12th century by Muslim craftsmen. Its horseshoe arches and geometric shapes, typical of the Mudejar style, are particularly noteworthy.
San Juan de los Reyes Monastery. Built in the 15th century as a burial place for the Catholic Monarchs, it is essential to take a look at the decoration of its courtyard.
Zocodover Square. The heart of the city. A meeting point where you can find the most typical restaurants, shops, and patisseries of Toledo.
San Cristóbal Promenade. From this promenade, you can enjoy a beautiful panoramic view of the Toledo valley and a large part of the city.


What to eat in Toledo
Its cuisine, with Moorish, Sephardic, and Christian influences is based on dishes linked to hunting and shepherding, such as delicious stews or roasts, although it does not fail in its sweets either, with typical finger-licking pastries.
Perdiz estofada. The raw ingredients, vinegar, and aromatic herbs such as saffron are what makes the difference. The best are those that are less than a year old, known as perdigones (pellets).
Cochifrito manchego. This is an emblematic dish of Castilian cuisine in general. The recipe is made mainly with lamb or kid meat. Success is guaranteed if the meat is crunchy on the outside and delicate on the inside.
Carcamusa. It is a beef or pork stew with seasonable vegetables. It is served as a tapa or a main dish.
Arroz a la toledana. The uniqueness of this rice lies in the mix of ingredients. Rice, conger eel, mushrooms, lard, chicken and calamari, garlic, and salt, as well as spices such as saffron and pepper.
Mazapán. And as dessert, there is nothing better than marzipan, which in Toledo has a protected geographical indication. Its ingredients are sugar, almonds, and egg.