Travel to Alicante: What to visit?
We tell you which are the best places to visit in Alicante to enjoy an unforgettable trip. Discover the best beaches and views and enjoy all of its flavour

TRAVELLING WITH TASTE
Share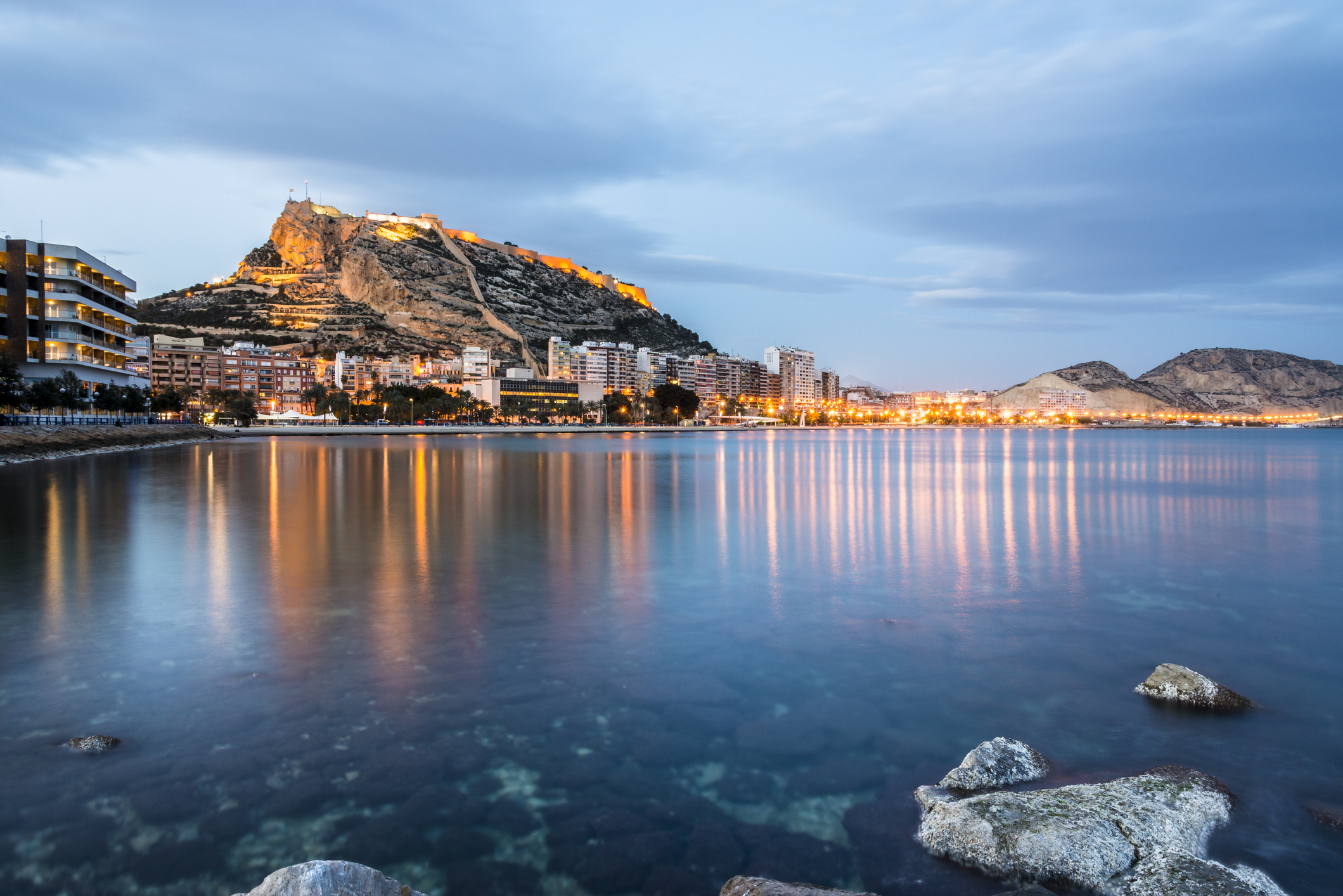 Comfortable, with a constant pleasant temperature and manageable with its 340,000 inhabitants. That's the city of Alicante, bathed by the Mediterranean and exuding plans bursting with culture and exquisite gastronomy.
10 essentials: what to see, do and eat in Alicante
Beaches
Although Alicante has no shortage of beaches, the most striking is undoubtedly Postiguet beach, and its waves almost bathe the old quarter, which is unique in a metropolitan setting. San Juan beach, Cantalar cove or Albufereta beach are other significant beaches the city is home to.

La Explanada promenade
This promenade, a common meeting place in the city, boasts more than six million tesseras, pieces of mosaic, in the shape of waves which are a clear tribute to the sea. The Explananda promenade is home to Casa Carbonell, a mansion dating back to the start of the 20th century which was commissioned by a textile entrepreneur from Alcoy. It has become a landmark building in the city thanks to its modern Valencian design.


Ice creams, tiger nut milk (horchata), mantecado ice cream and slushies
While strolling along the beach or walking along the meeting point that is Alicante's 'La Explanada' promenade, there is no better companion than a really cooling drink to recharge your batteries. You can't talk about Alicante without mentioning ice creams, mantecado ice creams, slushies and tiger nut milk (horchata). The experience and their quality are undisputed and you simply have to try them on your visit. You can enjoy them in one of the city's historic establishments, such as Kiosko Peret or Horchateria Azul.

Santa Barbara Castle
Every trip to Alicante should include a visit to the Santa Barbara Castle, one of the largest Medieval fortresses in Spain. Built on the top of Mount Benacantil, this Arab castle dating back to the 9th century boasts the most impressive views of the sunset in the entire city, covering the bay of Alicante, from Santa Pola to Benidorm, and with the island of Tabarca on the horizon.

Santa Cruz district
This is one of the city's districts with the biggest personality: a maze of steep narrow streets peppered with white houses. It you are travelling at the beginning of May, success is guaranteed, since the May Crosses (Cruces de Mayo) are celebrated here: from 2nd to 5th May, the whole neighbourhood is adorned with flowers during this festival which welcomes spring.


Co-cathedral of Saint Nicholas of Bari
It was built on an ancient mosque and its style comes from the late Renaissance and early Baroque period. It is one of the city's most famous temples, with Saint Nicholas as its patron saint, and is therefore the focus of most religious celebrations. You must take time to look at its impressive organ.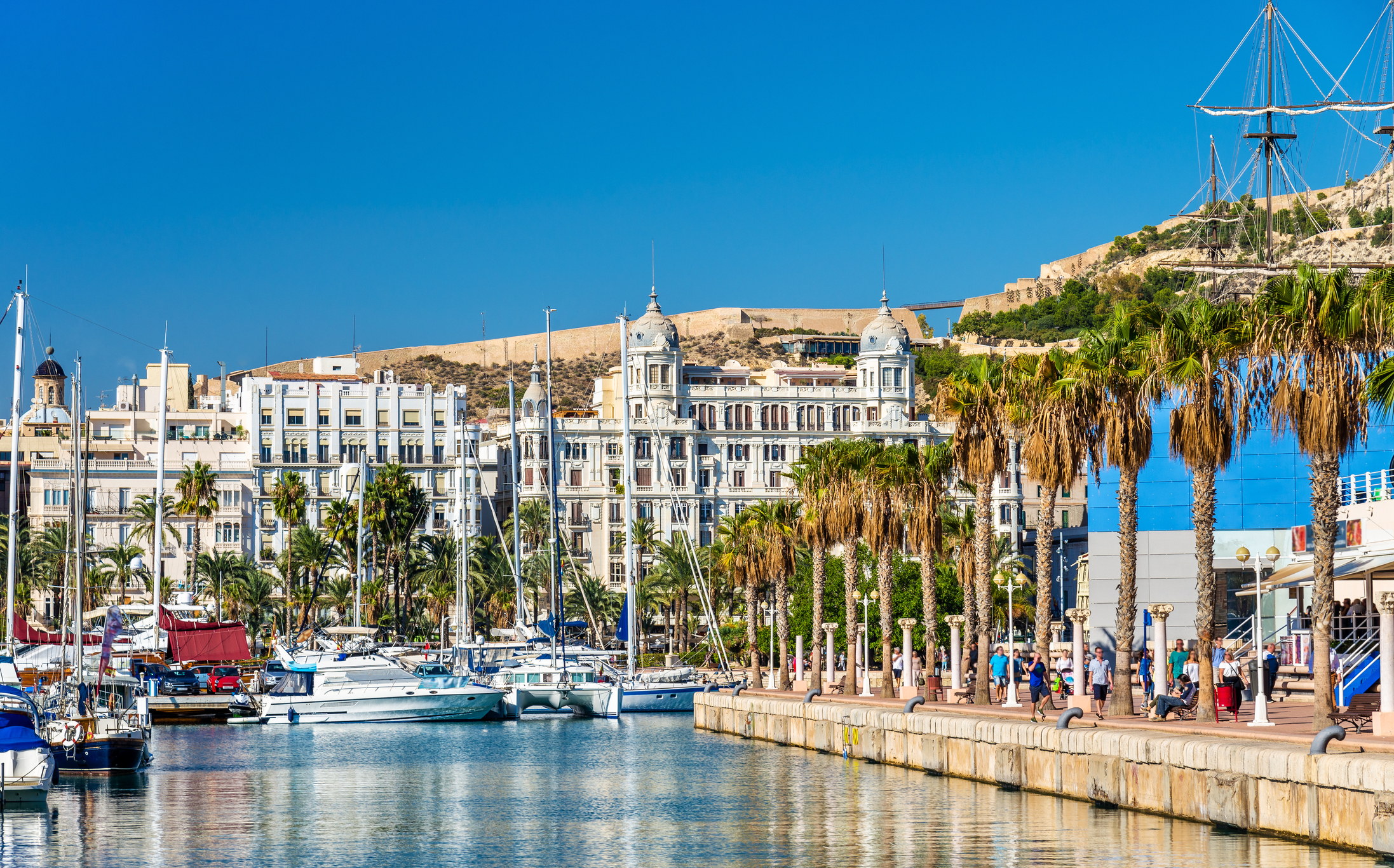 Alicante's central market
This wonderful, modernist inspired, building opened its doors in 1922. Enjoy the pickles, meats, fish, charcuterie, sweets or dried fruits from the area in its almost three hundred stalls of food and catering, spread across more than 11000 square meters over two floors.
Salted fish and premium wines
During your visit, don't forget to try Aliante's typical preserved and salted foods, premium quality culinary products that you will love. Enjoy the wines from the province with denomination of origin, like Moscatel, and admire the excellent quality of the area's traditional products, including the nougat (turrones).

Plaza del Ayuntamiento (Town Hall Square)
Any visit to Alicante's historic quarter has to start or finish in Plaza del Ayuntamiento. The Town Hall, situated in the Santa Cruz district, is a Baroque palace which dates back to the 18th century.

Port of Alicante
The port area is always a good choice for a visit. There is always a great atmosphere, with tourists and the inquisitive types among the yachts and fishing boats that mix with sports lovers and those who prefer the terraces, offering a plethora of options to enjoy the scenery outdoors with a nice aperitif.