Types of hams
Ham is a typical Spanish product, but do you know how to distinguish the different types? We explain this below.

TRIED AND TESTED
Share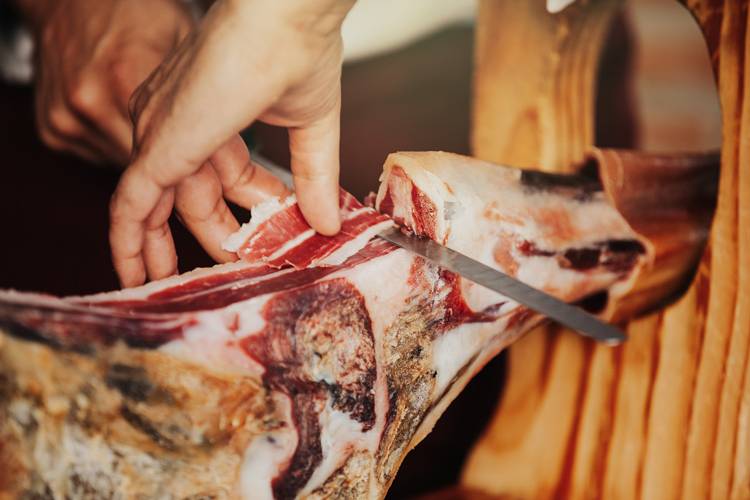 Over the years, ham has become a symbol of our country. Residents and tourists, we all enjoy a delicious snack of ham, or any dish that includes it among its ingredients. But do you know how to distinguish between the different types of ham that exist?


Iberico ham, white or mountain ham?
1. Iberian Breed - Iberico Ham
Origin: Made from the Iberian pig, an ancient breed native to the Iberian Peninsula, the last survivor of the grazing pig breed in Europe.
Appearance of the pig: Narrow, sharp-nosed animal with short, black hair. Despite its volume of body mass, it has a thin skeleton with long, slender legs.
Trotters: These are usually black, which is why it is known as 'Pata Negra' (Black Leg). However, not all Iberian pigs have black trotters and not all pigs with black trotters are Iberian.
Colour, flavour and aroma: The colour of the ham ranges from pink to purplish- red. It has a slightly fibrous texture with incorporated fat. The combination of its delicate flavour and intense aroma makes this delicacy an indispensable product in the diet of all good gourmets.
Fat: The pig's genetics allow it to store fat in the muscle tissue, which give the Iberico ham its unique oily and intense texture. The fat is shiny, fluid and soft to the touch. Its ability to accumulate fat under the skin and incorporate it under the muscles gives it a characteristic white streak.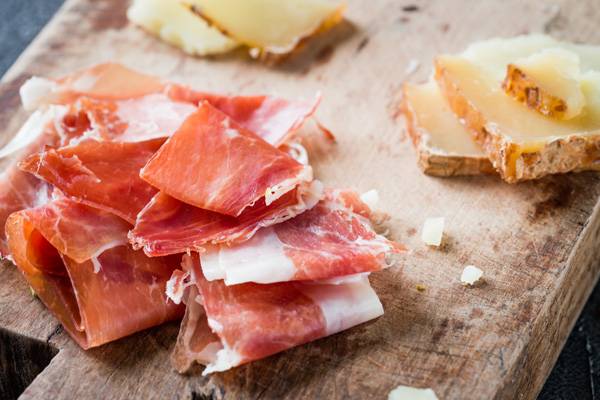 The official classification of Iberico ham depends on the diet and the amount of acorns consumed.
There are 4 types of Iberico ham (or shoulder):
Ibérico from Fodder: Pig reared on farms and fed exclusively on fodder.
Ibérico from Field Fodder: Pig reared in the field, where it feeds on grasses and natural feed (legumes and cereals). This food is completely natural. In the acorn season it also enjoys the fruit of the holm oaks.
Iberian from Fodder and Acorns: The pig is reared in a pasture, feeding on herbs and natural feed. During the later stage of the Montanera (the period before slaughter) it feeds on acorns. If they have not reached the required weight, their diet is complemented with cereals and pulses.
Ibérico from Acorns: This is the best quality of Ibérico ham. The animal is reared in the pasture based on natural feed during the growth stage. During the acorn season it feeds on acorns and grass without any added supplement, until it reaches its optimum weight.
The protected Denominations of Origin are: Ibérico Ham D.O. Huelva, Ibérico Ham D.O. Los Pedroches, Ibérico Ham D.O. Guijuelo Ham and Ibérico Ham D.O. Dehesa de Extremadura.
2. White race - Serrano Ham
Origin: At the end of the 2nd century B.C. there are already references written by the Romans.
Appearance of the pig: The name, white pig, is given to it because of its appearance, which is usually white in colour with light-coloured trotters. To be thus named, it must be raised in a cold, dry, mountain climate.
Trotters: These are usually brown in colour with light tones.
Colour, aroma and texture: The colour of the ham varies from tones of pink to purple. It has a smooth, slightly salty taste and pleasant aroma. Homogeneous and not very fibrous texture. Compared to Ibérico ham, its aroma, flavour and texture are milder and less intense.
Fat: It is bright, white to yellowish in colour, aromatic and pleasant in flavour.
The official classification of Serrano ham depends on its curing process:
Serrano Ham: Does not require any preservation time.
Serrano Bodega: Preservation time of between 10 and 12 months.
Serrano Reserva: Preservation time of between 12 and 15 months.
Serrano Gran Reserva: More than 15 months of preservation.
We have Denominations of Origin for Teruel and Trévelez.
How to select a good ham
- Touch: touching different parts of the joint allows you to establish the curing time. The external fat provides you with information on the quality and level of cure.
- Sight: gives you information on the proportion of fat in the joint. The shades of its colour indicate the curing time, as drying produces wrinkles in different areas.
- Smell: the cut provides very important information from inside the joint. A spike, usually made of beef bone, is used to piece the ham to test its aroma and its salt level.
- Taste: the best way to know if a ham is at its optimum point is to try it.