Malaga: what to visit and what to eat
Planning a getaway to Malaga? We recommend the main tourism places to visit and traditional dishes from Malaga.

TRAVELLING WITH TASTE
Share
If you are planning a getaway but you are still not sure where to go, we recommend that you visit Malaga, the capital of the Costa del Sol. A city with a privileged location, bathed by the Mediterranean Sea, full of history, culture… and gastronomy! Below, we tell you what to see in Malaga and which traditional dishes you should not miss out on when you visit.
Tourism in the city of Malaga
Whoever visits Malaga does so to enjoy long walks along the Port of Malaga, to bathe on Malagueta beach, for the fantastic atmosphere that can be experienced on the terraces of Larios Street and for the great Malaga Fair which takes place during the month of August. But, apart from that, Malaga is a city with lots of culture, where you will also be able to enjoy the history that envelops the Arabic palaces preserved within the Alcazaba, visit the ruins of the Roman Theatre in the historic city centre, be amazed by the sunset from the viewpoints at the Castle of Gibralfaro, discover the works of art housed in the Picasso Museum and get to know the curious history of the "Manquita", the city's cathedral, among many other things.
Gastronomy in Malaga: traditional dishes
Gastronomy is an essential part of any getaway or when travelling for pleasure. This is particularly true in Spain, where throughout each province you can enjoy traditional dishes which tell you about their history and culture. In this case, you should know that as Malaga is a coastal city, its gastronomy is very focussed on preparing fresh produce from the sea, whether as tapas, sautés or as the traditional dishes of the beachside bars.
Sardine skewers: this is one of the most famous and most requested dishes on the Malaga coast. It consists of sardines skewered on a cane or a wooden stick (a skewer) and roasted on a griddle aboard a boat by an espetero (a person who cooks the fish).

Smooth clams: this is a bivalve mollusc that is very common along the coast of Malaga. They are normally served raw accompanied with lemon, salt and pepper, but they can also be found griddled or with garlic and parsley. They are a delight!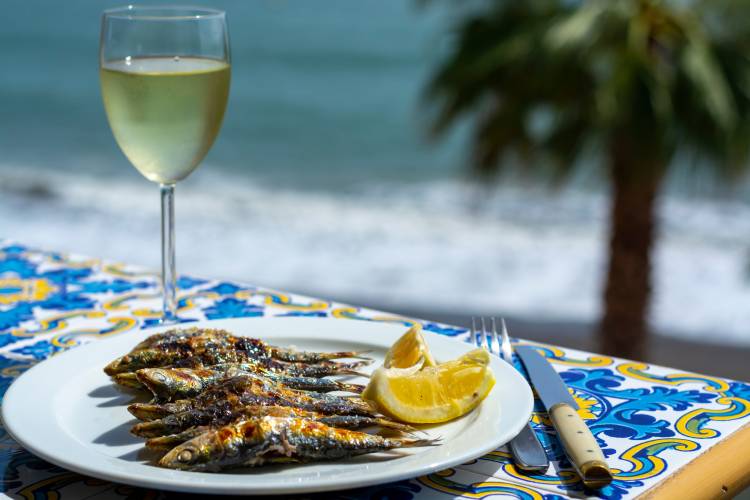 Fried anchovies with lemon: this is another of the most popular tapas in Malaga.

It tends to be served at the beachside bars or in the fairground huts. This dish doesn't just consist of simply frying the anchovies and adding a bit of lemon, it requires a process of marinating the fish so that, afterwards, it can be coated in flour and fried. A complete art in the lands around Malaga!

Fritura malagueña (fried fish Malaga-style): this consists of a dish of various types of fried fish, for example, red mullet, anchovies, squid and octopus. It is normally made with seasonal produce and is a commonly served in the beachside bars.

Malaga-style salad: this is a typical salad from the Malaga province. It consists of boiled potatoes, cod, onion, hard-boiled eggs, olives, orange and EVOO… and it is very refreshing!
Ajoblanco (white garlic): this is a cold creamy soup made with garlic, ground almonds, bread, vinegar, oil and salt. It is served very cold and garnished with ham shavings, melon pieces or white grapes on the top.

Caldillo de pintarroja (catshark broth): this is a traditional soup from the area and its main ingredient is the cat shark, a small shark that lives along the Malaga coast. It consists of cat shark, clams, almonds, tomato, garlic, oil, fried bread, chilli, saffron, lemon and mint.

Aubergines with cane syrup: this is one of the most well-known and delicious tapas in Malaga. It consists of an aubergine cut into very thin slices, coated in flour and fried. It is served with sugar cane syrup over the top. A delicious bittersweet taste!