Cherry gazpacho: an unmistakeable flavour
Cherry gazpacho is an ideal starter for summertime meals combining a traditional dish with delicious seasonal fruit.

on today's menu
Share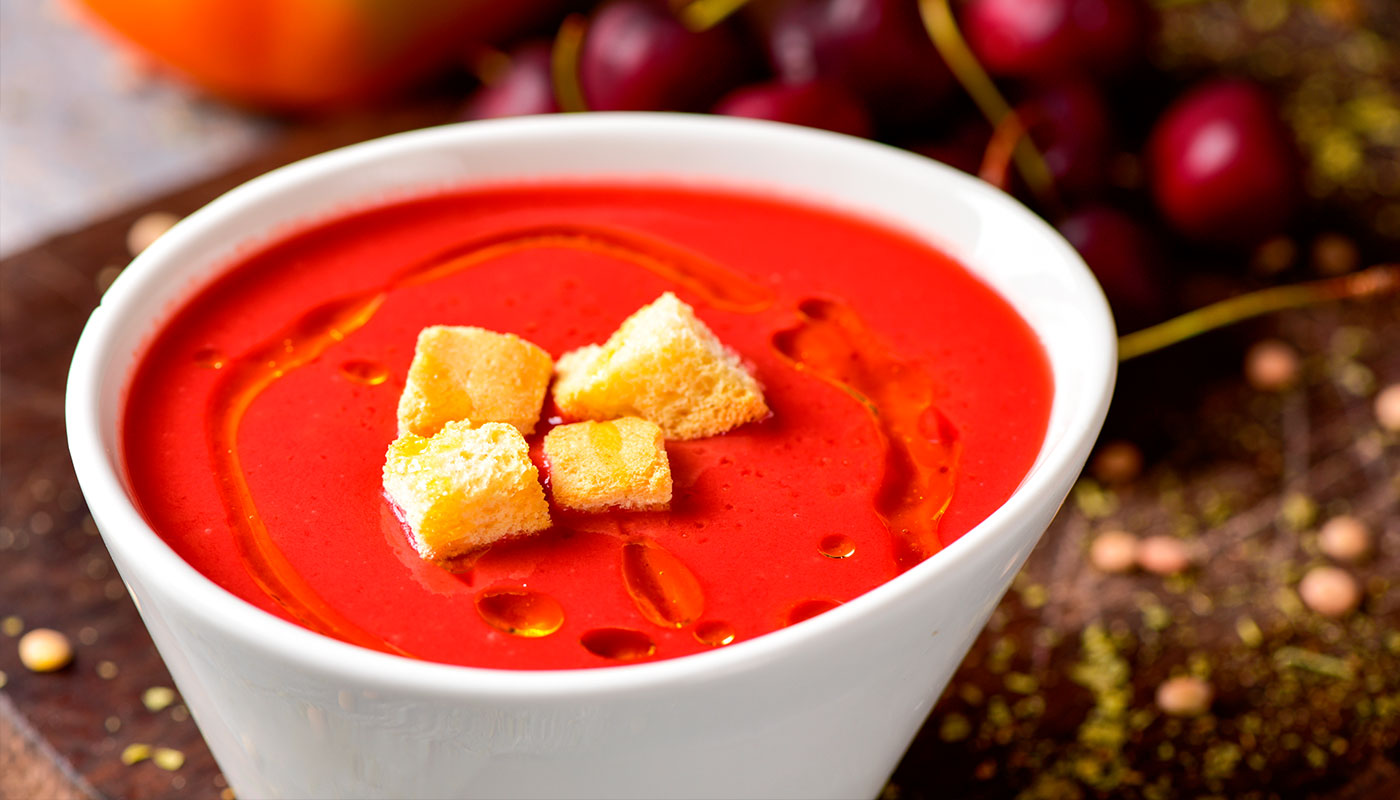 Cherries are quintessential summer fruits not only because they are typically picked in summer but also because they offer many health benefits. They have detoxifying and antioxidant properties, fight muscle inflammation, contain melatonin and are noted for aiding memory. The ideal time to consume them is when they have an intense red colour when they are sweeter, and the nutrients are more concentrated.
One of the ways to enjoy this fruit is in cherry gazpacho, which, like other cold soups, is appetising when temperatures start to rise. Making cherry gazpacho with a Thermomix is extremely simple, and the results are a delight. This is what you will need:
250 g pitted cherries
800 g tomatoes
10 g green pepper
30 g onion
3 crustless sliced bread
1 spoonful of vinegar
3 spoons of olive oil
1 clove of garlic
Salt to taste
The process for the cherry gazpacho recipe is no mystery. Here are the steps:
1. Pit the cherries, wash the tomatoes, cut them into large pieces (no need to peel them), and slice the bread.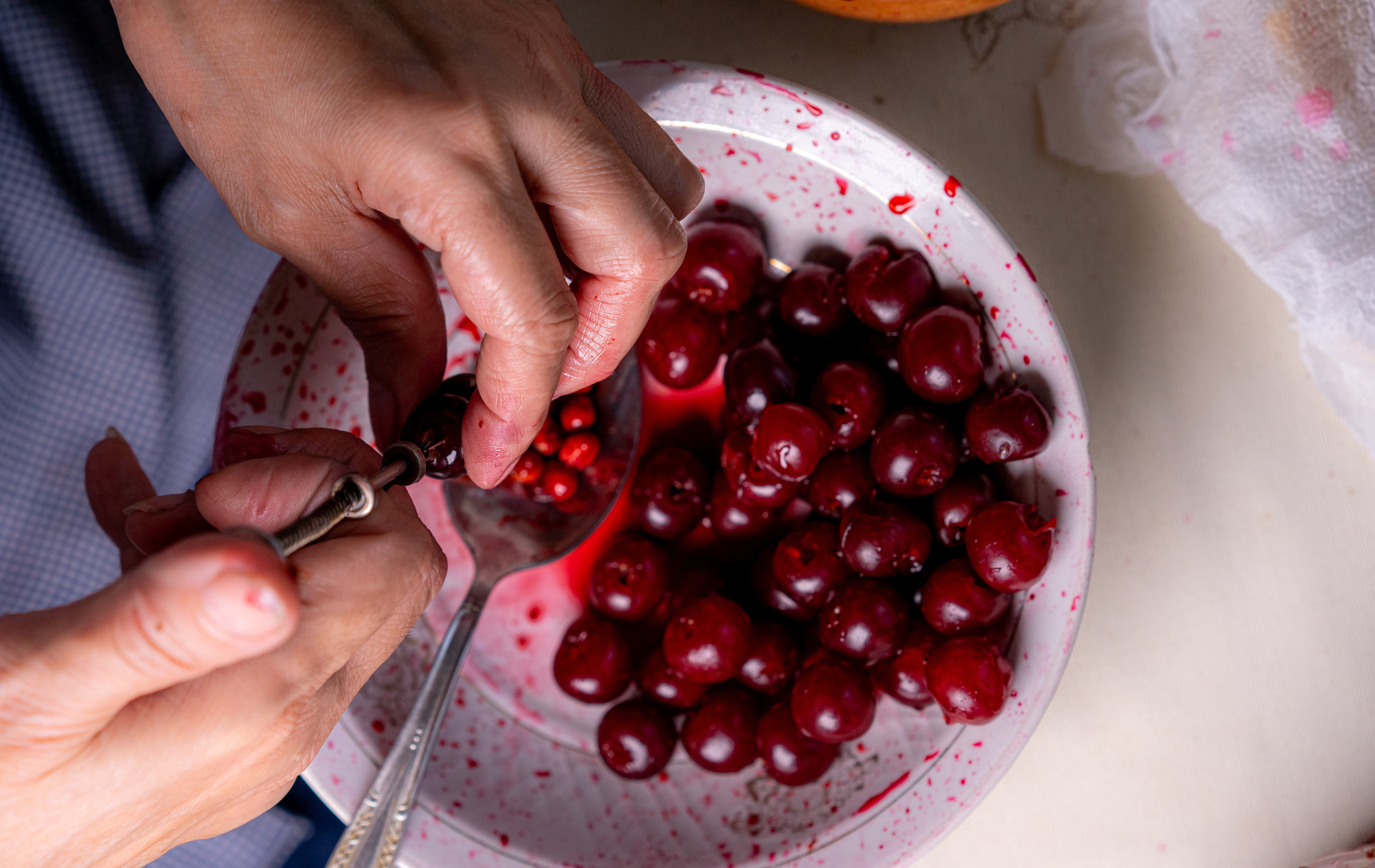 2. Add the cherries, tomatoes, pepper, onion, garlic, vinegar and sliced bread to the Thermomix beaker with salt to taste (you can adjust the salt later if needed).
3. Blend in the Thermomix for 20 seconds at speed 5, then for 2 minutes at speed 9. Now open the beaker and add the olive oil before blending for another 20 seconds at speed 5 to amalgamate properly.
4. Refrigerate the gazpacho and serve well chilled.
And Martin Berasategui's cherry gazpacho? The famous chef (he has twelve Michelin stars to his name) also has a particular recipe for cherry gazpacho. If you want to try his cherry gazpacho at home, you will need the following ingredients.
200 g pitted cherries
1 kg tomatoes
A piece of onion (around 15 g)
a small piece of green pepper (around 5 g)
1 clove of garlic
vinegar
100 g bread crumbs
Olive oil
As for the steps, they are just as easy as the Thermomix. The most notable difference is that we will keep the ingredients in the fridge for a while before making the gazpacho, and we will use a blender. Let's take a look:
1. Cut the tomatoes and place them in a bowl. Add the breadcrumbs, the diced green pepper and the onion. Add vinegar and a good splash of olive oil and leave the mixture in the fridge for 8 hours to macerate.
2. After 8 hours, blend everything at maximum power. Add the pitted cherries and salt and blend. You may need to add a little water at this stage.
3. Strain the cherry gazpacho to remove the tomato skins and seeds, and it's ready! Garnish with whole cherries and some pieces of melon and add a splash of olive oil.
Cherry and almond gazpacho
Another version of this recipe is cherry and almond gazpacho. In this case, you only have to add 100 g of almonds to the mixture, which is very similar to the previous preparation. In addition to 100 g of almonds, you will use 400 g of cherries, 50 g of breadcrumbs soaked in water, half a clove of garlic, 100 ml of olive oil, and 50 ml of sherry vinegar, salt and a litre of well-chilled water.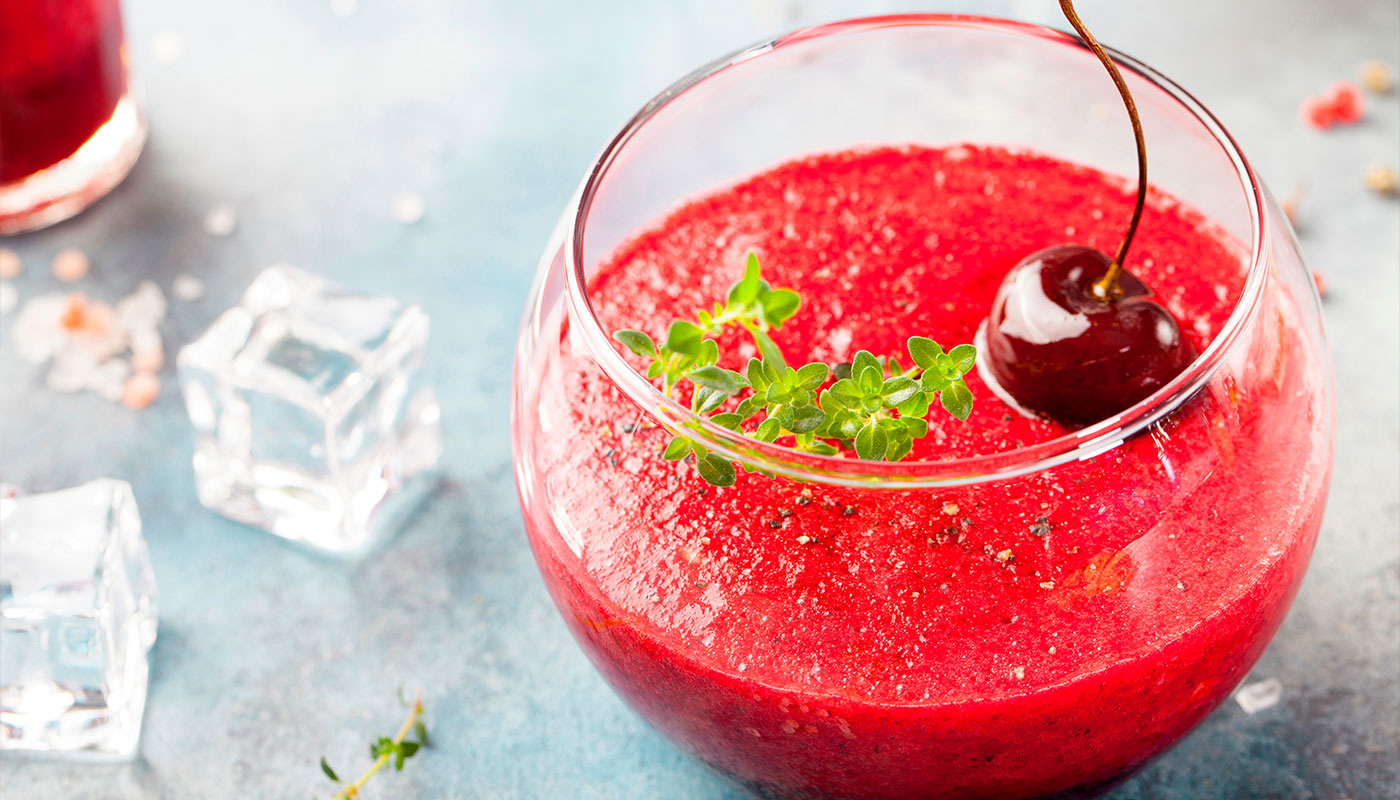 It is advisable to soak the almonds the day before. Blend all the ingredients, the almonds, cherries, breadcrumbs, garlic and salt, until the mixture is homogeneous. Continue blending gradually, incorporating the oil, vinegar and water until it looks like a cream. Adjust the vinegar and salt to taste and add a little chilled water if the mixture is too thick, and refrigerate before serving.
Cherry gazpacho is so versatile that it allows for other combinations. The watermelon and cherry gazpacho, for example, is another possible alternative. Add watermelon to the combination of ingredients we have been using to give it a special touch.
There are many ways to do it, but one thing is certain – cherry gazpacho will be a sensation this summer, no doubt about it!