Contouring, the makeup style in fashion
Do you know about contouring? It's the makeup technique that combines dark and light tones to style the features. It's the trend all the celebrities are following to sculpt their faces and show off a radiant face. It's a way to apply your makeup that already has millions of followers and is taking social media by storm.

health and beauty
Share
You only have to type the word 'contouring' in Google to realise the boom this makeup technique is going through. More than 36 million results and almost a million tutorials on Youtube. Contouring has been a trend since Kim Kardashian made it fashionable a few years ago, although this technique was invented years before by the North American makeup artist Kevyn Aucoin, one of the worldwide greats of makeup. Many well-known faces have signed up to this style of makeup which has ended up so popular.
The face has areas that stick out and others that are sunken. Contouring is based on playing with two foundations, one much lighter and another much darker than the skin in order to achieve amazing results. Through this technique you can get a sharper nose, raised eyebrows or more defined cheekbones, as long as you put each tone in the right place and blend thoroughly.
Contouring seems easy, but it's elaborate and takes time. Knowing which areas to highlight and which to conceal in order to sculpt the face is key. When starting to employ this technique you must have a few concepts clear; that the dark tones must be applied to areas that you want to appear deeper and that the lighter tones are for areas you want to highlight.
Contouring seems easy, but it's elaborate and takes time.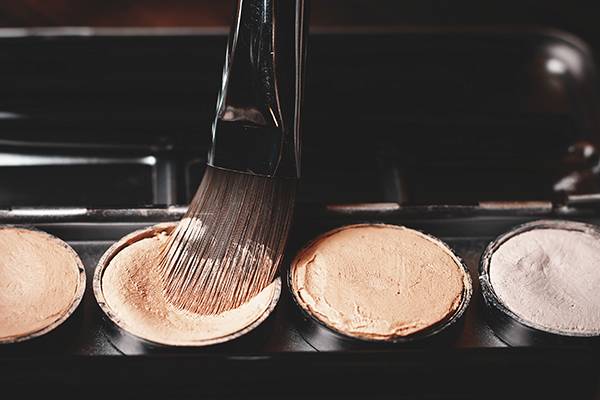 Nowadays, they are many products created specifically for applying this type of makeup. Powder kits with various tones, soft pencils that darken and lighten, pencils that come with a sponge to blend which get spectacular results... The essential products for contouring are a light foundation or a bb cream to merge the face and a contouring pallete or two-tone pencil and a blusher. We can also use a sponge or a brush for blending.
CONTOURING STEP BY STEP
We'll explain step by step what contouring makeup consists of so you can do it at home:
1. First we use a light foundation or bb cream to merge the skin where we are going to aply the rest of the products.
2. It's time to lighten and shade. First we apply the dark tone under the cheekbone in a upward stroke until it reaches the ear area at the edge of the jaw, in the upper part of the forehead and temple. Next, we must apply the light tone under the eyes in the shape of an inveted triangle, in a line on the septum and in the center of the forehead and chin.
3. To achieve a natural finish it's essential to blend the strokes well. If we used the same brush or sponge, start with the light tone and end with the dark tone.
4. To finish, lightly apply a touch of blush to the cheeks.