Diet to be more productive
Optimising time, distribution of tasks, managing schedules, there are many strategies people often think of to increase productivity, but food is rarely included on this list. However, what we eat can affect us more than we think.



on today's menu
1 April 2020
Share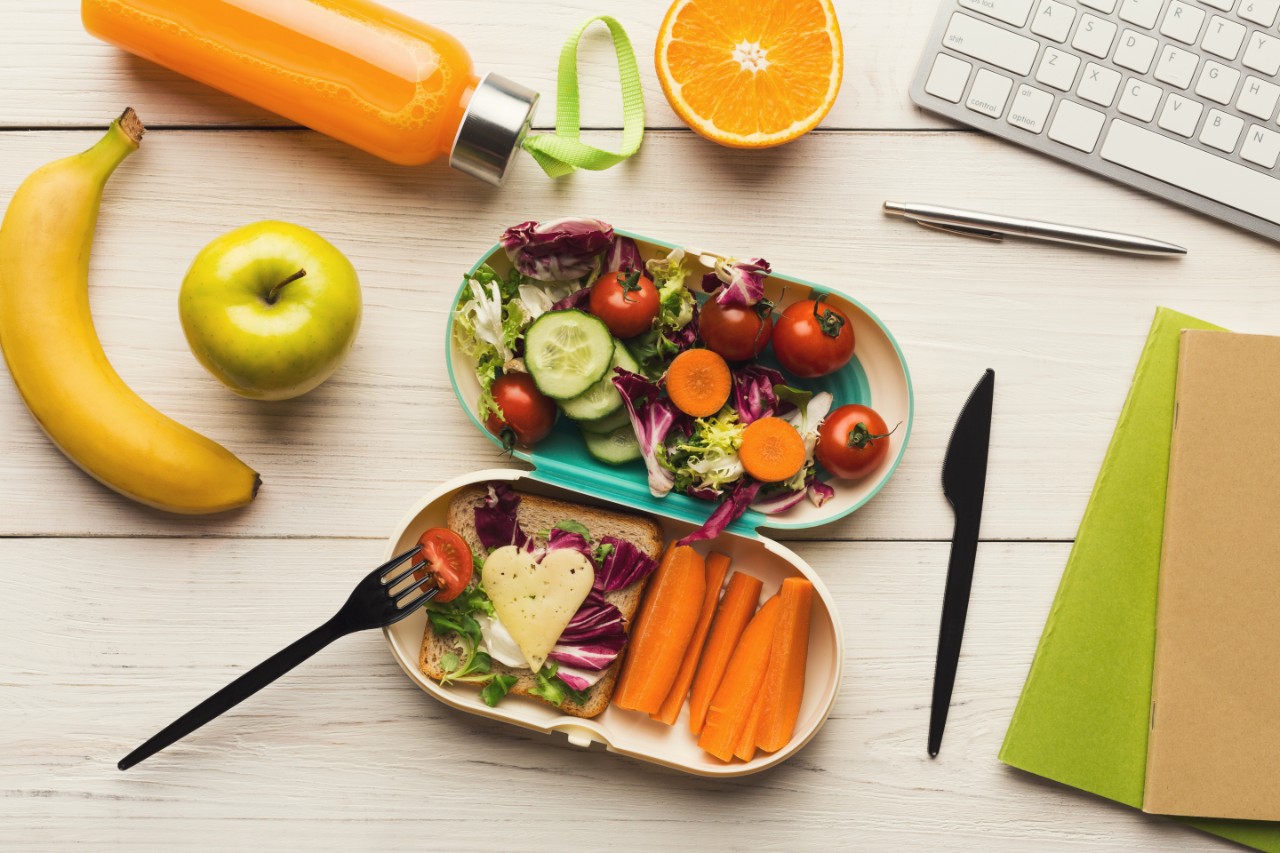 Food has a direct impact on our cognitive activity and, therefore, a bad meal can ruin our entire afternoon. The World Health Organisation reports that 20% of the increase in productivity is due to food.
Drowsiness, hunger, loss of concentration, despondency... Many of these feelings are felt every day in any work environment. Even though all of the causes may have a different origin, there is one common factor: a bad choice of foods that make up the daily intake.
Work dynamic, stress and the short time we spend on having a break, facilitate the development of a food consumption pattern which, unfortunately, promotes an increase in the so-called non-communicable diseases. The current trend shows a diet profile with a high content of energy, sugar, refined starches, ultimately, an increasing predisposition to the consumption of ultra-processed foods and less consumption of fruit, vegetables, wholemeal cereals, pulses, dried fruits, seeds and fish.
What is clear is the correlation that exists between poor health and indirect and direct costs which affect the productivity of a person in their work environment. A poorly fed individual will encounter difficulties in improving their quality of life, given that the working capacity, directly proportional to food, will decrease when they are poorly fed and, as regards physical work, it can reduce by up to 30% in terms of normal development.
The World Health Organisation reports that 20% of the increase in productivity is due to food.
In other words, a responsible choice, consistent with what we are looking for from foods that make up a meal, snack or lunch taken to work, means gains in health and performance. Foods in their natural state offer us endless nutritional benefits and dishes made from them mean a short and long term gain, it's just a question of thinking of some ways to get the maximum benefit, so it is important to:


Organise mealtimes: Set a time for each meal and respect it in order to take care of glucose levels; missing out on meals or leaving a long time between them generates an adaptation in our body which prioritises certain reactions before others. At the same time it encourages us to eat unhealthy foods which cause an increase in blood sugar, provoking spikes of hunger, which disrupt concentration and cause anxiety.
Always have dried fruit and

desiccated

or dehydrated fruits to hand. They are a fantastic option to incorporate into your

everyday

life, but always in their natural versions, just like

fresh

fruit.

Prioritise eating raw seasonal vegetables, on their own or combined with pulses and wholemeal cereals.
Drink water, avoiding sugared drinks (ultra-processed food).
If you bear in mind that work takes up more than half of someone's day, it is essential to carry out actions through healthy environments for food which enable individuals to stay healthy or improve their health, introducing aspects such as: suitable places for food, company policies that favour suitable nutrition, food and nutritional education and enough break time for eating food.
Figs with goats's cheese and pistaccios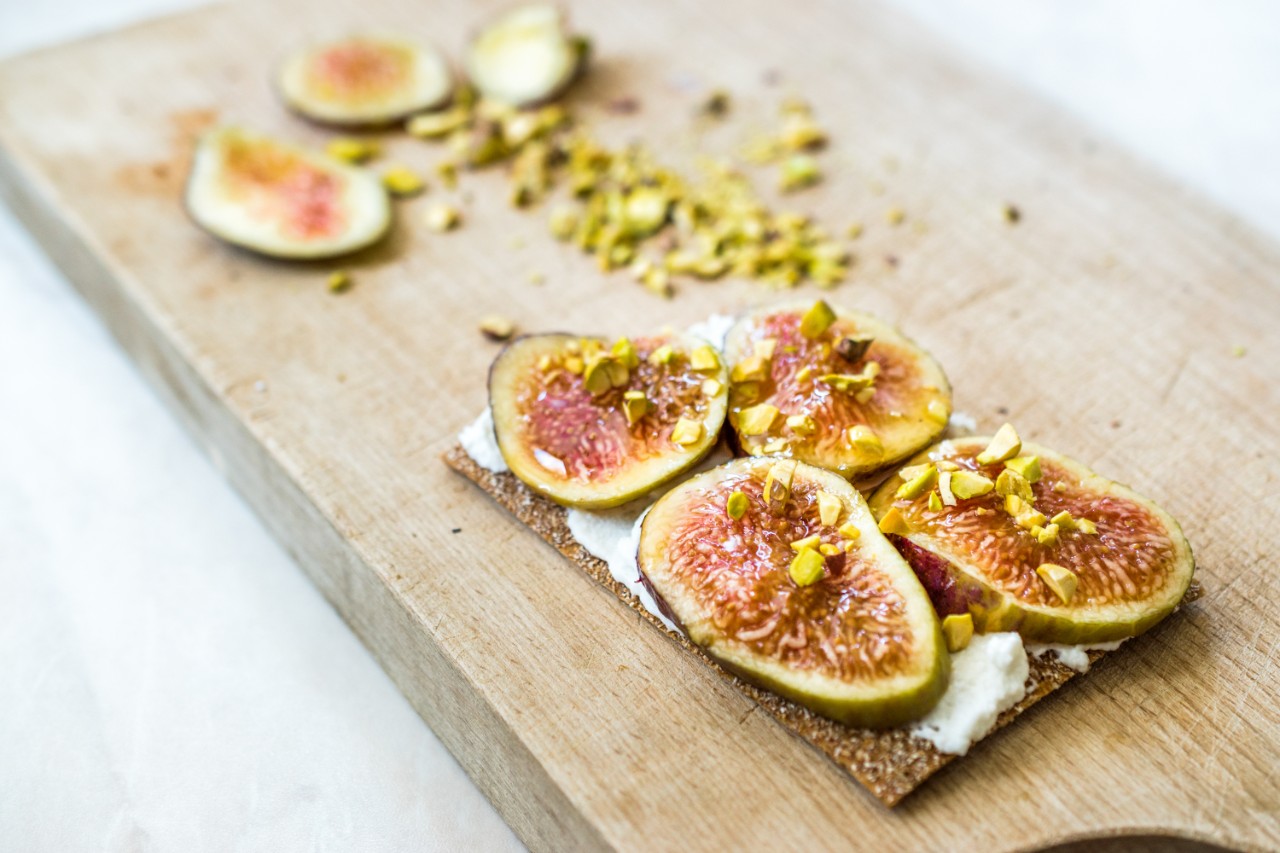 Ingredients (4 people)

- 4 ripe purple or green figs
- 40 g of goat's cheese log
- 20 g of peeled pistachios
- 20 g of honey
- 40 ml of balsamic vinegar
- Salt
- Ground black pepper
Method
1. Lava bWash the figs well but gently. Remove the stems, if there are any, and cut each one in half. Place face up and fill with a little bit of chopped goat's cheese. Add recently ground black pepper.
2. Peel the pistachios if necessary and chop coarsely. Spread them over the figs to taste. Mix the honey and balsamic vinegar well in a bowl. Try and adjust the quantities to taste.
3. Dress the figs with the mixture and top with a pinch of coarse salt or flaked salt. You can place them in the oven for a short time at high temperature if you prefer to serve them warm and with a sweeter flavour.


Lentin and pumpkin moussaka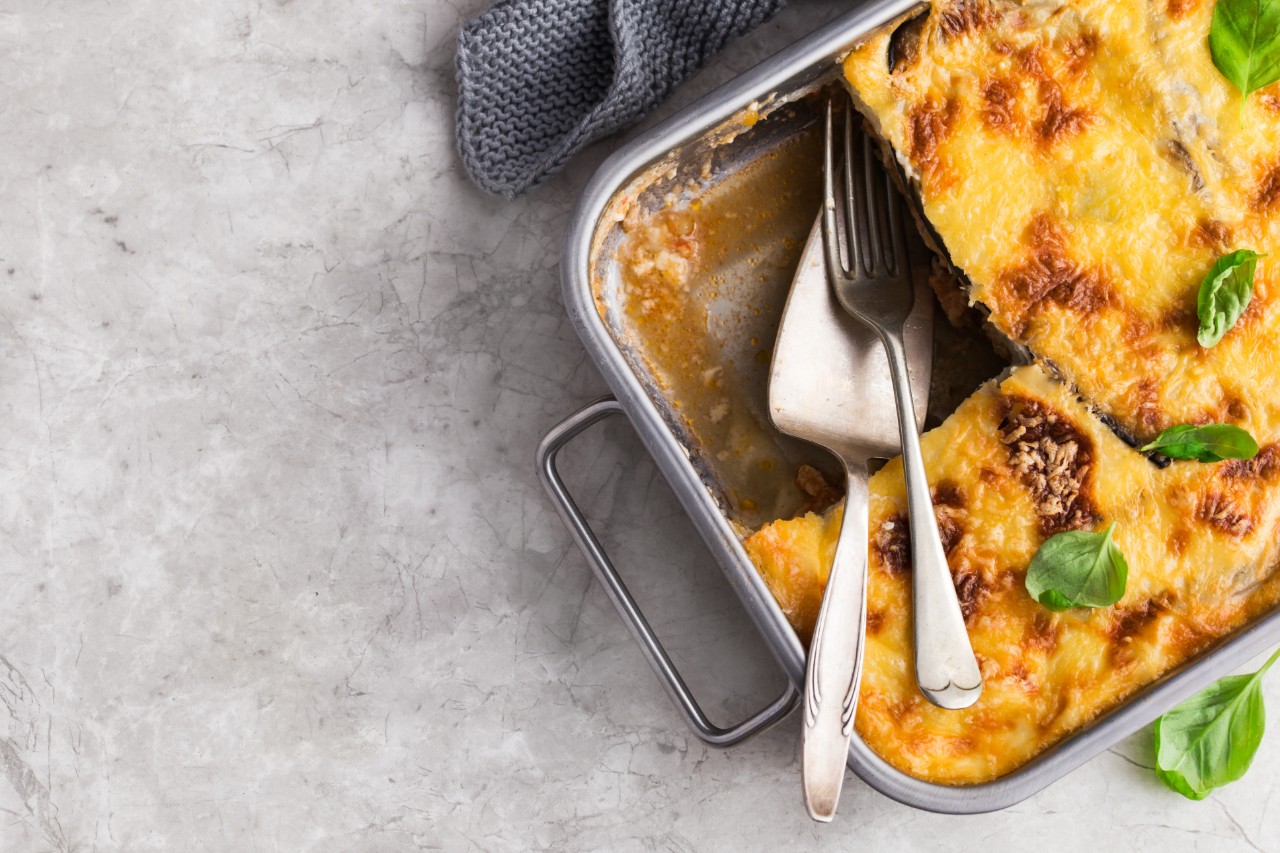 Ingredients (4 people)
- 400 g of chopped natural tomatoes
- 400 g of peeled diced pumpkin
- 200 g of sliced aubergine
- 160 g of Pardina lentils
- 120 g of finely chopped white onion
- 50 g of celery chopped into small cubes
- 50 g of grated Parmesan cheese or similar
- 40 g of corn starch
- 1 g of dry oregano
- 1 g of ground nutmeg
- 350Ml of semi-skimmed milk
- 20 ml of virgin extra olive oil
- 1 clove of finely chopped garlic
- 1 bay leaf
- 1 lightly beaten egg
- Salt
- Ground black pepper
Method
1. Soak the lentils in a bowl of cold-water Pre-heat the oven to 200ºC, heat top and bottom, and prepare two trays or dishes, greasing with a little oil.

2. Heat a saucepan or pot with oil and sauté the onion with the celery and a pinch of salt until they are very soft. Add the garlic and cook for five minutes. Drain the lentils, rinsing them well, and add to the saucepan along with the bay leaf and tomato. Add the oregano
3. Cover with 150-200ml of water, lower the heat and cook until the lentils are soft, adding more liquid as needed. Depending on the type of lentil, it will take around 25-30 minutes.
4. Spread the cubed pumpkin into one of the prepared trays and the sliced aubergine in the other. Season them both and bake for 20 minutes. Stir the pumpkin halfway through and turn the aubergine over carefully.
5. Prepare the cold dietetic bechamel, mixing the milk with the flour, stirring constantly and bring to the boil. Continue to cook until it thickens, stirring constantly. Add the nutmeg, black pepper and nearly all of the parmesan cheese. Remove from the heat, leave to cool a little and add the beaten egg, stirring well, but gently.
6. Assemble the moussaka in a 27x18 cm (approximately) high sided dish. Spread the ragout of lentils on the bottom, then a layer of pumpkin, then the aubergine and, finally, the sauce. Bake in the oven for 30-40 minutes.


Chickpeas bathed in darked chocolate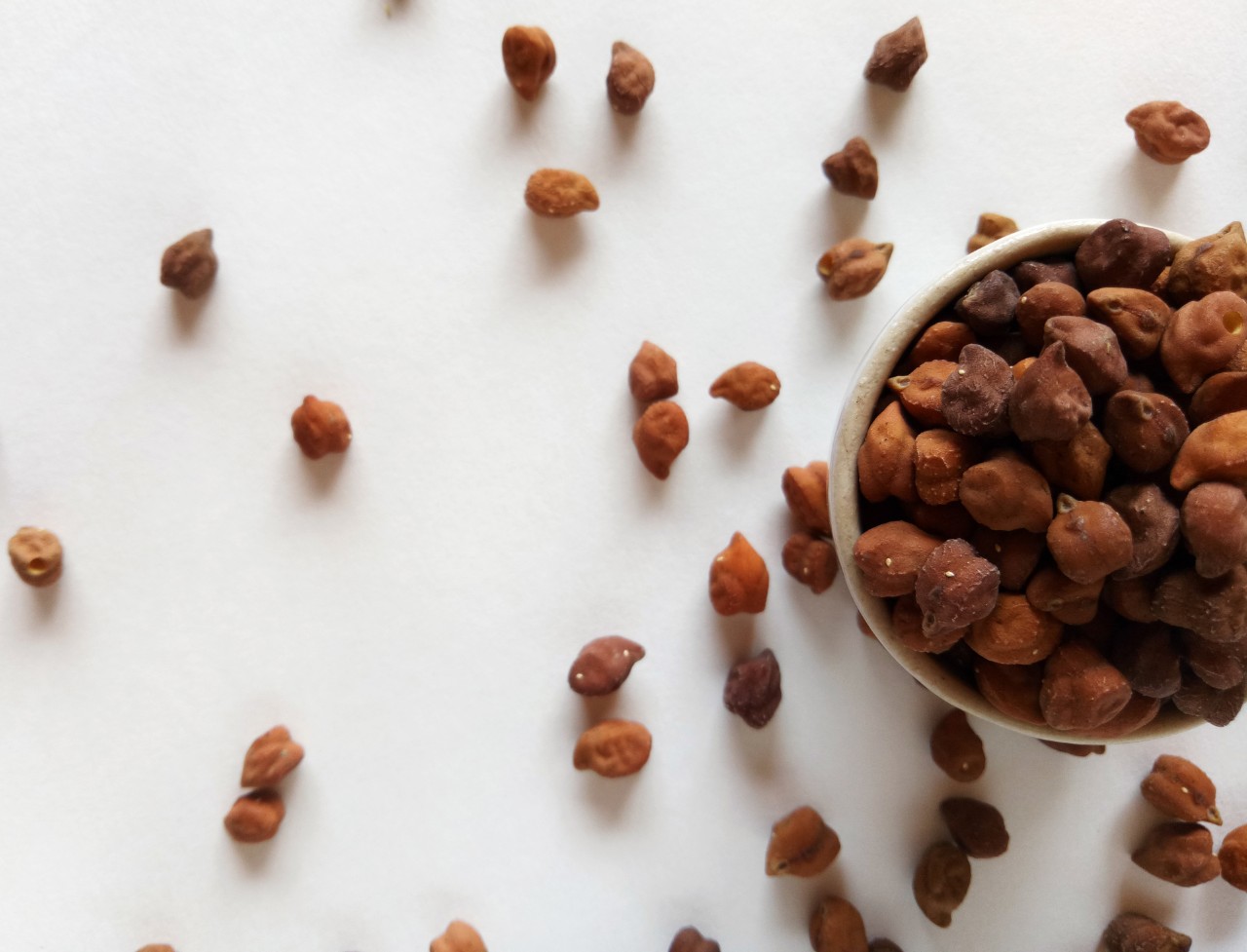 Ingredients (6 people)
- 400 g of tinned cooked chickpeas
- 120 g of dark chocolate (minimum 70%)
- 1 g of ground cinnamon
- 1 g of vanilla powder
Method
1. Preheat the oven to 180ºC and prepare a suitable tray. Drain the liquid from the chickpeas. Rinse the pulses under the tap in a colander and drain well.
2. You can remove their skin to get a more even and crunchy texture. Once ready, mix in a bowl with the ground cinnamon and vanilla powder, or other confectionery spices to taste.
3. Spread on the tray in one layer and toast at medium height for 40-50 minutes, mixing them round every so often. If they start to pop very soon, turn the oven temperature down. Remove and place to one side.
4. Prepare a tray or dish with clean non-stick oven proof paper. Melt the chocolate using a bain-marie until it is even and smooth, mix gently, ensuring you don't add any air. Add the chickpeas and mix gently to cover them well.
5. Spread on the tray forming small piles, to make "chocolate bars", leave to cool until they dry completely, and the chocolate has solidified.