Easy and appealing recipes to make with children in summer
Easy recipes to make with the little ones and have fun as a family this summer. A way to learn and try flavours and textures. Let's get to work!


on today's menu
28 July 2020
Share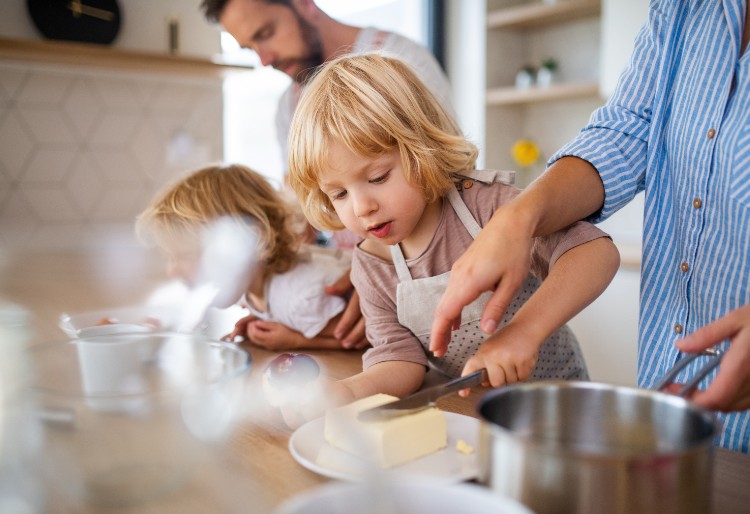 With the arrival of the confinement and the passing of the days, children began to spend more time in a space full of opportunities to share, learn, laugh and enjoy each other's company.

Today, more than at other times, the kitchen is that place to play and explore curiosity about new textures, flavours and smells, acquire other skills and discover the amazement of daily tasks such as preparing juice. In short, the kitchen is the great learning laboratory that leaves no one indifferent, where by beating simple egg whites until stiff we obtain a foam that does not collapse, not even if we turn the bowl upside down - if they are well done of course. For children, all this becomes a truly amazing discovery.

The simple idea of collaborating in the preparation of a dish allows us to transmit values and culture, and generate other types of bonds.
In order for the experience to be really profitable and to make the kitchen a cosy corner for everyone, it is important to consider some details:


• Forget about time, children don't have the same rhythm or the same experience.
• Explain to them the basic rules of hygiene and safety, accepting that it will be difficult to maintain an extremely clean and tidy kitchen, but that it is important that they also cooperate in cleaning the utensils they are using, as well as the surfaces.
• Organise the workplace to make them feel comfortable and safe.
• Choose utensils appropriate to their age, taking account of their skill, and always observe and assist them so that they do not hurt themselves.
Every moment is an opportunity to provide them with the tools that will later serve them to better cope in life

It is they who are to become protagonists of the transformations that accompany the food when it is cut, mixed and / or cooked. In this environment they encounter a multitude of sensory stimuli and thus, the kitchen turns out to be a perfect ally for promoting teamwork, starting with the choice of dishes to be made. Once the recipe is chosen, you can look at the ingredients necessary and make a shopping list to demonstrate that it is important to be organised prior to launching into the preparation.

Every moment is an opportunity to provide them with the tools that will later serve them to better cope in life. So we demonstrate the value of sharing time around the table in an unhurried way, enjoying menu planning and innovations. We should recognise this as an unbeatable opportunity.



Spinach and cheese muffins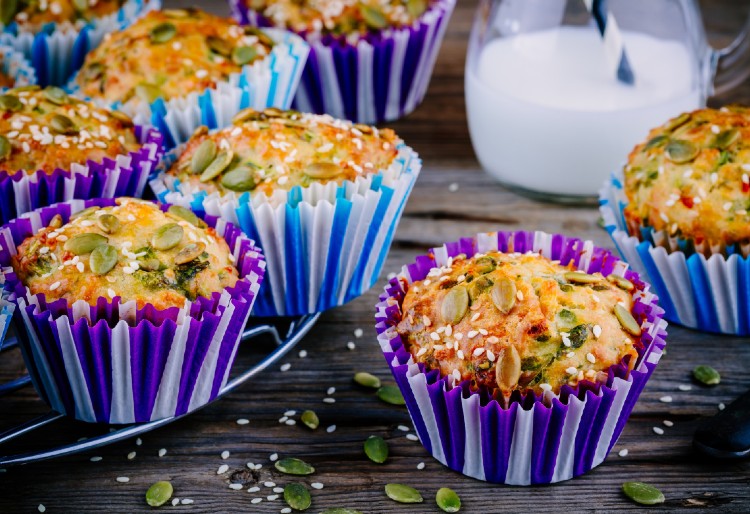 Ingredients (12 muffins)

- 200 g flour
- 100 g grated cheese
- 50 g spinach cut into fine strips
- 100 ml milk
- 5 cherry tomatoes
- 4 tablespoons olive oil
- 2 eggs
- ½ sachet of baking powder
Method:
• Pre-heat the oven to 180C. Prepare the muffin tray by greasing if necessary.
• In a bowl, mix all the ingredients.
• Pour the preparation into the moulds, filling them up to ¾ capacity.
• Bake for 15-20 minutes or until firm to the touch.
• Let cool to room temperature before serving.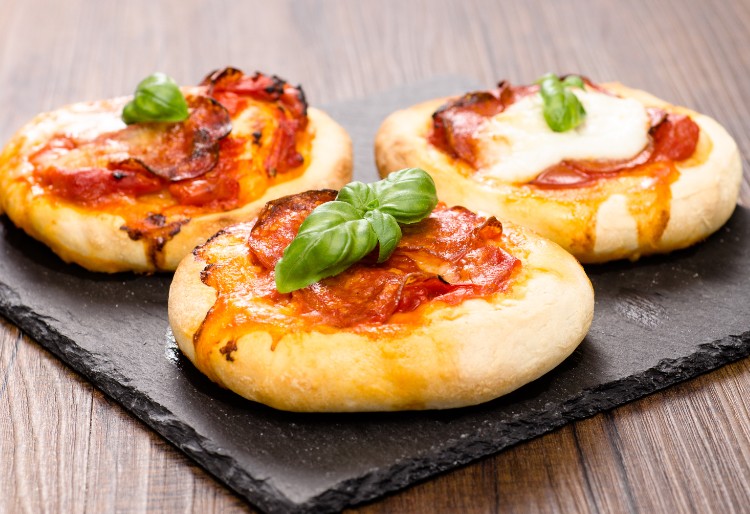 Ingredients (8 people)

- 500 g flour
- 400 g water
- 125 g mozzarella
- 120 g tomato passata
- 25 g virgin olive oil
- 20 g fresh yeast
- 5 g salt
- 1-2 drops of black food colouring or 1 teaspoon of activated charcoal
- 10 basil leaves, chopped
Method:
1. Put the flour, yeast, salt and droplets of the colouring in a bowl. Mix everything well. Incorporate the oil and water at room temperature and begin to bring all the elements together. Knead for about 10 minutes, until it becomes an elastic mass. Make a ball and let it rest for 1 hour.

2. After this time, work the dough slightly for a few seconds and divide it into the number of portions of mini-pizzas that you want to make. Gently roll out the dough with your hands only, leaving the edges slightly thicker.
3. Cover the mini-pizzas with the tomato passata, previously seasoned with oil and basil, and distribute the mozzarella on top.
4. Preheat the oven to 200ºC, then cook the mini-pizzas for about 15-20 minutes, making sure they don't burn.


Impatience-proof "flash" brownies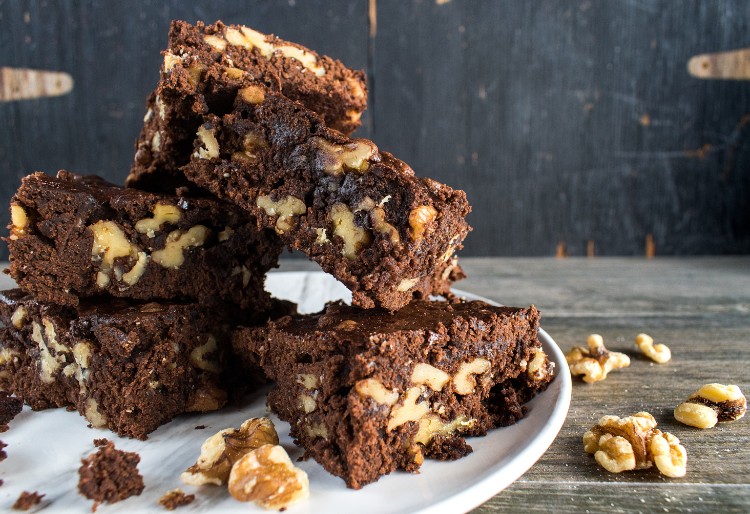 Ingredients (8 people)

- 125 g of cooking chocolate
- 100 g butter
- 50 g sugar
- 70 g wheat flour
- 60 ml skimmed milk
- 1 teaspoon cocoa powder
- 50 chopped walnuts (optional)
- 3 eggs
- ½ sachet of baking powder
Method
1. Place the chocolate with the butter in a bowl, cover with plastic wrap and microwave for about 3 minutes.
2. Beat the eggs with the sugar.
3. Mix the butter and melted chocolate well and add the sugar and eggs to the mixture. Add the flour, yeast, cocoa, milk and chopped walnuts.
4. Distribute the dough in a microwave-safe mould, previously greased with butter.
5. Cook for 5 to 6 minutes on medium power. Let stand and serve cut into squares.