10 essential seafoods for Christmas
On these dates so marked, there is a dish that never fails. We propose you the ten best seafood for this Christmas. Enjoy a good Christmas menu!

TRIED AND TESTED
15 November 2018
Share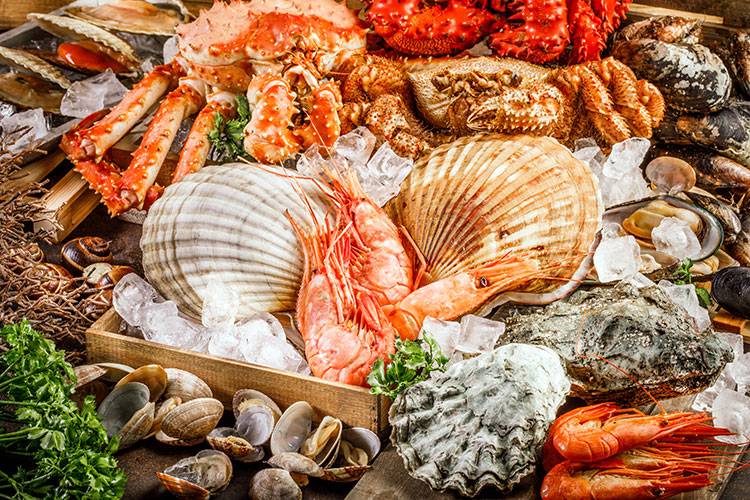 When talking about shellfish, we can make two distinctions: crustaceans, which are those with shells, such as shrimp or crabs; and bivalve molluscs, which are always covered by two shells, such as clams or mussels. Although we can find them almost all year round, you cannot feel proud of your table at Christmas without a little seafood.
1. Carabinero or Scarlet prawn
Its intense red colour and large size make it a real spectacle for the eyes as well as for the palate. The Carabinero is one of the crustaceans most commonly consumed in our country, both because of its taste and the quality of its meat. Although it normally measures between 10 and 20 centimetres, it can reach 30 centimetres.

It is usually grilled with a little salt, but its powerful flavour also makes it a highly prized ingredient for rice dishes, soups or creams, giving them a special touch. And to top it off, without a doubt, the best of the flavours of the Carabinero can be found in the juice within its head.
2. Red shrimp
With a size of between 10 and 18 centimetres, this is the most commonly-used crustacean in the Levante area for preparing rice or for grilling. Like the rest of the crustaceans, its most potent flavour is found in its head.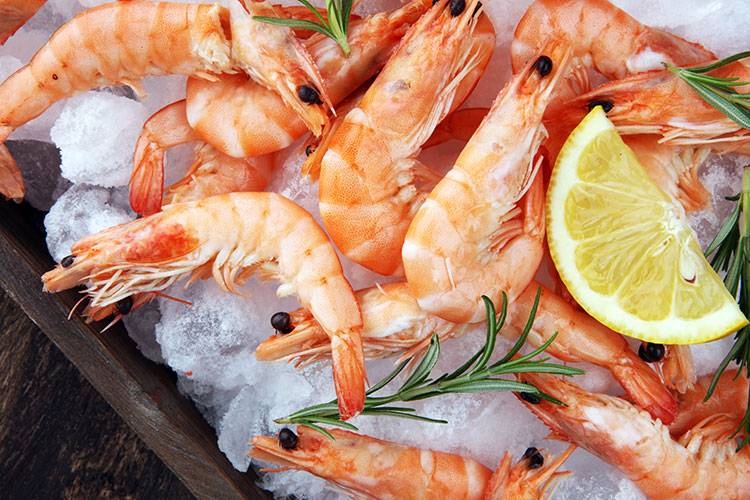 3. Coastal Norway lobster
Characterized by its pinkish colour, tight flesh and hard shell, the Norway lobster is one of the products with the greatest gastronomic tradition in our country. Its size ranges from 15 to 25 centimetres and it is usually grilled with a little salt.
4. Prawns
This is one of the most in-demand crustaceans and can be found around the Atlantic and Mediterranean coasts. It has a whitish colour and it has a firm, fine and tasty flesh. It is commonly known as a prawn.
5. Crab
It is usually eaten cooked and the legs, mouths (claws) and the inside of the central body is eaten. The meat is delicate and exquisite, but you will need the right tools to break its hard shell and extract its meat.
6. Spider crab
For many, this is considered the king of seafood. The spider crab is characterised by its intense flavour and the texture of its flesh. Its round body and thorny shell make it unmistakable. In the Basque Country it is known as changurro and they have a recipe by crumbling its meat, mixing it with onion, tomato and brandy and then creating a gratin in the crab's own shell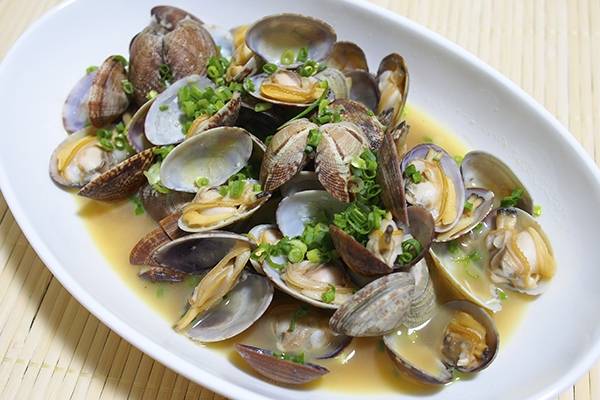 7. Clam
This is very versatile in the kitchen and we can prepare them on their own, with a rich seafood sauce, or accompanying other types of dishes, such as soups or stews.
8. Oyster
This is a type of shellfish with a rounded and uneven shell. In Spain, we have some of the largest oyster production areas in Galicia and the Mediterranean coast, and they are becoming more and more fashionable. For many people, it is one of the best delicacies the sea has to offer. They are usually eaten raw with a little squeezed lemon and accompanied by a glass of cava or a fresh white wine.
9. Maine Lobster
This is one of the most famous crustaceans and can demand quite high prices. Contrary to what many people think, it can be smaller than the common lobster, although its taste is more intense. Its most prized part is the head, where we find the coral and a tasty red meat, which are a mixture of a creamy part and another part which is a little more crunchy.





10. Lobster
This differs from the Maine lobster by the size of its claws, and it is a good marine hunter. Its taste is softer, but just as tasty. Its size is also larger than the Maine lobster.
Seafood in the kitchen
All the seafood can be eaten cooked, grilled or as part of more elaborate recipes. In the case of crustaceans, it is possible to eat them as a dish on their own because they have a very intense and characteristic taste. In addition, some of the seafood, such as prawns, are very useful in the kitchen because of their versatility: they can be cooked, stewed, fried or grilled.

The only 'snag' they have is their contribution to cholesterol, as some crustaceans contain levels which are not really recommended for a low cholesterol diet, nor are they recommended for people with hyperuricemia or gout, as they contain purines which are transformed into uric acid. However, contrary to popular belief, this is not the case with bivalve molluscs (shells).