Fried milk: Traditional Easter recipe
We show you all the steps for preparing fried milk, the traditional recipe. Surprise your loved ones this Easter with this delicious recipe.



on today's menu
3 April 2020
Share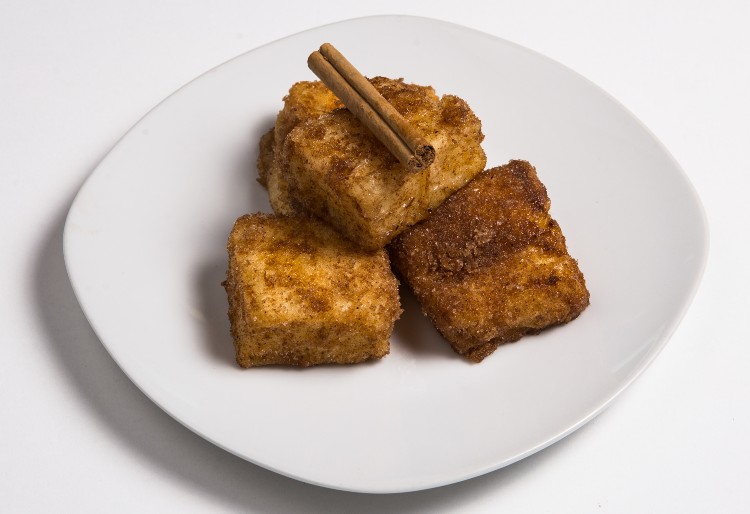 Fried milk is one of the most traditional desserts at Easter, It is thought to have originated in the north of Spain, although there is no data to confirm this, and many areas claim its creation as their own. Wherever it comes from, fried milk is a dessert that is a success wherever it is served. Its creamy texture with citrus and cinnamon aromas and its crunchy sugar-coated exterior make fried milk one of the star desserts of this time of year.
Ingredients for making fried milk (10 portions)
- 500 ml full-fat milk
- 130 g sugar
- 60 g cornflour
- Lemon peel
- One cinnamon stick
For coating
- 1 egg
- 50 g de cornflour
- Sugar
- Powdered cinnamon
- Plenty of oil for frying
- Canela en polvo
Preparation of the fried milk récipe for Easter
Place a saucepan on a médium heat and pour in the milk. Add the lemon peel and the cinnamon stick. When it begins to boil, leave it for 2-3 minutes for the milk to infuse the flavours.
Remove the saucepan from the heat and remove the lemon peel and cinnamon stick. Put aside.
Pour the rest of the milk into a bowl and add the flour. Mix until there are no lumps.
Place the saucepan with the infused milk on a mid-low heat, add the sugar and mix in the milk with the cornflour. Stir constantly with a whisk so no lumps form and when it begins to boil, continue stirring for another 8 minutes while it thickens. Then remove the pan from the heat.
Pour the mixture from the saucepan into a deep tray, spread it evenly so that it is level and let it cool.
Once cooled, cover the tray with greaseproof paper and place in the fridge for at least 4 hours.
Remove the tray from the fridge and loosen the mixture from the sides of the tray with a spatula. Place the mixture into another tray by carefully turning it upside down and cut the mixture into 10 pieces.
Place 50 gr of cornflour in a deep dish and a beaten egg into another dish. Then place a frying pan on a medium heat and pour in plenty of oil for frying.
While the oil heats up, coat the pieces of mixture firstly in the flour and then in the beaten egg.
When the oil is hot, place the pieces of coated mixture into it and fry them for between one or two minutes on each side until they are golden. Then remove them and place them on a dish on top of kitchen paper.
When all the pieces are fried, coat them in a mixture of sugar and cinnamon according to taste, and they are ready to eat.