Hake meatballs: recipe with salsa verde
Hake meatballs are a seafaring dish that really makes the most of the flavour of this fish. We teach you step by step how to make these meatballs and their sauce.

on today's menu
Share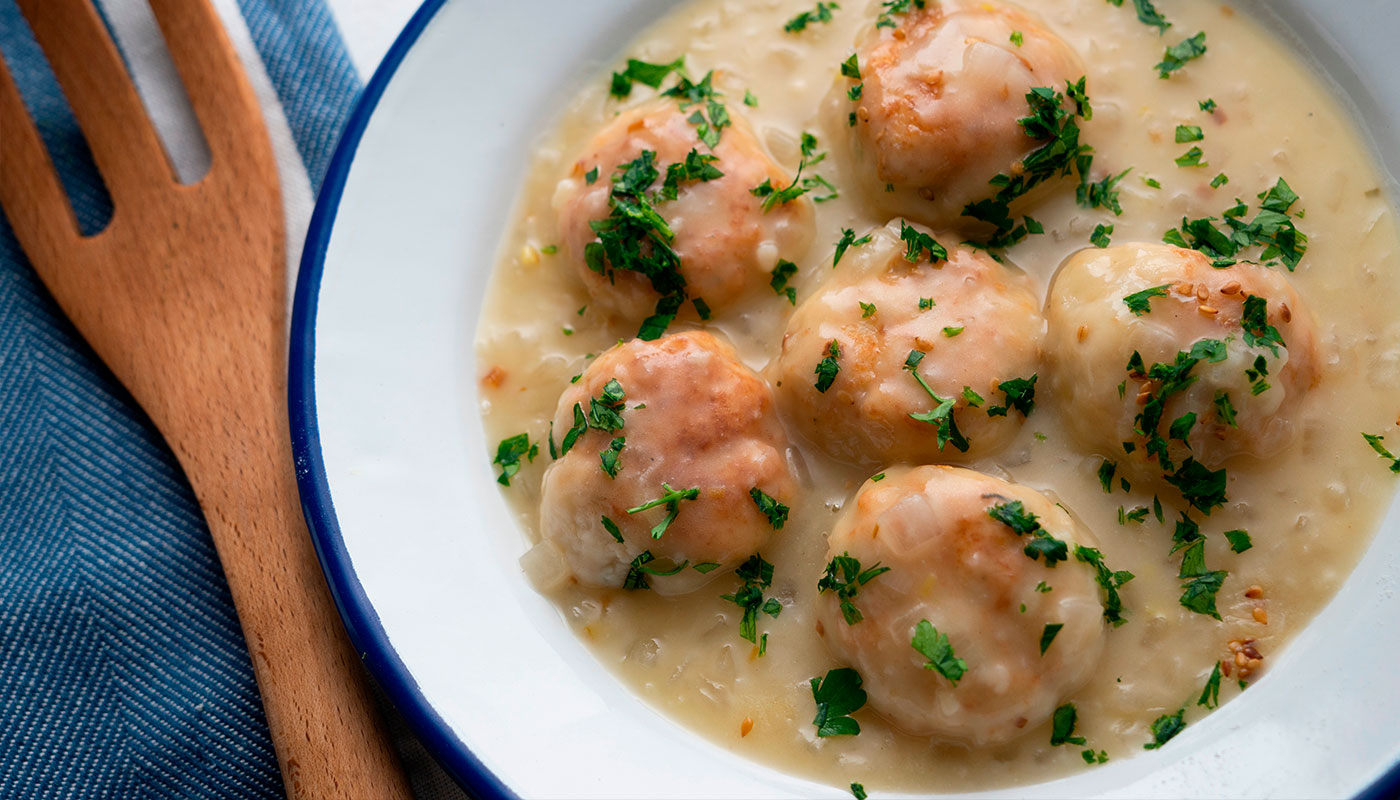 This is a true seaside dish that once again shows us how versatile hake is in the kitchen. In the recipe we explain step by step how to make them; but you can always give them a personal touch, by adding pieces of shrimp, prawns or tuna. Try cooking the hake in a different way and you'll see how your family like it.
INGREDIENTS:
MEATBALLS:
½ kg hake fillets
4 eggs
60 g onion
2 slices of white bread
80 ml cream

2 garlic cloves
20 ml of EVOO
Parsley

Salt
Pepper

Flour
Breadcrumbs
FISH SAUCE:
1 litre fish stock
200 ml white wine
1 onion
1 green pepper
60 ml EVOO
Salt
Pepper

Flour

1 sprig of parsley
PREPARATION:
MEATBALLS:
1. Chop the onion and garlic, and set aside.
2. Finely chop the hake fillets and blend with the bread, cream, two eggs, a pinch of salt, pepper and EVOO.
3. Put the mixture in a bowl and add the onion, chopped garlic and parsley.
4. Mix everything well until a uniform texture is achieved.
5. Put a little oil on your hands and shape the meatballs.
6. When they are all done, roll them in flour, beaten egg and breadcrumbs, and leave them on a plate.
7. Fry all the meatballs in hot oil and set to one side.
SAUCE:
1. Sauté the chopped onion and green pepper in a pan until they soften.
2. Add the flour and brown it a little. Then add the white wine and let it evaporate.
3. Add the fish broth and meatballs.
4. Cook over medium heat for 20 minutes.
5. When serving, sprinkle with chopped parsley.