Ham and cheese rolls: easy recipe
Ham and cheese rolls are a simple and delicious recipe. Add pesto, aubergine and... voila! An original dish ready for everyone to enjoy.

on today's menu
Share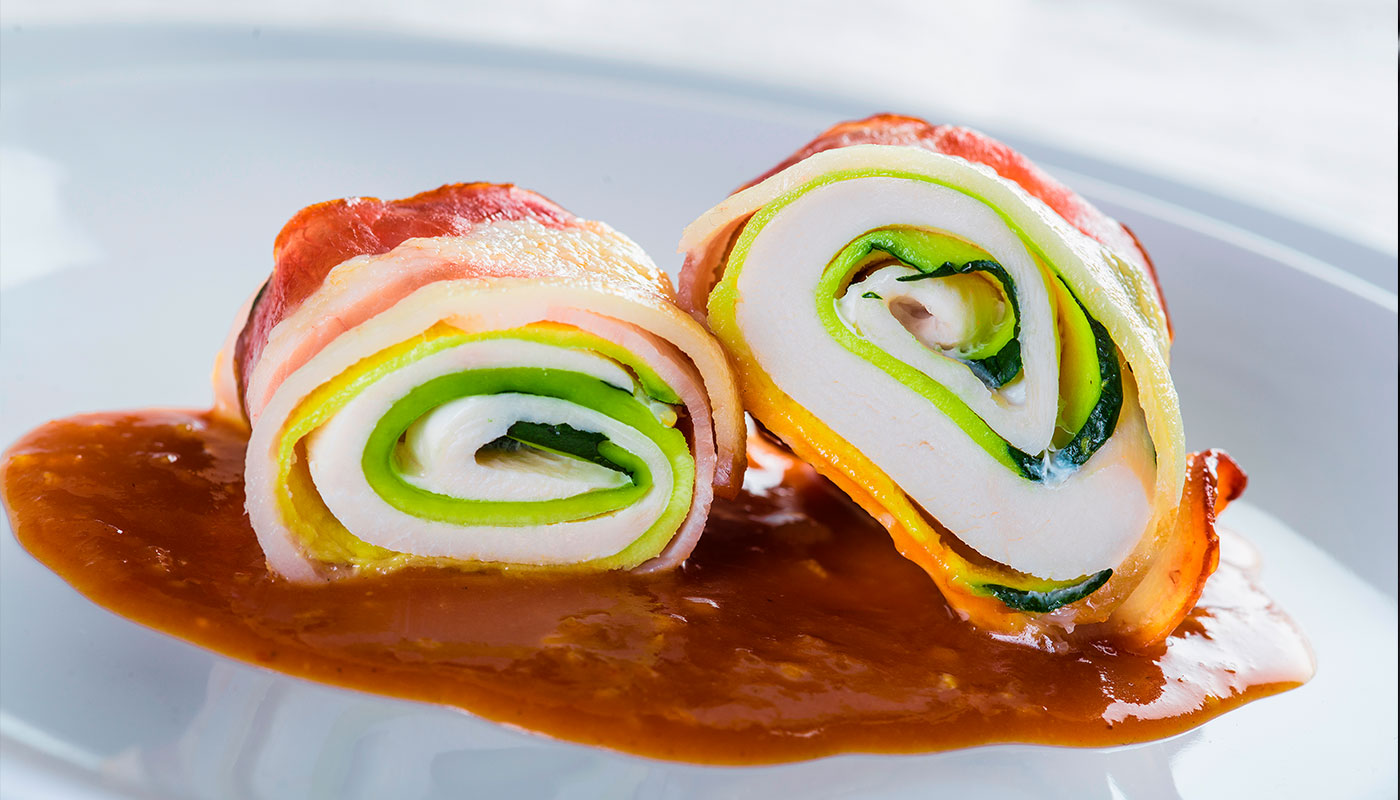 Both Serrano ham and bread with tomato go very well with vegetables and cheese, as you can see in these flavoursome recipes for stuffed ham rolls. In one, we combine the ham with chicken breast, spinach and cheese and, in the other, with aubergine, ricotta and pesto sauce. Then it's into the oven to make the ham crispy. Two very easy rolled recipes that you can prepare at the same time to everybody's delight.
Ham, cheese, chicken and spinach rolls:
Ingredients for 4 rolls:
4 slices of Serrano ham
4 thin chicken breast fillets
3 tablespoons of spreadable cheese
100 g spinach
1 pinch of salt
Black pepper

Extra virgin olive oil
Ham, cheese, chicken and spinach rolls - method:
1. Sauté the spinach in a non-stick pan with a drizzle of extra virgin olive oil.
2. When it has wilted, add the soft cheese, mix well and add salt to taste.
3. Now let's assemble the rolls: lay out a slice of serrano ham, place the chicken breast on top and add the cheese and spinach mixture. Roll it all up and repeat the operation with the rest of the ham and chicken fillets.
4. Place the 4 rolls on a baking sheet, add a slug of EVOO and sprinkle with black pepper.
5. Bake for 10 minutes at 200ºC and you're good to go! A simple and quick dinner.
Ham, cheese, eggplant and pesto rolls:
Ingredients for 6 rolls:
6 slices of Serrano ham
1 aubergine
4 tablespoons ricotta
1 tablespoon parmesan flakes
1 tablespoon pesto sauce
1 pinch of salt
Extra virgin olive oil
Ham, cheese, aubergine and pesto rolls - method:
1. Cut the aubergine into thin slices and place in salted water for 10 minutes so that they are not bitter.
2. Meanwhile, in a bowl mix the ricotta with the parmesan and pesto to create a uniform paste. Set aside.
3. Drain the aubergine and brown it in a pan with a dash of EVOO on both sides.
4. Lay out a slice of ham and place a slice of aubergine on top before covering with a tablespoon of the cheese and pesto filling.
5. Roll it up and distribute the rolls on a baking sheet. Add a splash of EVOO and bake for 7 minutes at 220ºC.
6. Take them out of the oven and enjoy this wonderful mouthful!