Ideas for homemade Halloween costumes
Take advantage of what you have at home to surprise everyone with your costume this year. We give you some ideas for homemade Halloween costumes. Take note!

TRIED AND TESTED
Share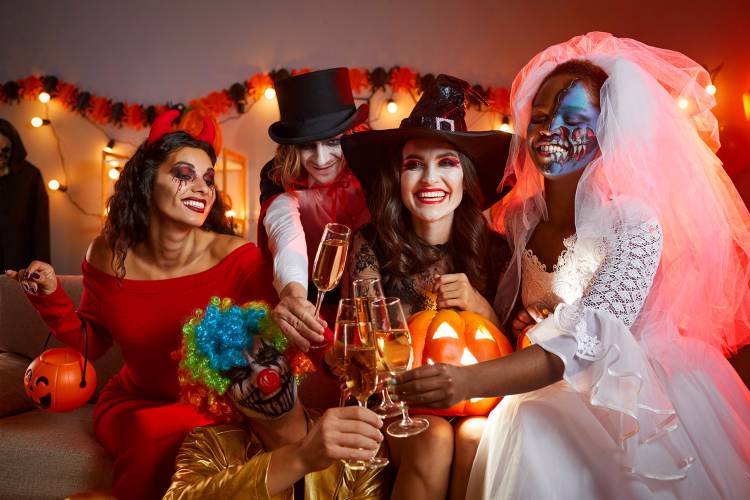 One of the most entertaining nights of the year is approaching. The night when cities are flooded with mummies, witches, vampires and zombies. An occasion to let our imaginations run wild and turn into terrifying characters. If your budget is limited this year, don't worry! We have some ideas so you can dress up, with a little help from what you have at home. Easy, homemade and cheap costumes so that you will be a hit this Halloween.
Homemade zombie costume
If you want to turn into a zombie for a few hours, the first thing you need to do is rummage through your wardrobe to find some old jeans and a t-shirt you no longer use and that you don't mind ruining. A white or light coloured t-shirt is best. You can use food colouring, red or black tea and place it in an empty spray bottle that you have around the house and spray the clothing to make it look old. Do it unevenly. Then, get a cutter or some scissors and tear the clothing randomly. To simulate blood, you can use an iodine-based antiseptic. Don't forget to make up your face. Use talcum powder for the face (you can also apply it on your hair), use black eye shadow smudged around the eyes and, using eye liner, draw a scar on your cheekbone. Done!
Homemade witch costume
Another Halloween classic is the witch costume. To make it, you will just need a long sleeve black t-shirt, some striped leggings or tights and some purple satin or tulle fabric. You can also use a black dress. For the hat, we recommend you buy black felt or cardboard and you make it yourself. You can use the tulle fabric you have left over or some satin ribbon you have at home to decorate the witch's hat. Don't forget your means of transport. The easiest thing to use is a straw broom and decorate it with a ribbon. If you don't have one at home, get a broom or mop handle and cover it with a black satin ribbon and another purple one. Instead of the straw, gather a few strips of tulle fabric of various colours and tie it to the handle. Let's fly!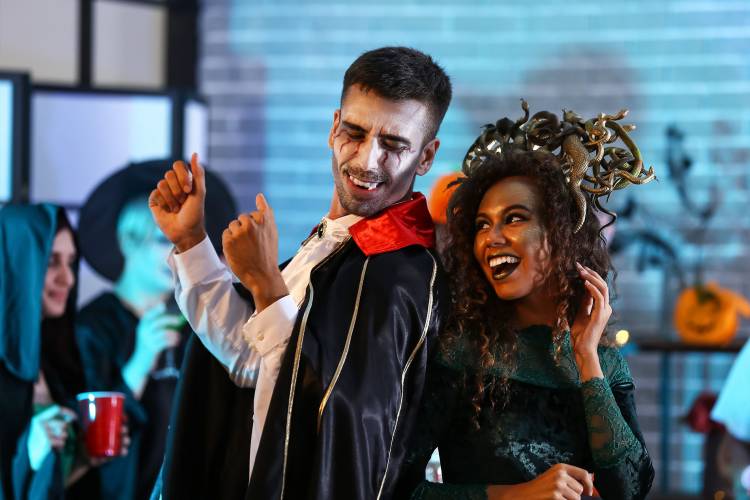 Homemade vampire costume
Dracula, Blade, Buffy The Vampire Slayer, Twilight, The Vampire Diaries, True Blood... Vampires are the main characters of multiple books, series and films. Dressing up as a vampire allows for many variations. The base is simple: black trousers, white t-shirt and waistcoat or a sheer white or black dress in the case of a female vampire. The cloak is also essential. If you don't have black material, you can dye an old white sheet at home. Another option, if the costume is for a child, is to make it using black EVA rubber and use red EVA rubber to make the rigid neck which is characteristic of vampires. In this case, make-up is also essential. White make-up, shade the eyes with purple, red lips and with the same lipstick you can draw lines of blood from the corner of the mouth. You will be able to find false teeth with fangs in any fancy dress shop.
Wednesday from the Addams Family costume
A very simple costume to make at home is Wednesday, the girl from the Addams Family. Wear a black dress and black tights. The white collar of a shirt should stick out from underneath the dress. If you don't have one, you can make it with cardboard or white felt. Plait your hair on each side and don't forget the make-up. White face (you can use talcum powder), use black eye shadow and black lipstick. And, of course, no smiling.
Homemade mummy costume
Another Halloween classic that never fails is the mummy. Although we can use toilet paper to wrap ourselves up in, it doesn't usually last long, so we advise you to buy bandages from the pharmacy and wrap yourself up until nobody can recognise you. Stain the bandages with colouring or tea, just like we have explained for the homemade zombie costume. White face make-up always adds an extra touch of realism.