Wipes: choose, use and preserve them.
Cloths are essential for effective cleaning, but not all have the same action on surfaces. Knowing their specifications, their recommended use and the best way to care for them helps us to clean better and to save money.


TRIED AND TESTED
17 August 2018
Share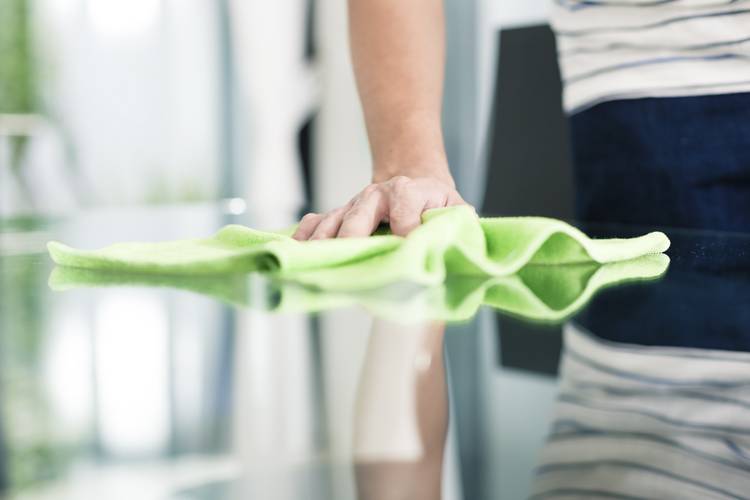 Wipes are practically essential for any cleaning task, because they allow you to clean surfaces that should not come into contact with water, but which need to be disinfected with a damp cloth. They absorb liquids without necessarily dripping and are perfect for removing any kind of dirt. Although in recent years, the use of paper on a roll or napkin format has also become widespread for cleaning, we must not lose sight of the effectiveness and, above all, the ability of wipes to be reused.
Types of wipes
According to material:
Mesh: most commonly used in the hospitality sector. They have a great absorption capacity and, at the same time, they are easy to wring out.
Multi-purpose synthetic: the most absorbent. They usually come in packs of various colours to differentiate surfaces or rooms in the house. They are commonly used in the kitchen because of the ease with which they remove grease. They need frequent rinsing.
Cotton: these are the classic ones used for cleaning dust. They are usually found in white or blue. They stand out due to their fineness.
Microfibre: have a high capacity for trapping dirt, are efficient and durable (up to 400 washes). They leave no traces or lint and do not require a product to properly remove dirt. There are different kinds for different surfaces. Their main 'snag' is that they are not very practical against grease as they retain it easily and this makes it difficult to rinse later.
Depending on the format:
Mop: strips on a specific support for mop replacement. All the above types are available in this format (microfibre, synthetic, cotton...). Recommended: microfibre for laminate floors because it absorbs less water, and cotton or synthetic for tile floors.
Cut: the most common product, into individual, easily-manageable 'portions'.
Roll: allows you to choose the amount you need and adjust the size of the cloth to the surface you want to clean.
Maintenance
The fabrics of the cloths and wipes are very resistant but, as they are used intensively, they require at least some hygienic care. In addition to using each cloth for a single function, i.e. not using the same cloth for the worktop and bathroom, it is recommended that the cloth is washed frequently. It is advisable to wash them at least once a week so that they are as clean as possible, to avoid bad smells and to make them last longer.


Ways of disinfecting them:
Machine wash separately. You can add a splash of vinegar to improve the result.
Soak in bleach and softener. If they contain a lot of fat, add a few drops of lemon juice to help remove the fat.
Immerse in boiling water with detergent for at least 5 minutes.
Put in the dishwasher. The temperature of the water will also disinfect them.