Nutritious and fresh: another way of eating lentils
The hot days are nearly upon us and fresh salads, full of flavour and all types of ingredients, are starting to descend on our kitchens

on today's menu
Share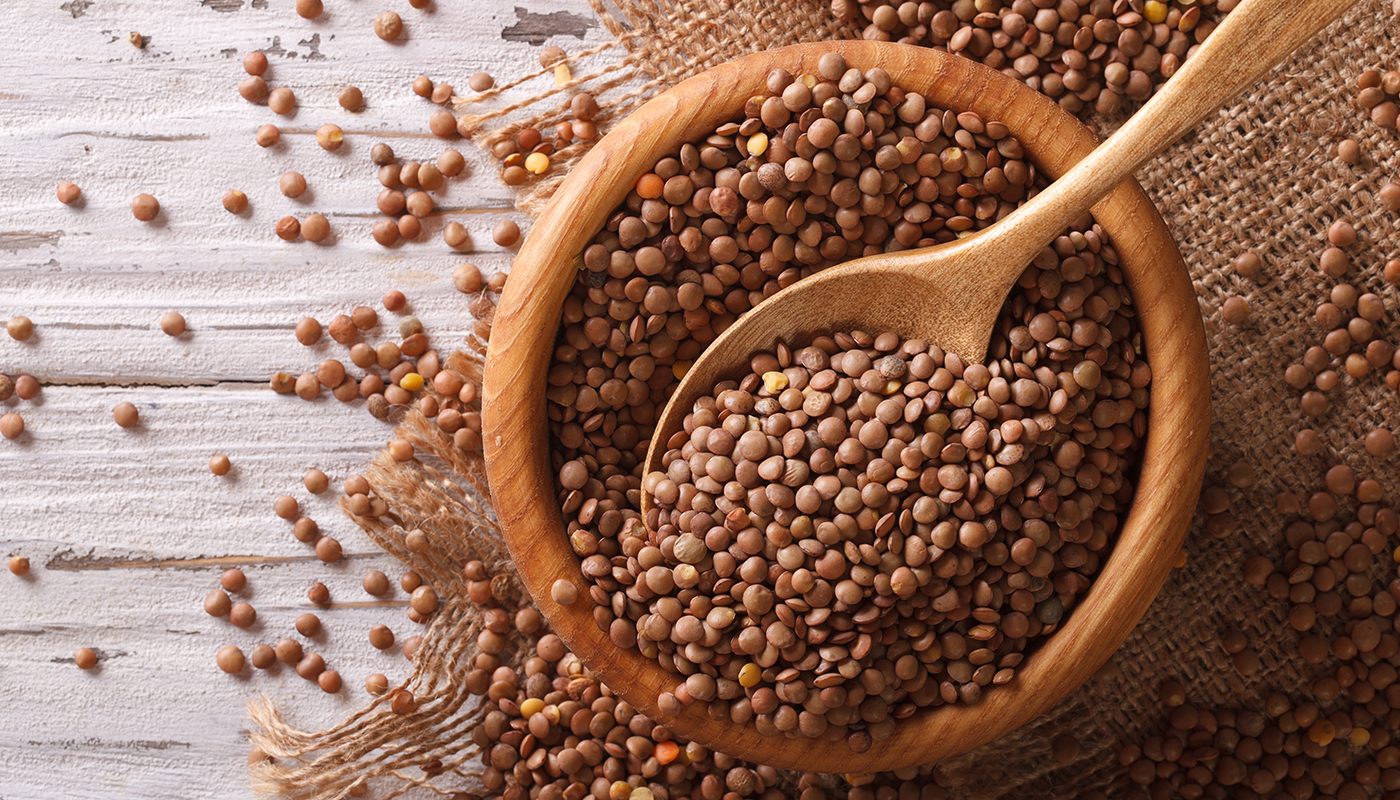 But, unfortunately, pulses are not an option to form part of these summer dishes.The reason is that many people find it difficult to incorporate them into cold meals.
Ultimately, a food with enormous nutritional benefits and multiple culinary possibilities is left to one side just because it is exclusively linked to warmstew-like dishes. Faced with this situation, the proposal is clear: to try to eat one type of pulse every week.
That's why we are introducing you to different options for the 'iron lady': the lentil. On a nutritional level, they offer various benefits: a source of vegetable protein, fibre, complex carbohydrates, vitamins and minerals and, moreover, they fill you up.
The idea is to experiment and try different combinations to find those that suit our habits and palate.
Within the universe of lentils, we can find numerous varieties: Pardina, blonde, red, green or black. Clearly, the origin of each is diverse, just like their flavour and texture. All of this offers the possibility of playing with one food, which is the same yet different.
PARDINA LENTIL

It comes from Castile and Leon, particularly from the region of Tierra de Campos, where there is a regulatory council. It differs from the Castilian lentil in terms of size (it is smaller) and in colour (earthy brown). With a very fine skin, almost unnoticeable, it has the advantage of being very quick to cook. It is the perfect solution for those who don't enjoy spending hours in the kitchen, which provides an interesting characteristic for use in a salad.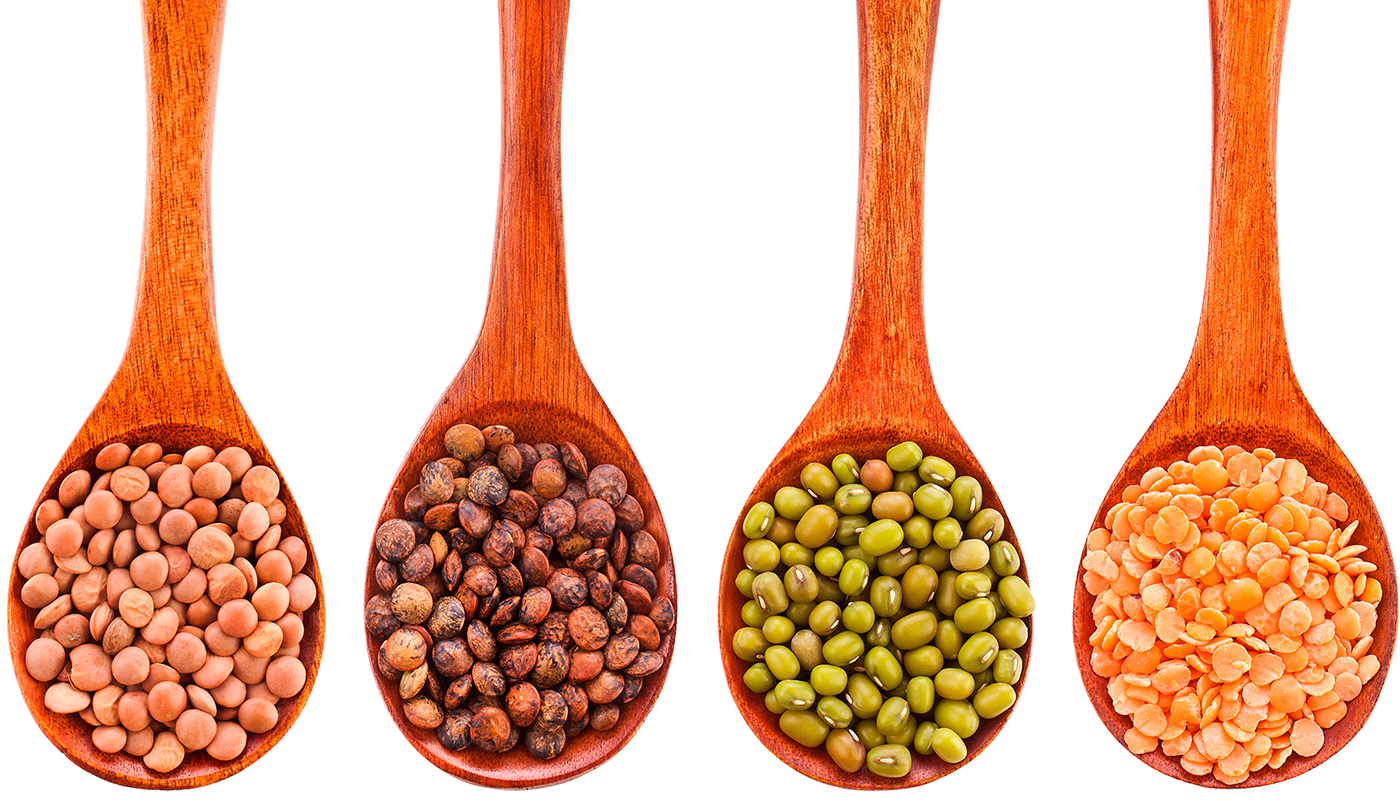 PUY GREEN LENTIL
Originally from the region of the same name (where it enjoys denomination of origin), sometimes called verdina lentil or French lentil. In Spain it is grown in Valladolid, Leon, Palencia and Burgos. Its tone varies from green to yellowish-green and, once cooked whole, it doesn't usually lose its skin. It boasts a refined and slightly sweet flavour, popular in traditional stews of pulses (with pork), but also in salads and as a garnish, particularly because of its colour.
BLACK
Coming from Asia, black lentils, also called caviar or beluga lentils, are lentils with a shiny black colour. Their two names refer to the physical similarities they share with beluga caviar. They are full of a delicate, rich and earthy flavour. They are fantastic at absorbing other flavours and aromas. In addition, they are super fast and easy to prepare. Once cooked, the black colour softens and, in addition to being soft, they don't lose their skin and preserve their shape and texture much better.
Green lentils with salmon
Ingredients (4 people)
280g raw Puy green lentils

1 sprig fresh thyme

1 bay leaf

80g red onion

1g dill, chopped

80g smoked salmon
For the vinaigrette
40g extra virgin olive oil

20ml Sherry vinegar

5g honey

5g mustard

Saltand pepper
Method:
Wash the lentils and soak them in plenty of water. Add the thyme and bay leaf. Bring them to the boil and simmer on a low heat for 25-30 minutes.
Meanwhile, prepare the sharp vinaigrette. Mix oil, vinegar, honey and mustard. Add salt and pepper.Emulsify it thoroughly.
Cool the lentils down by running them under cold water. Mix the lentils with the vinaigrette and add the chopped onion and sprigs of dill. Add the flaked smoked salmon.
Energy 358 (kcal)
Carbohydrates 40,29g
Proteins 22,04 g
Oils 12,19 g
MFA 7,51 g
PFA 2,02 g
SFA 2, 06 g
Cholesterol 10 g
Fibre 8,41 g
Simple sugars 3,51 g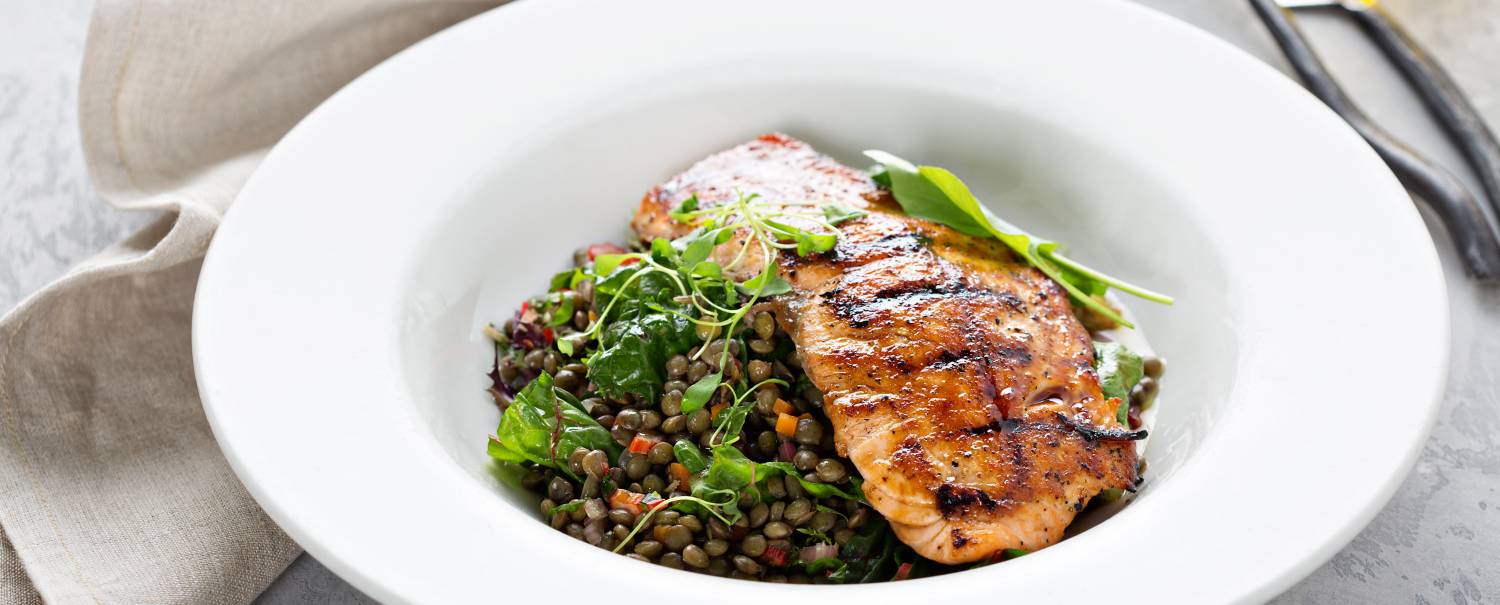 'Beluga' lentil salad with tortilla chips
Ingredients (2 people)
Ingredients(2 people)

100 g rawbeluga lentils

1bay leaf

¼ teaspoon apple vinegar

240g lightly ripened seasonal tomatoes

10g Jalapeno peppers

2 Mexican wheat tortillas

½ teaspoon ground cumin

½ teaspoon mild paprika

¼ teaspoon hot paprika

¼ teaspoon garlic granules

160g mixture of green leaves

20g extra virgin olive oil

freshchives to taste

blackpepper

salt
Method:
Prepare the lentils, following the instructions on the packet. First rinse them thoroughly and then cook them in plenty of water, at least double their volume. Add the bay leaf, a pinch of salt and vinegar.
Bring them to the boil, reduce the heat and simmer for around 20 minutes until they are al dente. Drain them thoroughly and leave them to cool.
Wash and dice the tomatoes. Chop the Jalapeno and chives and mix with the tomatoes. Cut the wheat tortillas into small squares or strips.
Heat 2 tablespoons of olive oil in a large frying pan and add the Mexican wheat tortillas, cook the mon a high heat, stirring well every few minutes. Reduce the heat and season with the spices and salt. Cook until they brown to your taste and are crispy. Mix the tomatoes, cold lentils and tortilla chips and the chopped green leaves.Season with extra virgin olive oil, salt and freshly ground black pepper. Serve the salad warm or cold.
Energy 326,93 kcal
Carbohydrates 41,37 g
Proteins 14,73 g
Oils 7,12 g
MFA 7,12 g
PFA 1,91 g
SFA 1,85 g
Cholesterol 0 g
Fibre 9,59 g
Simple sugars 6,93 g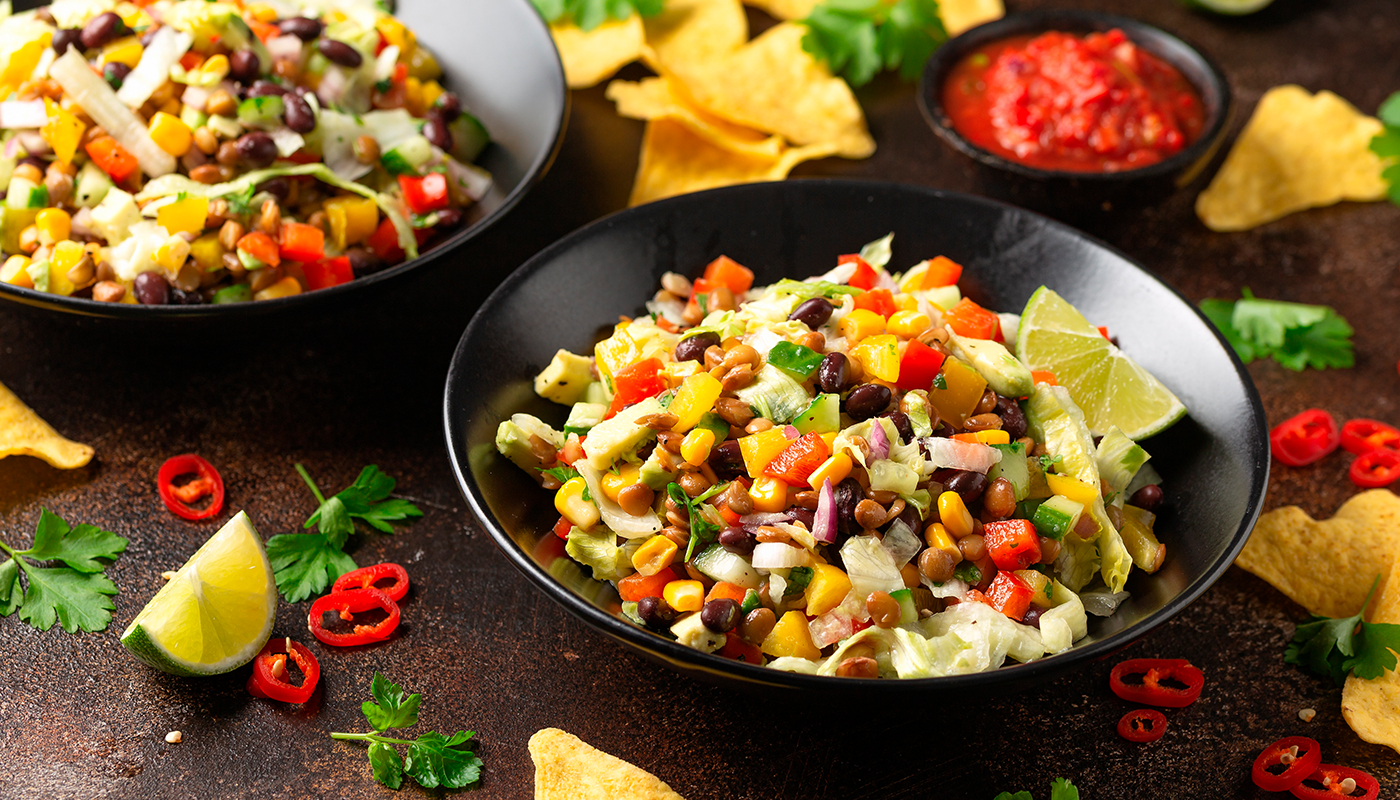 Pardina lentils with watermelon
Ingredients (4 people)
200g raw Pardina lentils

200g Kumato cherry tomatoes

4 radish

10 Mozzarella cheese pearls

80g courgette, cut like spaghetti

80g watermelon, cut into balls

80g red onion

Fresh basil leaves
For the vinaigrette:
40g extra virgin olive oil

10ml of Sherry vinegar

seasalt

3 basil leaves, chopped
Method:
Rinse the lentils thoroughly and cook them for 15-20 mins in plenty of water, at least double their volume, in a pan on a low heat so they don't peel.
Spiralise the courgette so it looks like spaghetti and set aside.
Prepare the watermelon balls.
Spread the courgette spaghetti on a dish, forming a nest and serve the cold lentils in the middle; on top, add the Mozzarella pearls, cherry tomatoes and radishes. Around the nest, add the onion and watermelon balls.
Season with the basil vinaigrette
Energy 326,8(kcal)
Carbohydrates 30,37 g
Proteins 17,64 g
Oils 15 g
MFA 8,10 g
PFA 1,7 g
SFA 4 g
Cholesterol 19,5 g
Fibre 6,88 g
Simple sugars 4,06 g