Mango gazpacho: a recipe as easy as it is refreshing
In good weather, fresh lunches or dinners are the ones that are most appealing. Have you tried mango gazpacho? If you have not tried it yet, we bring you the recipe.

on today's menu
Share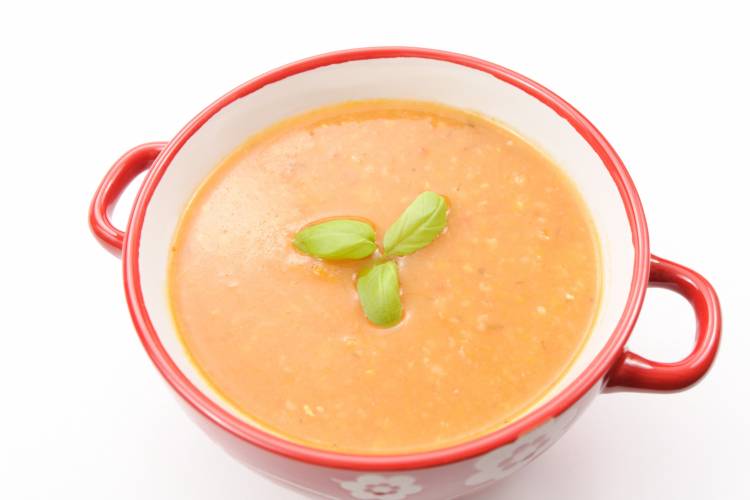 The good weather has arrived and, with it, the desire to be refreshed. In this sense, the mango gazpacho without tomato (because yes, there are a thousand types of gazpachos in addition to the traditional one, practically as many as you want) is one of the options that can be most delicious.
Mango is one of those fruits that stands out for its many health benefits. Of Asian origin, mango is rich in amino acids, vitamins C and E, flavonoids, beta-carotenes, niacin, calcium, iron, magnesium and potassium. Perhaps for this reason, this fruit is considered one of the most nutritious of all.
There are many people, on the other hand, that promote its positive effects on digestion, the skin or even anemia (due to its high vitamin C, which helps the body absorb iron). Mango is a fleshy, tasty fruit, without a doubt refreshing, with a very recognisable appearance (between reddish and greenish on the outside and yellowish on the inside) and that is obvious that it is popular with everybody for its flavour sweet and refreshing.
Making a mango gazpacho is an ideal option to taste this tropical fruit that you fancy, especially for the summer. A recipe that, along with other ingredients, can generate results as interesting as mango and apple gazpacho. Another possible combination with which to enjoy these two fruits is in smoothies or shakes, since these two flavours go so well together.
Preparing a delicious mango gazpacho with Thermomix does not have many secrets since, if the gazpacho stands out for something, it is because it is very simple and easy toprepare. Whether or not you have a food processor to help you in the process, you will see below that there is not a single reason not to try this delicious recipe. Take note.
Ingredients for our mango gazpacho
1 mango
1 kg of tomatoes
1 onion
1 small green bell pepper
1 garlic
50 ml apple cider vinegar
100 ml of extra virgin olive oil
Salt
mineral water
How to make mango gazpacho step by step
To make our mango gazpacho, first of all peel all the ingredients that we are going to use. Chop the mango, tomatoes, onion and pepper.
We put all the vegetables together with the garlic in the Thermomix or, in its absence, in a bowl to beat.
Depending on the instrument used, use the corresponding programme or beat until the ingredients are well crushed and everything is mixed well.
Once the mixture is combined, add the oil, salt and vinegar and beat again.
Next, add water to achieve the desired texture. Try it and adjust the flavour to taste.
Keep in the fridge until serving, a, like all good gazpacho, it must be very cool to consume.
When serving our mango gazpacho, you can add cucumber, pepper and onion cubes on top, as well as a light splash of oil so that its presentation is perfect!