Opera Cake Recipe
Discover how to prepare this delicious and classic French desert. We bring you the recipe for opera cake, a dessert that will especially delight chocolate and coffee lovers.

on today's menu
Share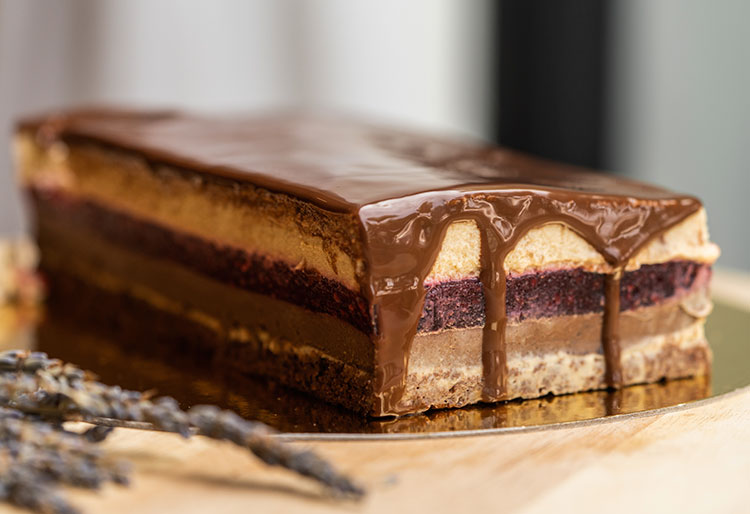 According to French gastronomy, the recipe may owe its name to the resemblance it bears to the Opera Garnier building, which is low and rectangular in shape and has marbled colours. Whether or not this is the case, the cake stands out for its layered structure, not more than 4 or 5 centimetres high, its glossy black chocolate finish and the final touch on top: a key or musical note in white chocolate.
The recipe has up to 5 different versions and they are not complicated to make, although there is some work involved. So we recommend making it over two days: one for preparations and the next to put it all together.
Opera Cake Ingredients
For Gioconda cake
- 4 eggs size L
- 4 egg whites
- 150 g of ground raw almond
- 150 g sugar + 25 g extra
- 40 g pastry flour
- 30 g unsalted butter
- a pinch of salt
For the coffee syrup
- 60 m coffee
- 40 g sugar
- 1-2 teaspoons of coffee liquor (optional)
For the coffee butter cream
- 300 g butter in bar form
- 60 g sugar
- 4 large yolks
- 75 ml of whole milk
- 12 ml coffee
For the chocolate ganaché filling
- 50 g black chocolate
- 150 ml of liquid cream
For the chocolate mirror glaze
- 120 ml of whipping cream, 35% fat
- 100 ml water
- 150 g sugar
- 60 g cocoa powder
- 6 g gelatine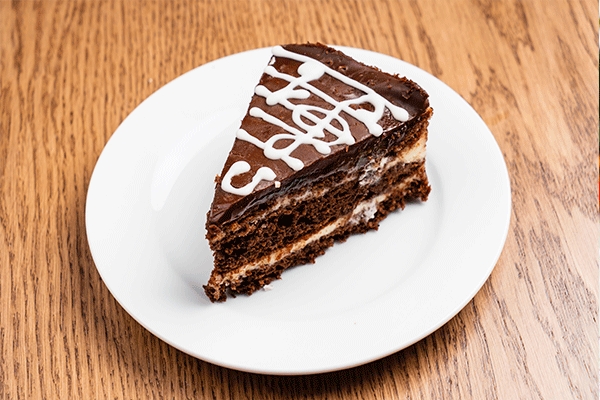 Elaboration
- Cake:
1. Melt the butter, let it cool and put to one side. Put the eggs, ground almond, sugar and flour in a bowl and beat with an electric whisk at medium/high speed until you have a creamy consistency.

2. Put the egg whites in another bowl, add a pinch of salt and half the meringue, mix in the extra sugar (20 g) and continue to beat until it stiffens up.

3. Preheat the oven to 170ºC. Mix the melted butter with a little almond cream until well blended. Then add the rest of the butter to the cream.

4. Using a spatula gradually mix in the merengue with folding movements, keeping it light and fluffy and finally adding the rest of the meringue.

5. Spread butter on an oven tray, then add grease proof paper and spread butter on that.

6. Add the mixture and spread evenly with a spatula. Bake it until it is slightly golden, let it cool for 12 to 15 minutes and leave it wrapped in cling film to keep it fresh.
Coffee syrup
1. Put the coffee and sugar in a saucepan over medium heat and once it starts to boil leave it a few more minutes. Take the saucepan off the heat and let it cool. Once cold, add the coffee liquor.
Ganaché chocolate filling
1. Heat the cream until it begins to boil. Then pour it over the black chocolate and mix until you have a smooth cream.
Coffee buttercream
1. Beat the egg yolks until you have a cream, double the initial volume and put to one side.
2. Bring the coffee, water and sugar to the boil. Let it boil for another 2 minutes.
3. Take it off the heat and slowly pour the coffee syrup, water and sugar into the bowl of yolk in a thread, while beating the mixture. Once all the syrup is added, continue to beat until the it is completely cold.
4. While mixing, add the butter in small cubes, until it is fully blended in, which should leave a thick cream. Put it to one side in a pastry sleeve in the fridge.
Chocolate glaze mirror
1. Soak the gelatin sheets in cold water for 10 minutes. Then drain over kitchen paper.
2. Place the cream, water, sugar and cocoa powder in a saucepan over medium heat. Once it starts to boil, lower the heat and keep stirring for another 10 more minutes over the heat.
3. Let it cool for 5 minutes, add hydrated gelatin sheets and stir to dissolve.
Putting it together
1. First place a layer of cake (with the painted chocolate part face down to seal it), then a layer of coffee butter cream, not more than half a centimetre deep.
2. Repeat the process in layers until it is 4 or 5 centimetres deep.
3. Smooth well with a spatula and put it in the freezer for a few hours, or overnight.
4. To pour the mirror glaze over the cake, place it on a grate on a tray, so that the remaining glaze can be collected on the tray.
5. Cut into squares so that the layers are visible and decorate with white chocolate musical motifs.