Pastrami Sandwich: A film recipe
We tell you what is the recipe for a delicious pastrami sandwich to enjoy one of the original and most famous sandwiches and New York.

on today's menu
26 August 2019
Share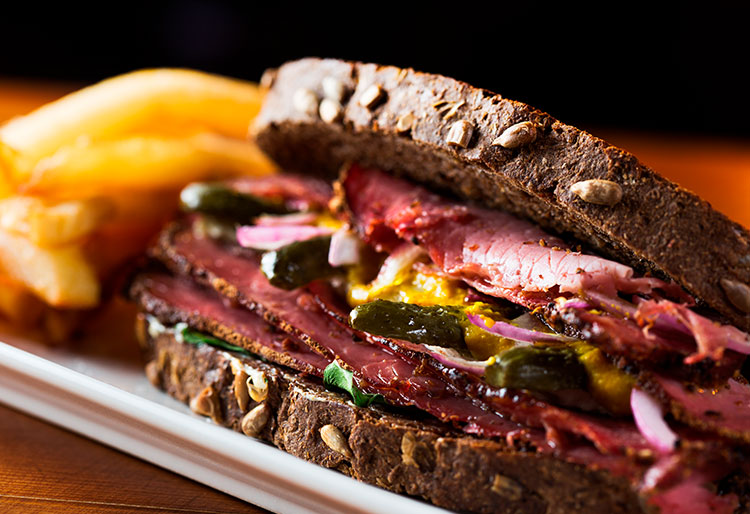 Although on this side of the Atlantic, pastrami is not really known well, most of us might have seen it in a sandwich, while a movie character eats it on some great New York avenue. Pastrami is a piece of meat, usually beef, cured in brine, and later, smoked. It is usually served thinly sliced, especially in sandwiches. There are also those who prefer to have it from the grill, or those who consume it "as is", without any accompaniment, like other traditional sausages such as ham, mortadella...
Origin
It is said that this product originated in Romania, and it came to the United States from Jewish emigrants in the mid-nineteenth century. In fact, its name comes from the Romanian verb păstra, which means "to keep" or "to conserve", because of the importance of brine as a method of meat preservation. This meat has a very close connection with Jewish cuisine, although the recipe has been popularised in many other countries, such as in Argentina, where it is called 'pastrón'.
One of the things that has helped to make this dish popular is a famous scene from the movie When Harry Met Sally. The scene takes place in Katz's Delicatessen, a real New York restaurant, famous for its pastrami sandwich.
How it is made
It is a veal that undergoes brine curing and then cooks through hot smoking. The meat is left in brine for a few days and after drying, some spices are added, and it is smoked, usually for about 12 hours. In this way, the meat is cooked, but retains its reddish colour, similar to the Anglo-Saxon roast beef. The joint is usually coated with spices such as black pepper, marjoram, basil and then cut into thin slices.
This tasty meat has a characteristic flavour that can be used in various snacks, sandwiches and other recipes.
Pastrami recipes
Traditional Pastrami Sandwich
Famous for being very similar to the one prepared in the famous Katz's cafeteria in New York.
Ingredients (for 2 people)
10 slices de pastrami
½ onion
1 tbsp sugar
A little Modena vinegar
2 tbsp butter
1 tbsp mustard
1 cup grated Emmental
4 slices bread


Method
1. Chop the onion and put it in the pan covered over low heat. When it is golden brown, add the sugar, the Modena vinegar, increase the heat and stir until caramelised.
2. Mix the onion with the butter and mustard in a bowl. Meanwhile, pass the pastrami through the same pan.
3. Spread the bread with butter and assemble the sandwiches with onion, pastrami and cheese. Put under the grill and ... enjoy!
It sounds good, doesn't it? Well it tastes even better!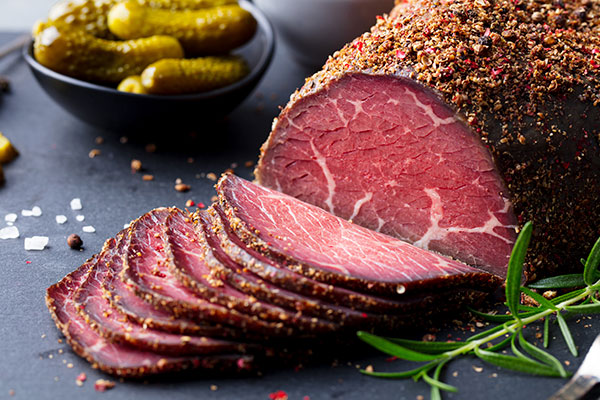 Pastrami carpaccio
Ingredients
Pastrami
Oil
Orange juice
Pine nuts
Capers
Rocket leaves


Method
1. Cut the piece of pastrami into very thin slices.
2. Mix the oil and orange juice to make a reduced sauce and season the carpaccio.
3. A good way to finish the dish is to add pine nuts, capers and rocket leaves.
Pastrami gildas
Ingredients
Pastrami
Garlic
Parsley
Extra virgin olive oil
Gordal olives
Piparra chillies
Method
1. Cut the pastrami into thin slices.
2. Make a dressing by crushing garlic and parsley with extra virgin olive oil.
3. Assemble the gildas by pricking a gordal olive, two piparras, a slice of rolled pastrami, another piparra and finish with another slice of pastrami.
4. Use the dressing as a sauce and serve.
Warm Potato Salad with Beetroot and Pastrami
A different starter but very easy to make
Ingredients
500g small potatoes
3 peeled cooked beetroots (250g
6 sliced onions
300g filleted pastrami
5 thinly sliced radishes
1/3 cup low-fat plain yogurt
1 tbsp low-fat mayonnaise
2 tbsp chopped dill
1 tbsp chopped capers


Method
1. Cook the potatoes whole, with skin, in a saucepan with lightly salted boiling water, for about 15 minutes until they are soft.
2. Mix the ingredients for the dressing in a bowl: natural yogurt, mayonnaise, chopped dill and capers.
3. Cut the beetroot in julienne strips.
4. Drain the potatoes and cut them into thick slices.
5. Put the potatoes on a serving plate with half the onions and the pastrami slightly twisted.
6. When serving, add the beetroot to the salad, stir carefully and toss with the dressing.
7. Spread the rest of the onions and radishes on the plate and serve warm.