Porrusalda: easy traditional recipe
With the porrusalda recipe you will prepare a healthy vegetable-filled dish

and made to your taste with cod, chorizo and more. Let's get cooking!

on today's menu
Share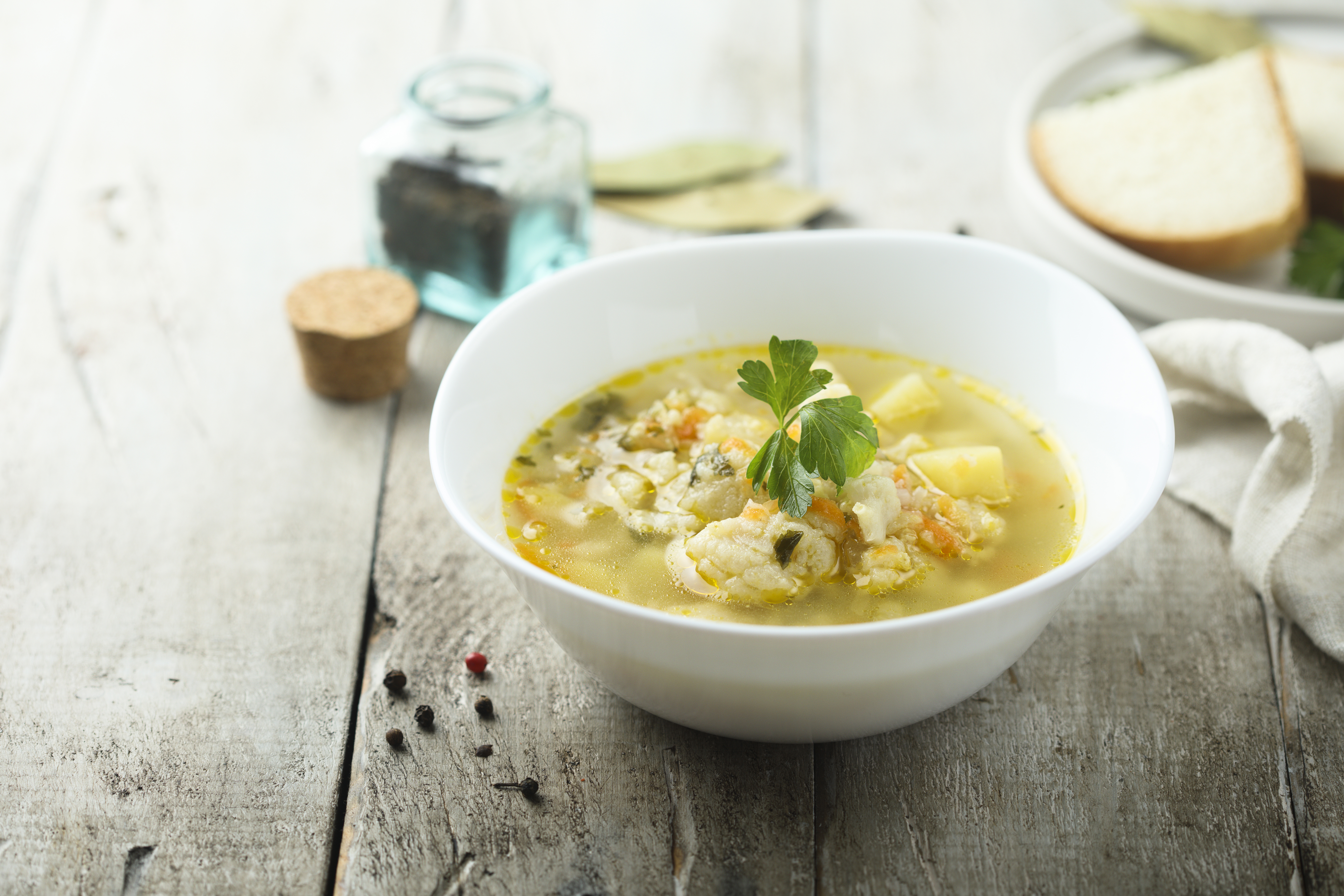 Porrusalda is a tasty dish that originates from the cuisine of the Basque Country, Navarre and the Rioja. Its name comes from Basque and means "broth with leeks" in honour of its main ingredient. Apart from leeks, it also contains other flavoursome and versatile ingredients, such as potato, onion, garlic and other vegetables. You can even make porrusalda with pumpkin (especially when it is in season), but don't let that put anyone off, because the pumpkin can also be substituted by carrots. There are many variations on the recipe, although one of the best known is the porrusalda with flaked cod.
What is certain is that this dish is a very filling, healthy stew and, as such, should be served hot and in a soup plate, something that is particularly welcome during this season. Of course, there should always be bread available to scoop up the very last mouthful. As for the recipe, everyone makes it to their taste, with more or less broth and with different ingredients. Below, we show you the traditional recipe for porrusalda with cod:
Porrusalda
Ingredients (4 persons)
- 2 - 3 large leeks
- 1 onion
- 300g potato
- 2 carrots
- 250g cod (defrosted or fresh)
- 1 litre of stock (whichever you like: vegetable, fish, chicken…)
- Extra virgin olive oil
- Salt
How to prepare:
1. Peel the onion and chop it finely.
2. Put the oil in a saucepan and soften the onion with a little salt.
3. Wash, peel and cut the potatoes and carrots. Do the same with the leeks, but separate the greenest parts (which can be used in other recipes or dishes).
4. When the onion is soft, add the leeks and cook them for a few minutes.
5. Add the carrots and potatoes. Stir for 2 minutes on a low heat.
6. Season to taste and add the stock. You can keep some back and adjust the consistency of the porrusalda as you cook.
7. Increase the heat to boiling point and then reduce it again. Simmer for approximately 25 minutes until the potatoes are cooked.
8. Add the cod, which should be cut into bite-sized pieces, and cook everything for a few minutes more.
9. Lastly, add a little chopped parsley (optional).
Other variations on the porrusalda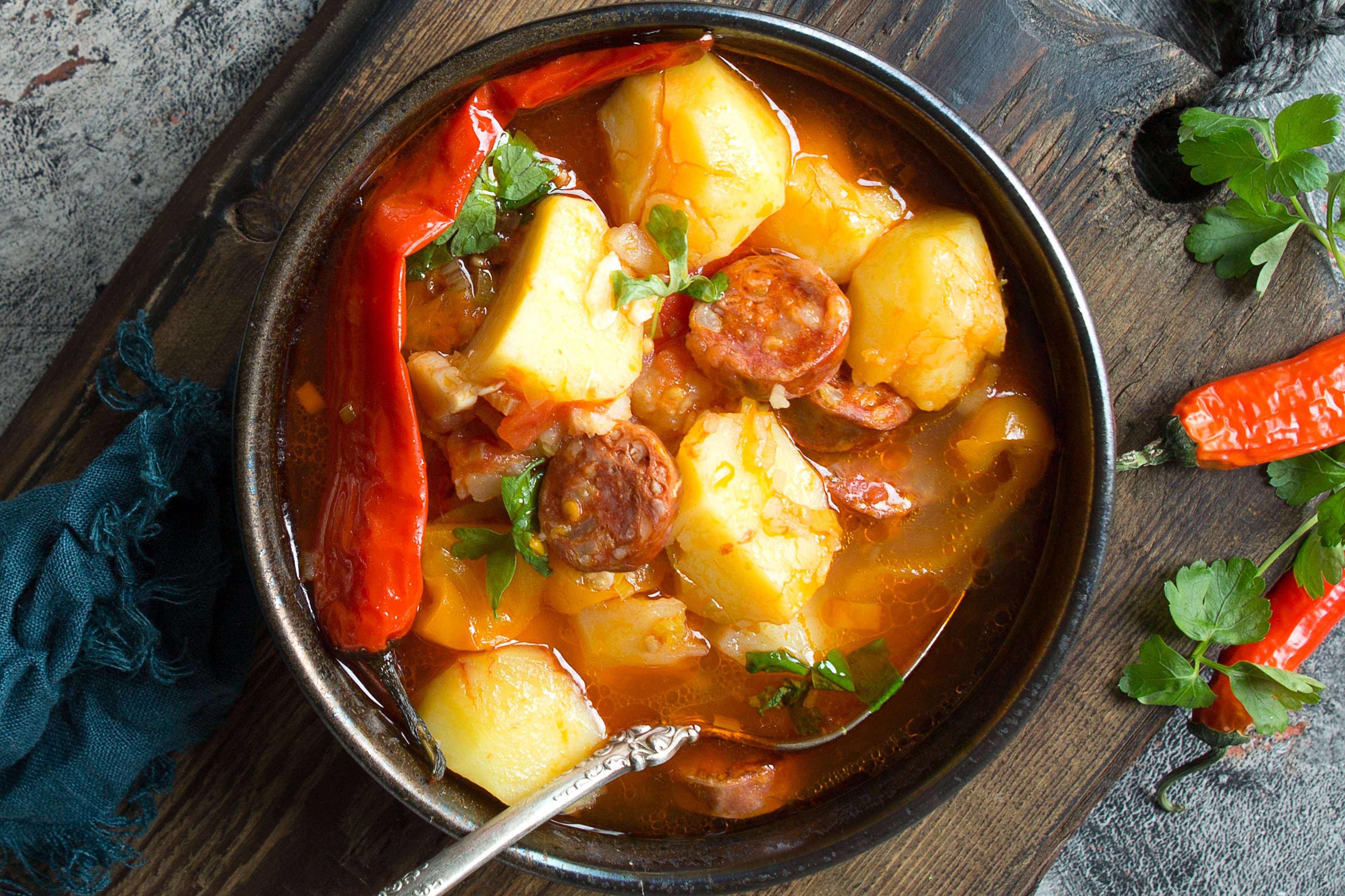 The porrusalda with cod is one of the most traditional recipes, but there are many more variations, as this is a dish that has spread throughout Spain. Therefore, there are many variations, depending on the region where it is being cooked, that is, there is a multitude of ways to enjoy it!
For example, in Catalonia, porrusalda is cooked with chopped butifarra (Catalan sausage) as well as with chorizo. If you want to make any of these recipes, all you need to do is swap the fish for another ingredient.
As you have seen, this is a very versatile dish, to which you can add any type of animal protein, or none, if you wish, and make it purely from vegetables. Leaving the ingredients aside, you can also make the porrusalda in a pressure cooker. The preparation is the same, but using a different type of cooking pot.
Porrusalda is a very easy dish to cook using ingredients that are easy to cook, and it is as healthy as it is comforting. Enjoy!