Fast, fun and healthy cooking. Yes, it is possible!
Dishes with pre-cooked bases can get you out of more than one tight spot. Whether they are soups, rice dishes, preserves… Find out how to enrich your recipes!

on today's menu
Share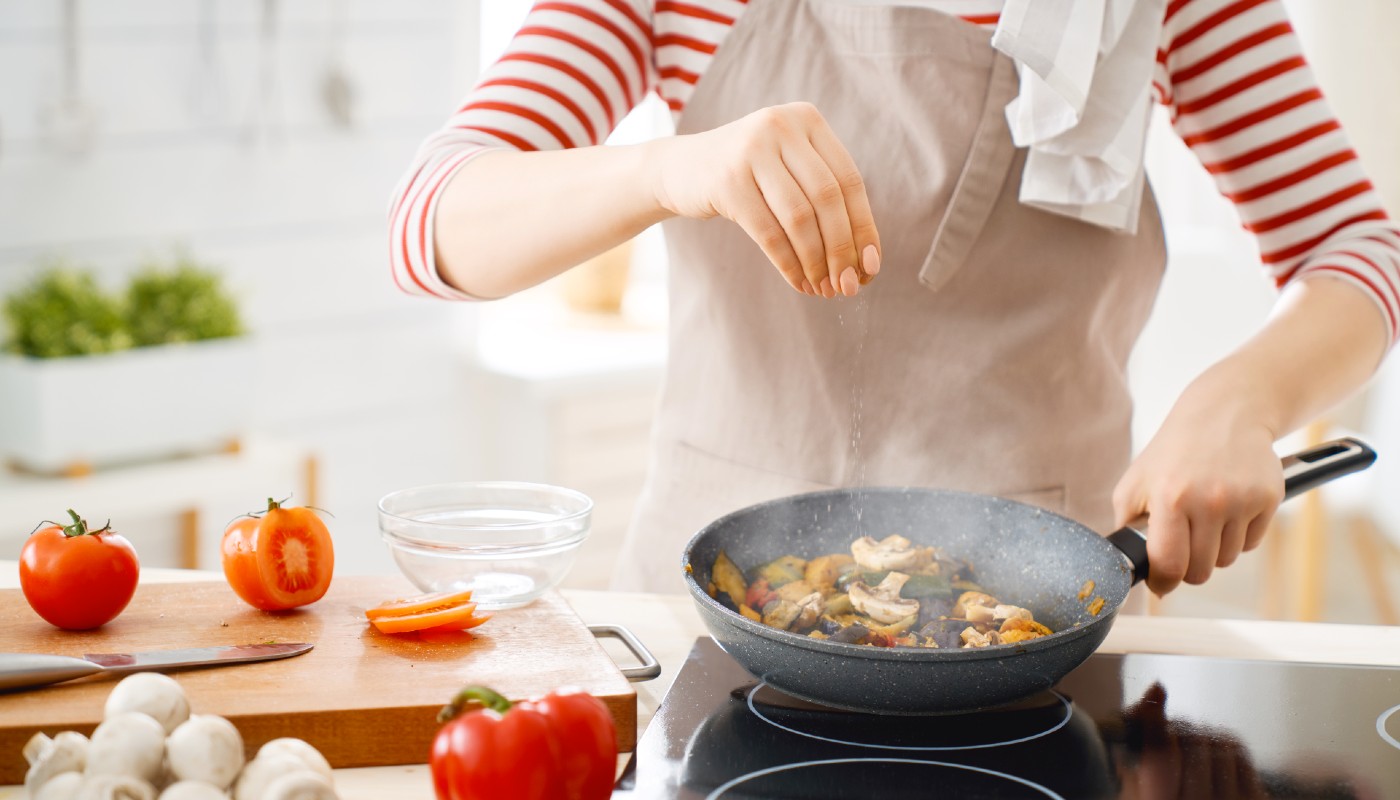 We are increasingly getting more accustomed to an accelerated rhythm of life which impacts on every aspect of our daily lives. This frenzy often prevents us taking the time to cook in an unhurried manner. But you can cook quickly and with quality. Today, we have a wide range of frozen foods that offer us more and more opportunities in the kitchen, but we also shouldn't forget the classic preserves or tinned foods. This type of food offers us many advantages, as their preservation gives them a long shelf life, we can eat them anywhere, they are quick to prepare, and the resulting dishes can be both appetising and healthy.
There is a whole range of essential preserves that can save you time and planning when cooking. Among the different options, cooked legumes are a basic that you should always have in the kitchen. Having these jars to hand, offers a good basis for preparing all types of food, from aperitifs like humus, salads or sautés to the more elaborate soup and stew type of dishes.
Vegetables are notable among the frozen produce. These foods possess numerous advantages: they are harvested at their optimum maturity, and thanks to the freezing process, their properties and nutrients remain intact. They don't contain additives or preservatives, they are completely free from any bacteria that may attempt to destroy them and, you can also use any amount you want and then put the remainder back into the freezer. This way, food waste and excess waste is avoided and time and money are saved. They also come cleaned, cut and ready to cook.
In short, eating healthily when time is at a premium, without having to turn to less recommendable solutions, is merely a question of choosing foods that speed up some preparation processes without turning your back on nutritional quality, flavours and textures.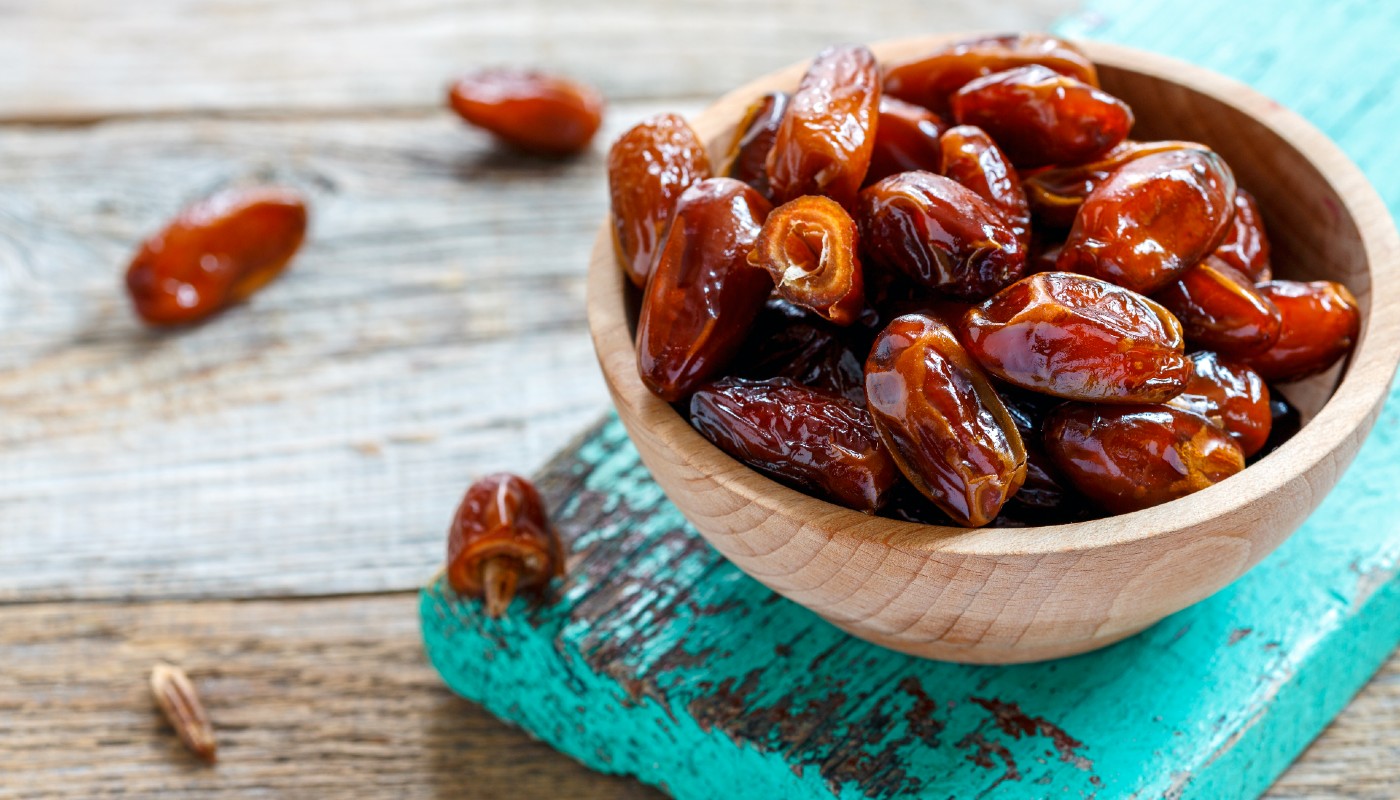 Date and artichoke dip

Ingredients (4 persons) | Time: 15 minutes
200 g artichokes in oil
3 large dates
40 ml lemon juice
40 ml extra virgin olive oil
Salt flakes
Freshly milled pepper
Preparation
Place the drained artichokes and boned dates in the blender cup.
Add 4 spoonfuls of olive oil and 4 spoonfuls of lemon juice.
Blend everything until you have an even and unctuous paste, season to taste and serve with some nibbles.
Energy: 134 kcal
Carbohydrates: 9.60 g
Simple sugars: 9.60 g
Proteins: 1.40 g
Fats: 10.07 g
Saturated fats: 1.67 g
Polyunsaturated fats: 1.08 g
Monounsaturated fats: 7.11 g
Cholesterol: 0
Fibre: 1.71 g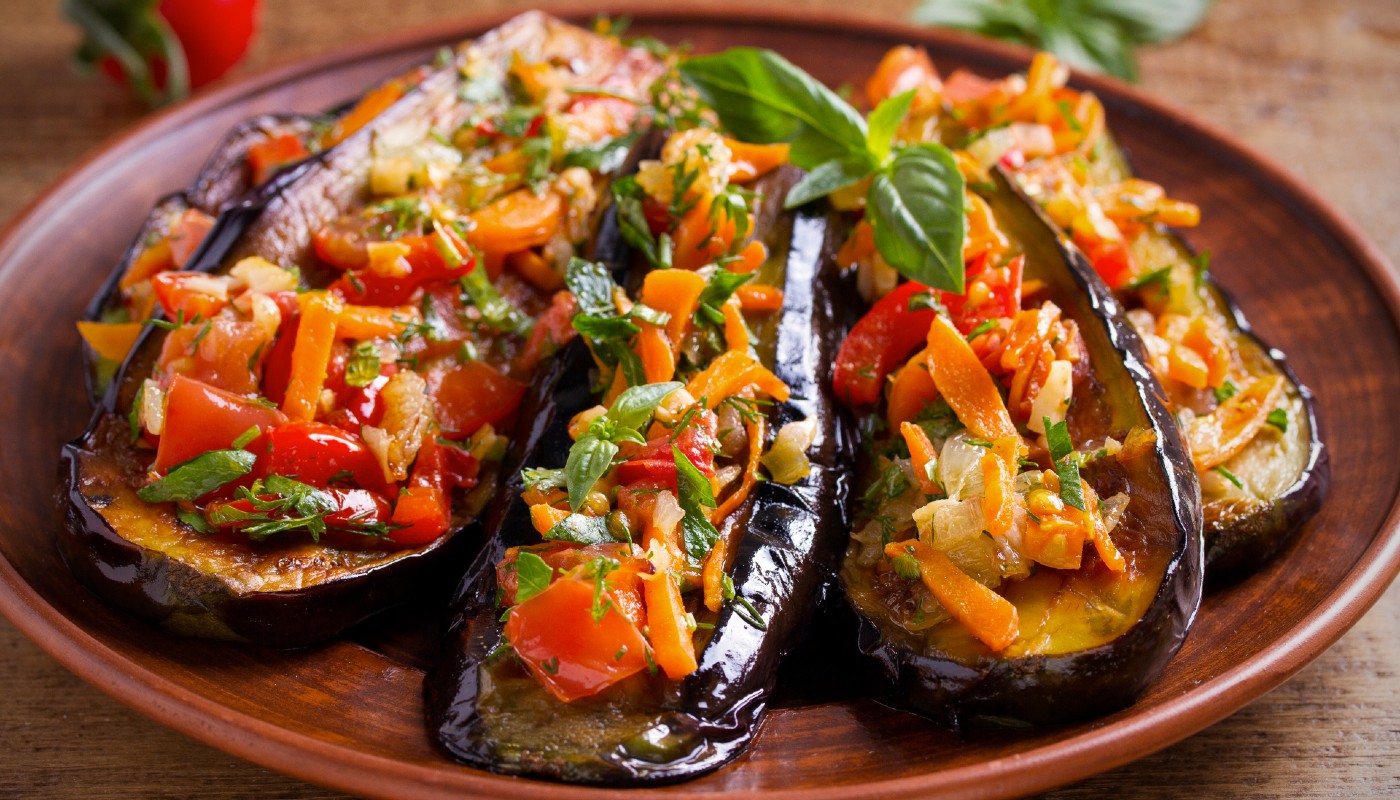 Microwaved aubergines stuffed with mussels
Ingredients (2 persons) | Time: 30 minutes
240 g grated aubergine
80 g frozen chopped onion
1 small garlic clove
20 ml extra virgin olive oil
30 g mussels in escabeche sauce
2 g de fresh parsley
1 g de sweet or hot paprika, to taste
1 g de ground cumin, to taste
Sherry vinegar, to taste
Preparation
Wash the aubergines, cut off the ends and pierce them a little. Place them on a microwaveable dish and cook them for 10 minutes on maximum power. Check the texture: they should be soft, but with a little consistency, so that they can be cut in half.
Meanwhile, prepare a sofrito (sauté) with the finely chopped onion, the grated garlic and the olive oil and fry without letting them colour. When they are very soft, add a teaspoon of sweet or hot paprika and ground cumin and stir well.
Add the mussels, either as they are or chopping them beforehand with a knife. Add the liquid from one of the tins and reserve the other liquid in case it is needed to adjust the texture. When you have a thick and even mixture that isn't dry, taste it and adjust with vinegar or more escabeche sauce.
Cut the cooked aubergines in half lengthways, remove a little of the flesh with a teaspoon and mix it into the sofrito. Stuff the aubergines with the mixture and decorate them with chopped parsley. If the aubergines are very thick, it would be more practical to cut each one into three portions lengthwise.
Energy: 317 kcal
Carbohydrates 6.22 g
Simple sugars: 5.81 g
Proteins: 14 g
Fats: 26.29 g
Saturated fats: 4.93 g
Polyunsaturated fats: 10.93 g
Monounsaturated fats: 10.21 g
Cholesterol: 71.20 g
Fibre: 1.70 g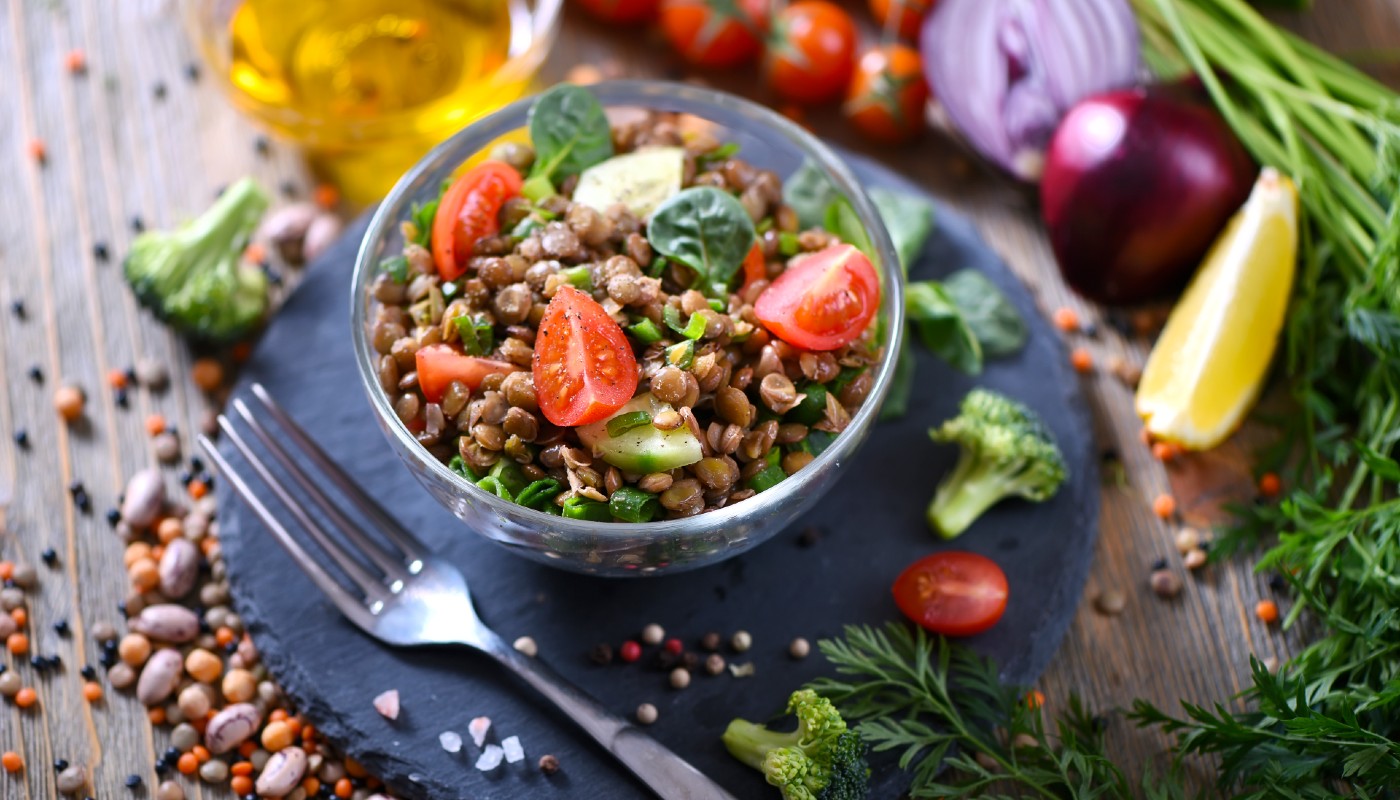 Pardina lentil salad
Ingredients (4 persons) | Time: 20 minutes
600 g cooked Pardina lentils
80 g cucumber
80 g green spring onion
20 toasted almonds
2 hard-boiled eggs
4 anchovy fillets
1 pinch of cumin
30 ml extra virgin olive oil
30 ml mild vinegar
1 g chopped fresh mint
Salt
Pepper
Preparation
Peel the onion, cut it in half and then into fine strips. Put 2 spoonfuls of vinegar and a little salt in a bowl. Marinade it for 10 minutes. Wash the lentils under the tap in a sieve to remove the liquid. Drain them well and put them in the bowl you are going to serve them in.
Prepare a vinaigrette with the remaining spoonful of vinegar, salt, pepper, a pinch of cumin toasted in a frying pan, the anchovies chopped very finely, the oil and the egg yolk.
To the lentil bowl, add the drained onion, the almonds and the cucumber cut in half lengthwise and then sliced finely. Season and mix well.
Finish with the olives, the fresh mint and the chopped egg white.
Energy: 280.40 kcal
Carbohydrates: 17.90 g
Simple sugars: 1.70 g
Proteins: 15.22 g
Fats: 16.20 g
Saturated fats: 2.50 g
Polyunsaturated fats 10 g
Monounsaturated fats: 2.30 g
Cholesterol: 102.60 g
Fibre: 9.90 g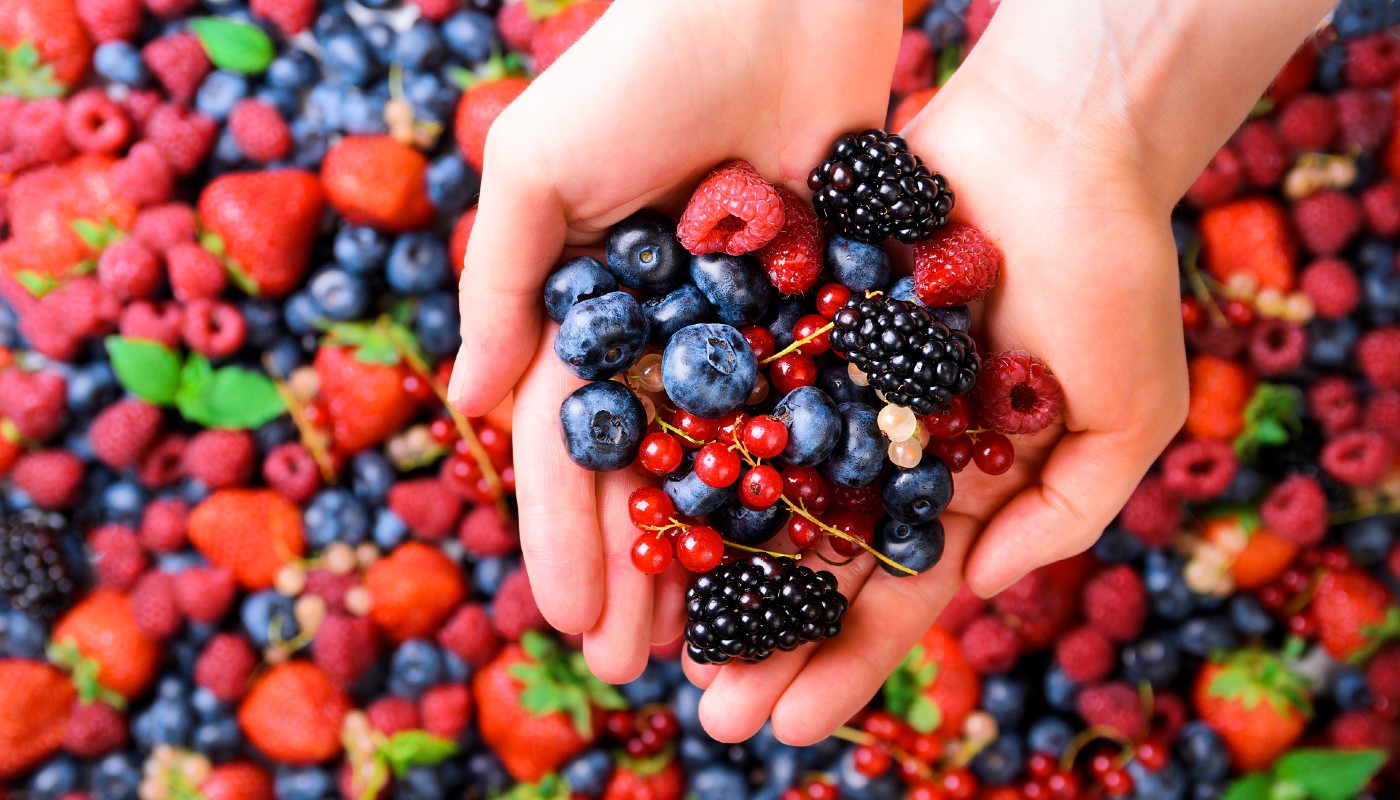 Fruits of the forest in the frying pan
Ingredients (2 persons) | 15 minutes
400 g frozen fruits of the forest
10 g chia
100 g granola
125 g Greek yogurt
Preparation
Place the frozen red berries in a 16 cm frying pan. Cover and leave them on a low heat for 8-10 minutes until they thaw and soften, but not too much. Add the spoonful of chia and cook everything for 2 minutes more. Spread the granola on the surface and serve warm with the Greek yogurt.
Energy: 452.40 kcal
Carbohydrates: 19.40 g
Simple sugars: 17.20 g
Proteins: 16.50 g
Fats: 34.37 g
Saturated fats: 8.28 g
Polyunsaturated fats: 7.60 g
Monounsaturated fats: 15.60 g
Cholesterol: 6.60 g
Fibre: 13.55 g