Rabbit meat, low in calories and cholesterol
Rabbit meat is white meat and one with the least fat there is. This makes it a lean meat, suitable for all ages as part of a healthy, varied and balanced diet. Rabbit meat is common in the Mediterranean diet and is part of the varied gastronomy of our country

.

fresh food
Share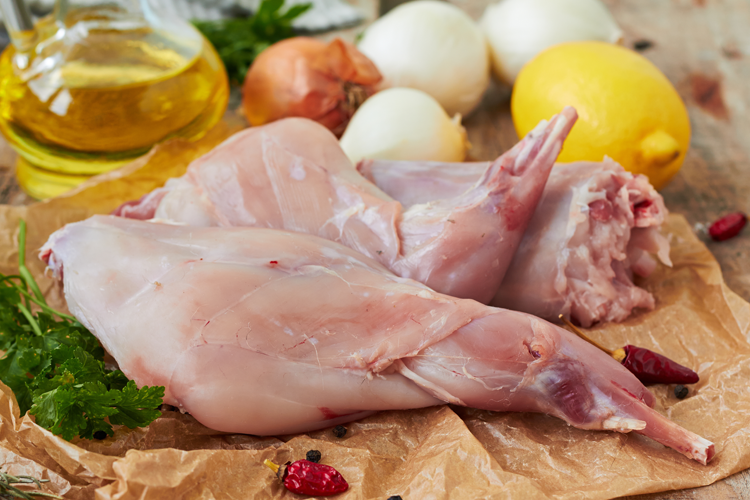 PRODUCTION AND CONSUMPTION
Spain is the main producer of rabbit meat in the EU, with 950,000 rabbit carcasses a week, followed by France and Italy. The Spanish eat around 1.3 kg per person per year, while the French and Italians eat around 3 kg and over 5 kg, respectively.


NUTRITIONAL INFORMATION
Rabbit meat is low in calories, as it has 132 Kcal per 100g, which makes it recommended for low-calorie diets. It also contains high biological value protein and all the essential amino acids to synthetise this protein, which makes it very suitable for athletes. It also has a low fat and cholesterol content.

It is an excellent source of vitamin B6 and B12, essential for the immune system. As for its mineral content, this meat is low in sodium and high in phosphor. It also contains important minerals such as iron, zinc and magnesium.
HEALTH BENEFITS
• A low consumption of sodium contributes to healthy blood pressure.
• It has a high phosphor content which along with magnesium are important minerals for healthy bones.
• Vitamins B12, B6 and iron contribute to the formation of red globules and to the normal functioning of the immune system.
• Zinc contributes to healthy hair, nails and skin.
• Its low calorie content makes it very suitable for low calorie diets.


TIPS FOR PURCHASE AND STORAGE
Rabbit meat is available all year round, both the whole carcass, which is the traditional format, and in quarters. This type of meat can be frozen, but with the viscera separate.
TIPS FOR COOKING
Baked, roast, stewed, fried or grilled, rabbit meat is very versatile and can be used in lunch or dinner, given its low fat content.

Although it is a very tasty meat by itself, it works well in marinades with herbs. If it is cooked on the barbecue or in the oven, it combines perfectly with any kind of sauce, such as vinaigrette or garlic mayonnaise. But if you want a more traditional dish, it is very tasty roasted or in a marinade.

As well as whole, you can find quartered rabbit on the market:
• Thighs and shoulders: these are the leanest, meatiest part of the rabbit. They are very versatile to cook.
• Loins: these are characterised by their tender meat. They are easy to eat in fillets, especially for children, as they do not have bones. They can also be cooked in breadcrumbs.
• Chops: these are especially tender and tasty, and are perfect for roasts and rice dishes, because they also cook very quickly.