How to make dried fruits attractive on your menu
Dried fruits have a high protein, antioxidant and fibre content. Discover these recipes with dried fruits so you can include them in your day-to-day.

on today's menu
Share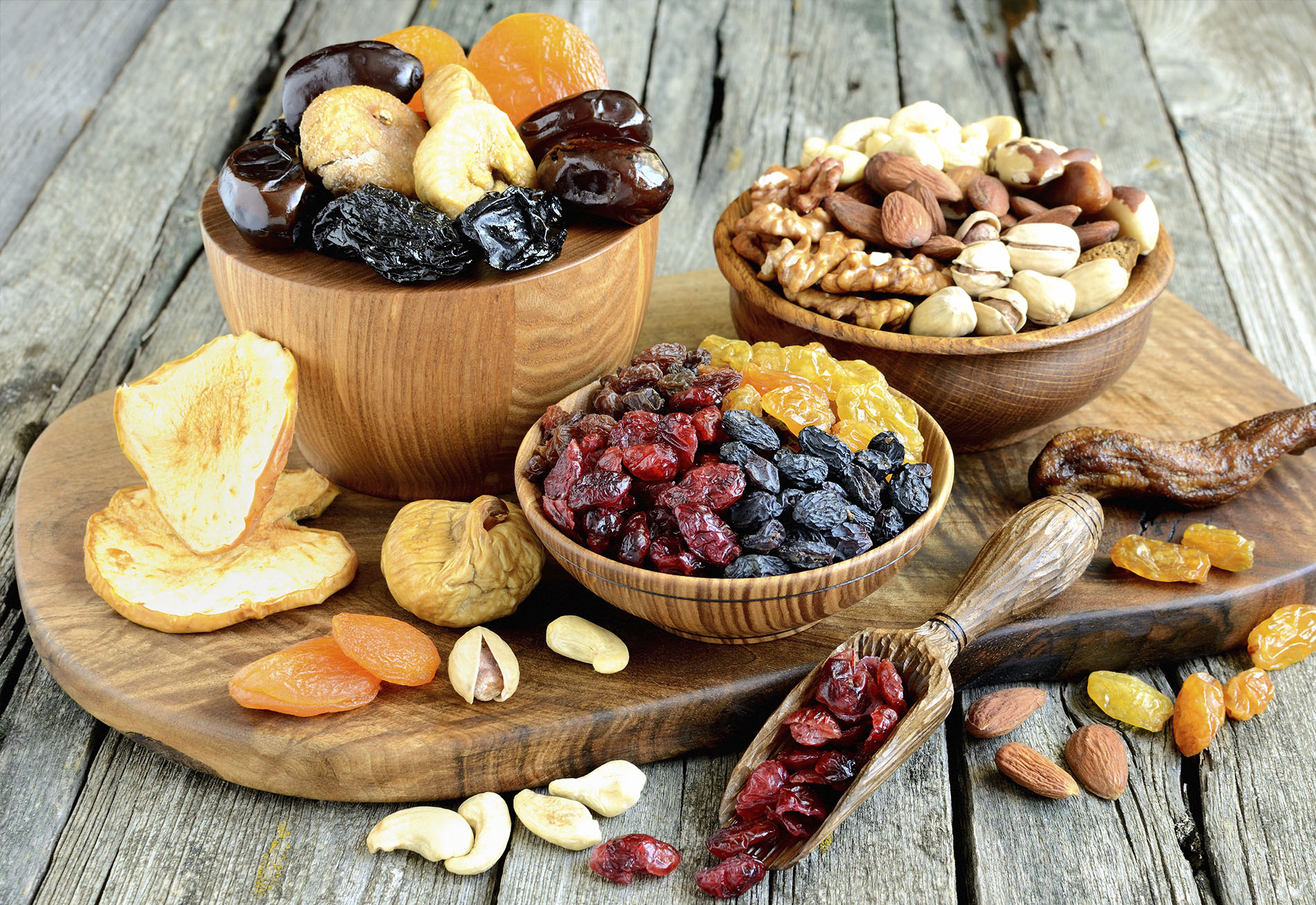 We associate autumn with shades of brown, fallen leaves, mushroom picking and that distinctive aroma given off by the street stalls that roast chestnuts. A cone of chestnuts tastes amazing when we start to notice the fall in temperatures.
Their incredible culinary versatility is highly valued in dishes with rice, vegetables, pulses, meat, soups and desserts. To use them in our cooking, we can use various techniques:
Roast them in the typical chestnut roasting pan, over wood or charcoal.
Roast them in the oven (20 minutes).
Roast them in the microwave (2 minutes depending on the power), previously making a cut in the surface of them to prevent them from exploding.
Place them in boiling water (10-20 minutes).
Taking advantage of them at the right time provides an added benefit: enjoying a dried fruit in all of its nutritional splendour. If you are lucky enough to be in a chestnut growing area, you must have fun picking them in the heart of nature.
This time of year, in addition to chestnuts, gives us other dried fruits as companions along the way, including hazelnuts and, a little later on, walnuts. Unfortunately, many people believe that enjoying a handful of walnuts, hazelnuts, chestnuts or any other dried fruit* is simply adding calories to your diet, when in reality it is more than beneficial to your health. They prevent cardiovascular diseases, improve bowel transit and a higher consumption of them relates to a lower increase in weight and lower risk of suffering from being overweight or obese.
Indeed, it is important, when choosing any dried fruit, to choose their toasted and roasted version with no added salt, sugar or flavour enhancers such as monosodium glutamate).
Hazelnuts and walnuts are truly appetising and have a high nutritional value. They are usually eaten as a snack or in confectionery, but they can be used much more widely in the kitchen: they can be used a add textures (coating), add creaminess and, even, replace other ingredients to cook in a healthier way. For example, using them as a base for making butter or soups**.
Another aspect to bear in mind is storage. The use life of dried fruit is influenced by the storage time, the temperature they are stored at and whether they are stored with or without their shells. To prevent them from being squandered, it is important to consider:
Buying a quality product.
Choosing airtight containers: nuts tend to absorb external odours, so they should be kept away from onions and other strong-smelling foods.
Choosing a cool and dry place.
When you feel that the dried fruits have started to lose their typical flavour, it is advisable to roast them in the oven for a few minutes to prolong their use time in optimum conditions.
Delicious, rich in fibre, vitamins, minerals, vegetable proteins and healthy fats, dried fruits are, ultimately, a good food that we should eat more of without worrying.
*When referring to dried fruits, we mean almonds, cashew nuts, hazelnuts, peanuts (in reality this is a pulse, but can be classified in this group), chestnuts, walnuts, pine nuts or pistachios.
**Tip: how to make a nut butter
To make it quickly and easily, it is advisable to roast the walnuts to intensify their flavour and natural aroma. To do so, half walnuts can be heated in a frying pan on a medium heat for 1-2 minutes, constantly stirring them until they are roasted, or roast them in a pre-heated oven at 180ºC, placed on baking paper or directly on a tray, for 8-10 minutes and mixing them so they roast evenly. Once roasted, grind them in a blender or food processor for 3-4 minutes. You can add a teaspoon of neutral oil to make the butter creamier. To this base you can add crunchy coconut, date paste or make a pesto with spinach.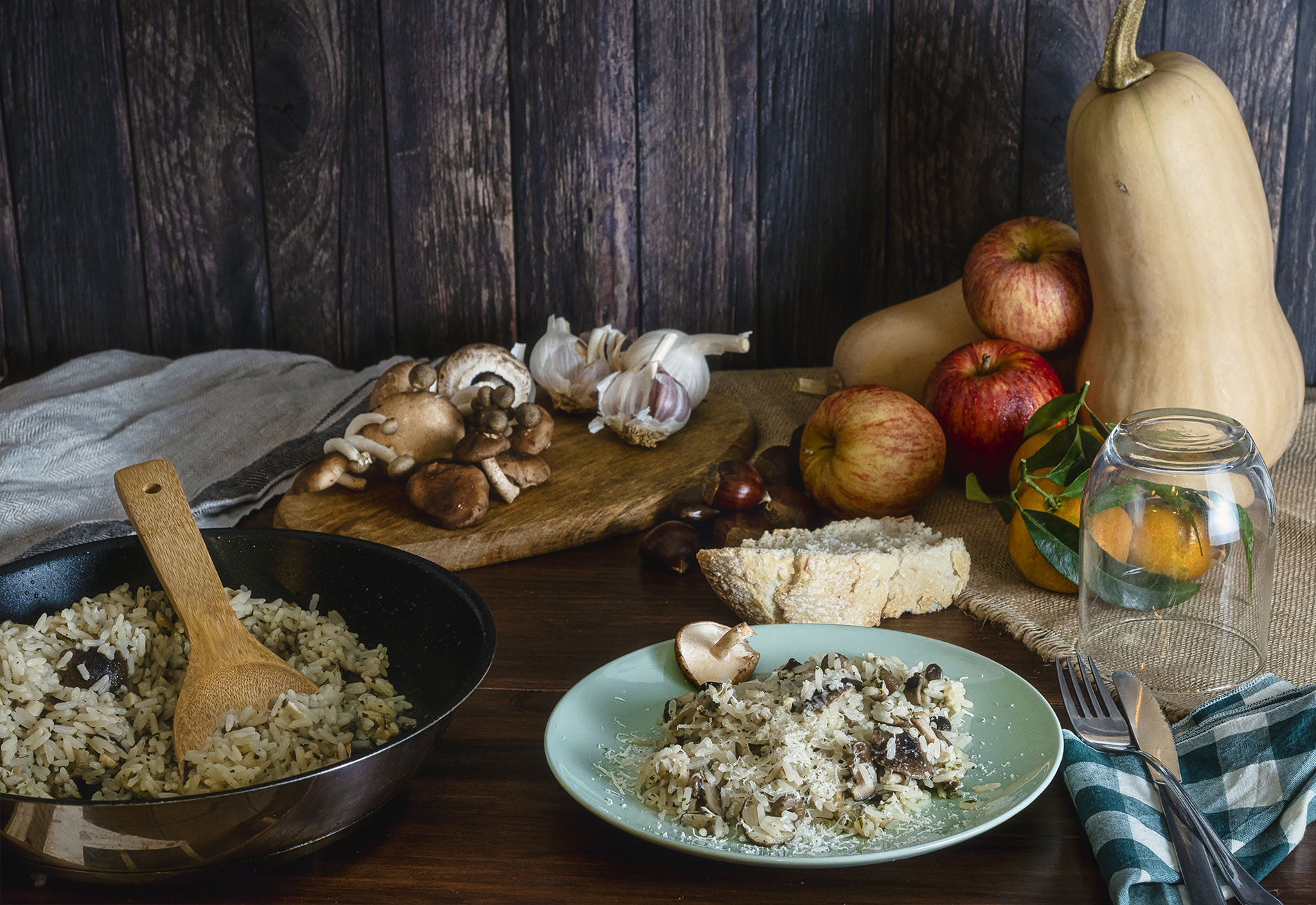 Risotto with walnuts, pumpkin

and

mushrooms
Ingredients (2 people):
- 60 g onion, finely chopped
- 120 g short grain rice
- 50 g pumpkin
- 20 g boletus mushrooms (dehydrated), sliced
- 20 g chestnuts, cooked, peeled and chopped
- 30 ml white wine
- 30 g Pecorino cheese (or similar), cut into small chunks
- 500 ml vegetable stock (homemade)
- 2 ml truffle oil
Method
Chop the onion and cook on a low heat. Meanwhile, peel the pumpkin and chop it into very small pieces. When the onion starts to turn colour, add the rice and sauté until it takes on a creamy pearl or off-white colour.
Add the wine and leave it to evaporate while you stir. Now it's time to add the pumpkin, cooked chestnuts, peeled and chopped and sliced boletus mushrooms. Then start to make the risotto using the traditional technique of gradually adding liquid little by little without adding more until what is in the pan has been absorbed. In 20 minutes it will be ready for the final touch.
When adding the last ladle of stock, add a few drops of truffle oil to add a perfumed touch. Also add some chunks of Pecorino cheese to give it some potency. Stir energetically and switch off the heat, serve immediately.
Fish balls with walnuts and hake in sauce
Ingredients (4 portions)
- 100 g chopped walnuts
- 600 g hake
- 2 garlics
- 1 egg
- 60 g spring onion
- 4 sprigs parsley
- 4 sprigs chives
- 4 sprigs coriander
- 400 ml fish stock (homemade)
- 20g flour
- 1 g lemon zest
- Salt and black pepper
- 40 ml extra virgin olive oil
- 100 ml white wine
Method
Remove the skin and bones from the hake and chop finely. Mix it with 1 very finely chopped garlic, ½ spring onion, also chopped, an egg, a tablespoon of olive oil, the chopped walnuts and chopped parsley. Season with salt and black pepper.
Shape the fish balls and bake them at 180ºC for 15 minutes. Remove and set aside.
For the sauce:
Sauté the other onion and the rest of the spring onion with two tablespoons of oil.

Add the flour and mix together. Then, add the white wine and fish stock and mix together. Add the baked hake fish balls and leave them to cook on a low heat for 15 minutes. Finally, add the chopped aromatic herbs, a pinch of salt, season with lemon zest and serve hot.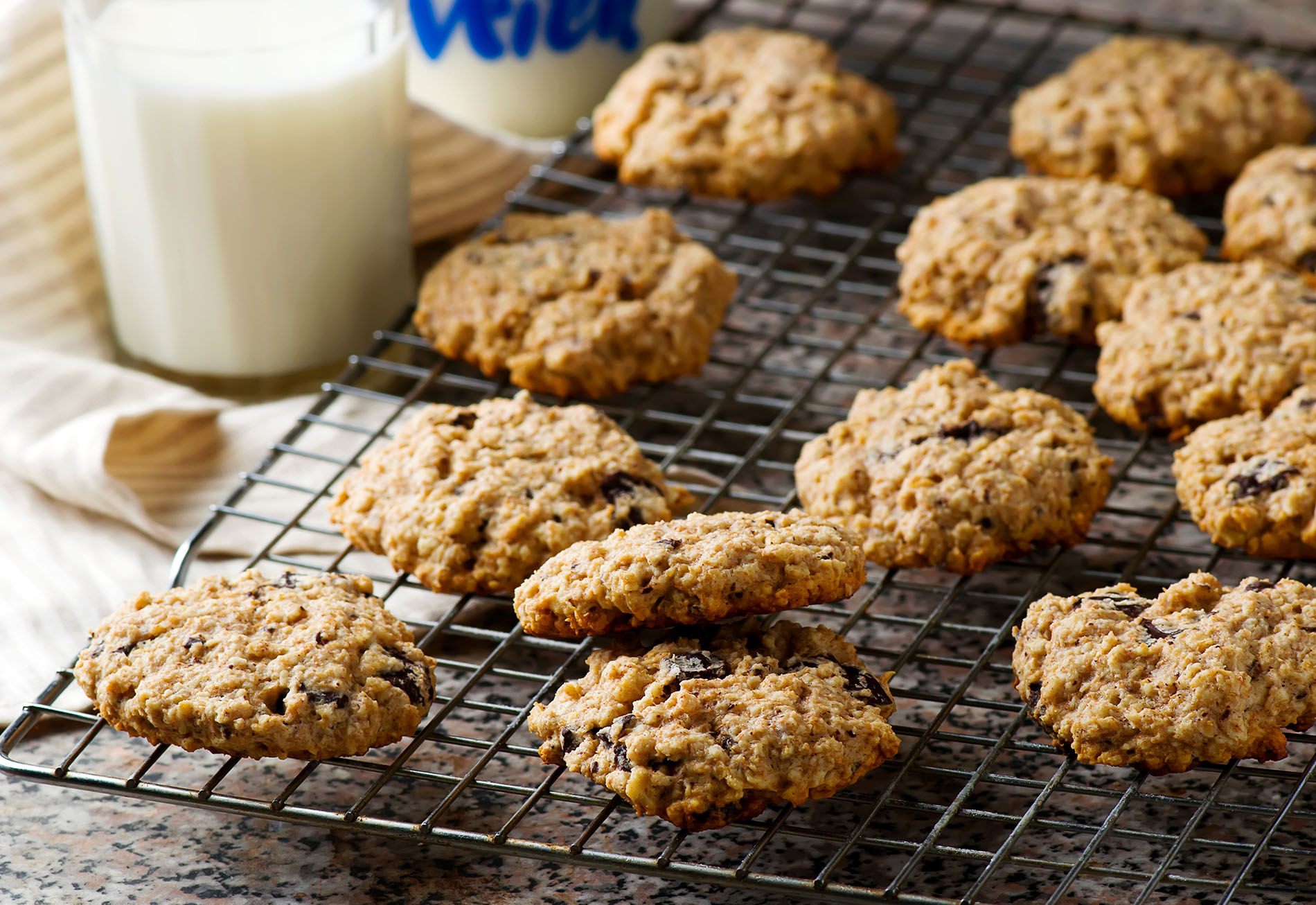 Hazelnut biscuits with rolled oats and cococut
Ingredients (25 units)
- 40 g rolled oats
- 85 g baking flour
- 85 g grated coconut
- 45 g toasted hazelnuts
- 50 ml extra virgin olive oil
- 40 g raw cane sugar
- 35 g honey
- 1 teaspoon bicarbonate of soda
- Vanilla essence
- Salt
Method
Preheat the fan oven to 180ºC and prepare two or three trays with baking paper or silicon sheets. Roast the hazelnuts in an oil-free frying pan, making sure they don't burn, until they turn colour and their aroma is noticeable. Wrap them in a clean cloth, rub them to remove the skin (it doesn't matter if all of the skin doesn't come off) and chop them using a knife.
Mix the flour with the rolled oats, coconut and salt in a large bowl.

Add the hazelnuts, mix well and form a hole in the middle. Mix the oil with the raw cane sugar, honey and vanilla essence in a saucepan.
One everything is mixed together, add the bicarbonate and stir until you get a golden foam. Pour it onto the dry ingredients and mix together until you get a homogeneous and sticky dough.
Take small portions which are the size of a walnut (more or less), form small balls with your hands and spread them onto the trays, leaving a few centimetres between them. Flatten them a little.
Bake one tray at a time for 12-15 minutes, until they turn golden. Leave them to harden a little out of the oven and transfer them to a cooling rack until they are completely cool. Store them in an airtight container when they are completely cool.
Nutritional information per unit