9 tips for saving on shopping
Have you tried organising your weekly meal plan? By doing this you can save on shopping and on time. As well as getting the shopping that you really need.


on today's menu
26 August 2020
Share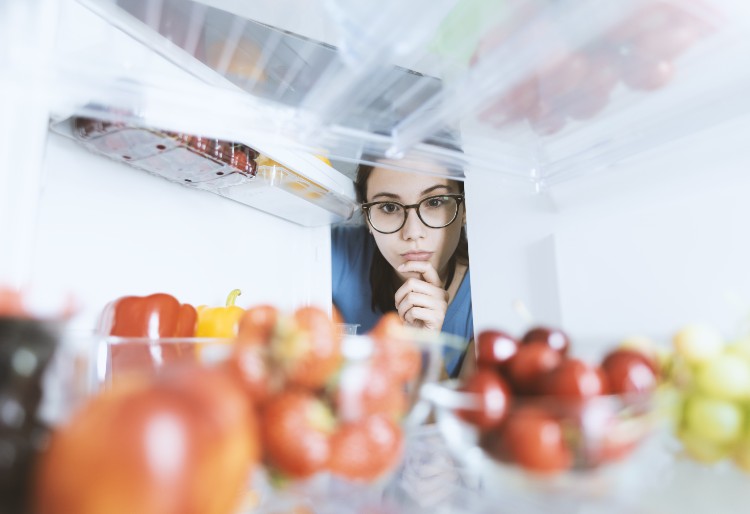 Thinking up low-cost dishes without losing their nutritional value, flavour, variety and respect for our environment may seem like an almost impossible task. It can be complicated to think about how to make your daily meal plan be healthy, appealing, go further and enable you to save money on your shopping basket. This is not an easy task. It requires a flexible level of organisation and a sharpening of your gastronomic ingenuity, starting with simple products.


How to save by organising a weekly meal plan
Check the fridge, the freezer and the larder; with this information in hand, think about recipes in which you can use the fruit and vegetables you have, the foods that have been in the freezer for some time and the tinned products that are close to their sell by date. Check out the personalised and weekly offers at the supermarket. And with all this information to hand, prepare a shopping list. This is an important tool for saving time at the supermarket and avoiding taking home additional food which will increase the price of your meals.

2. Buy with a view to generic dishes that can be adapted easily by changes to some of their ingredients. Legumes, whole cereals that are easy to find are versatile when cooking and give you a certain amount of leeway when creating new dishes.

3. Also, legume dishes will go further, as when cooked they will absorb water, increase their volume and have a more filling effect.

4. Choose seasonal fruits and vegetables. Remember that they are grown in much large quantities than those from greenhouses, which makes their prices more accessible. The have high nutritional value, intense flavours and they contribute to the local economy.

5. Make the most of the side dishes in recipes that contain protein as the main ingredient. In this way, you can "stretch" the recipes and reduce your consumption, which can often be more than you need.

6. Assess prices according to the weight of the fresh produce. That way, you can truly compare one food to another. Don't buy "by eye", that is, don't be guided by a subjective estimate of size without reading the label.

7. Make the most of meal leftovers. Recipes for leftovers help to avoid food waste, which is something we need to be aware of.

8. Dry bread is not just dry bread: it can be the morning toast, French toast, a pudding, croutons or breadcrumbs.

9. Avoid prepared or packaged foods.
Remember that the cheapest is not always the most suitable. Saving money also means knowing how to shop.
Potato salad, gherkins and egg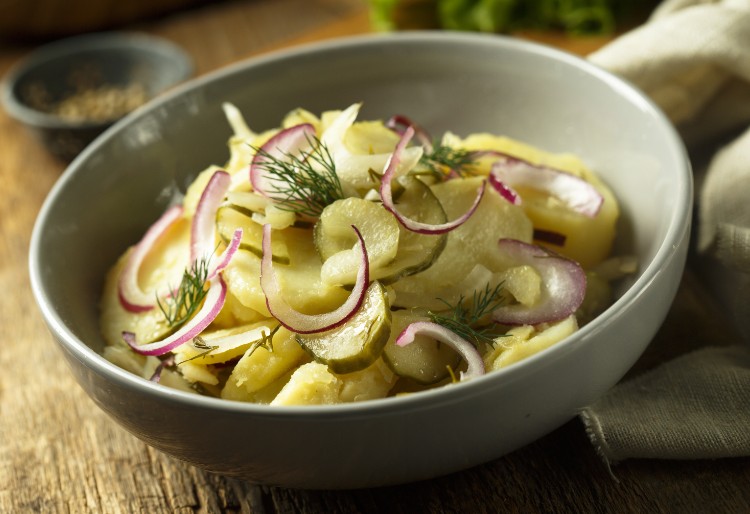 Ingredients (4 persons)

- 500 g potatoes
- 300 g cucumber
- 120 g onion
- 80 g pickled gherkins
- 10 g chopped parsley
- 40 ml extra virgin olive oil
- 10 ml balsamic vinegar
- 4 eggs
- 20 black olives
- Salt
- Pepper
Instructions:
1. Boil the potatoes in their skins for around 25-30 minutes. When they are ready, peel them and cut into medium-sized pieces.
2. While hot, mix them with the onion, chopped into strips, and dress with oil, balsamic vinegar, salt and pepper to taste. Let it cool to room temperature and then put in the fridge until it is cold.
3. Meanwhile, boil the eggs for nine minutes, cool and peel them. Chop two of the eggs and add to the potatoes, along with the pickles, the cucumber, cut into small pieces, and half of the parsley.
4. Serve with the rest of the eggs cut into segments, the remaining parsley, the olives and adjust the salt, pepper and oil.


Vegetarian lentil moussaka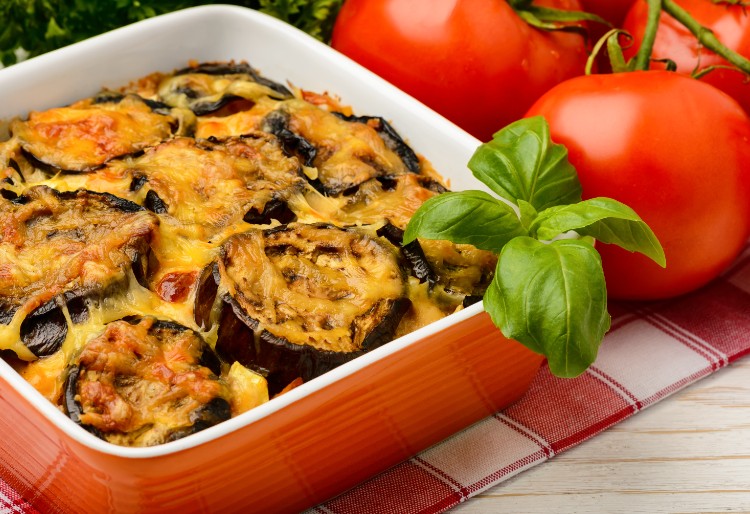 Ingredients (2 persons)
- 400 g squash, peeled and cubed
- 400 g tomatoes, fresh, chopped
- 240 g aubergine, cut into slices
- 150 g brown lentils
- 120 g white onion, finely chopped
- 80 g celery, cut into small cubes
- 5 g dried oregano
- 1 garlic clove, finely chopped
- 1 bay leaf
- 60 ml red wine
Bechamel Sauce:
- 60 g Feta cheese, crumbled
- 50 g Parmesan cheese, grated
- 40 g butter
- 40 g wheat flour
- 1 g ground nutmeg
- 350 ml semi-skimmed milk
- 40 ml extra virgin olive oil
- 1 egg, lightly beaten
- Salt and ground black pepper


Instructions:
1. Place the lentils in a container with cold water to hydrate. Pre-heat the oven to 200ºC, top and bottom, and prepare two oven trays by greasing them with a little oil.

2. On a low heat, put oil into a saucepan and cook the onion with the celery and a pinch of salt. Add the garlic and cook for 5 minutes.
3. Drain the lentils, rinse them well, and add them to the saucepan with the bay leaf and the tomato. Season, add the oregano and the wine and let the alcohol evaporate. Cover with around 150-200 ml of water, lower the heat, and cook for around 25-30 minutes until the lentils are cooked. Consistency should be creamy, as it is the filling for the moussaka.
4. Spread the cubed squash on one of the trays and the aubergine slices on the other. Season both trays and bake for 20 minutes, turn the vegetables over half way through cooking.
5. To prepare the béchamel sauce, melt the butter in a frying pan, add the flour and stir quickly on a medium heat. When it is golden, remove from the heat and add the milk while stirring continuously. When all the milk is added, return to the heat and cook until it thickens, still stirring continuously. Add the nutmeg, black pepper and almost all of the Parmesan cheese. Remove from the heat, let it cool a little and add the beaten egg and stir thoroughly.


Banana, nectarine and green tea ice cream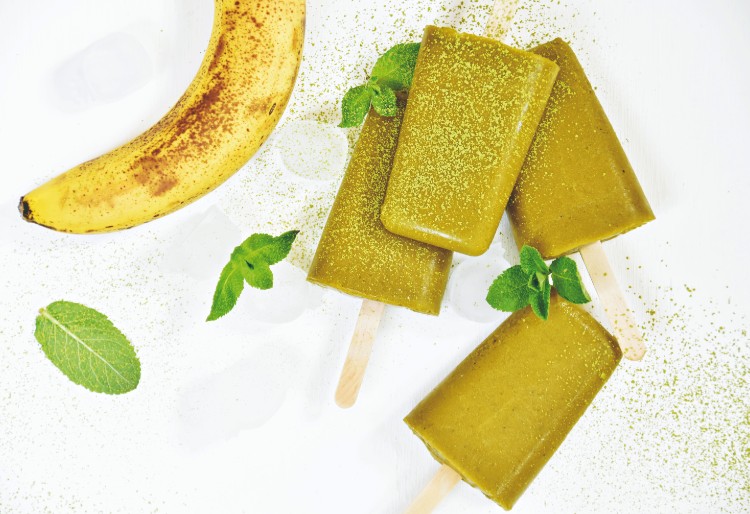 Ingredients (6 servings)
- 6 ripe nectarines with skin on, washed and chopped
- 1 ripe banana
- 100 ml green tea, cold
- 20 ml lemon juice
- 5-10 drops of stevia
Instructions:
1. Place all the ingredients in the food processor cup and blend. Share out the mixture between ice-lolly moulds and put in the freezer for at least 3 hours.