Simple Christmas recipes to surprise your family
Christmas is just around the corner and this year it's your first time to host. How can you make everyone feel comfortable and leave them with a good taste in their mouth? We'll give you the best Christmas recipes to be the perfect host and surprise your guests.


on today's menu
28 November 2019
Share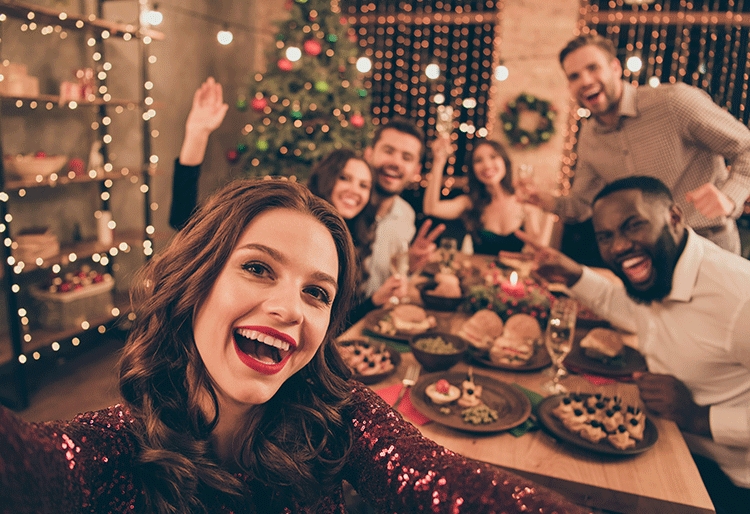 Although you're very worried about the menu, this isn't everything. What's also important are the details which can make this meal or dinner a unique and unforgettable moment, making your home the ideal place to spend the holidays.

To face up to this challenge, it's important to organise. Making a list with several categories will allow you to follow an order: appetisers, entrée, main course, dessert, drinks and decoration.

Regarding the choice of recipes, it's best not to improvise, or experiment with the food. Before you start cooking, it's essential that you read the recipe carefully and set the ingredients out so you can see if you've forgotten any and if you have enough of the ones which aren't usually in your cupboard. If there are children, it's important that they can feel involved in the dinner and that the menu is suitable for them.

It's important that you enjoy the celebration with the rest of your guests. Keep in mind that nobody likes sitting at a table where the host spends most of the party making trips to the kitchen.

After the appetisers, you can start with a hot entrée, such as cider pumpkin soup with rocket and hazelnuts. Remember to put bread, salt and pepper on the table, even if you think the food doesn't need it, in deference to your guests.

It's time to present the main course. Remember that opting for expensive ideas isn't always the solution. You can find cheap and simple variants, such as sea bass instead of hake or round beef tenderloin, which deserve to have a place at the Christmas table.
Spring chickens with honey, mustard and raisins make an attractive alternative. Their meat, low-fat, juicy and tender, more so than other meats, make them more appreciated every day and with many gastronomic possibilities.

And finally, the dessert: a mango tiramisu, which your guests will remember for a long time.


Decoration tips:
• If you don't have all the same chairs for your diners, you can mix them and then decorate them all with a fir and eucalyptus bouquet.
• The same goes for cutlery - combine pieces of different cutlery if you don't have the same for everyone. This will give the table a personal and fun touch.
• For children, you can put their name on a little piece of wood to indicate where they're sitting or decorate their plate with felt Christmas figures.
• Vases with eucalyptus, lavender and heather are a simple and cheap option which will also give the room an aromatic touch.
Cider Pumpkin souo with rocket and hazelnut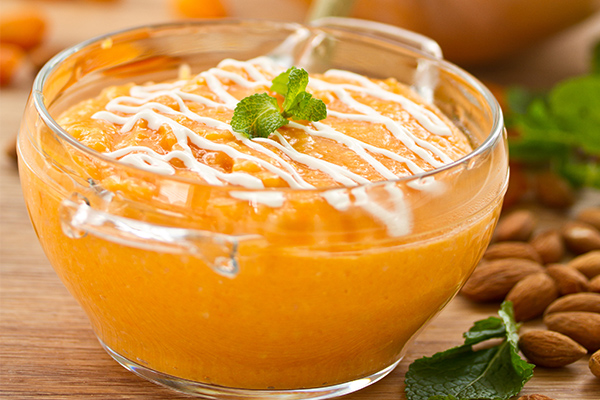 Ingredients (4 people)
- 700 g pumpkin peeled and chopped without seeds
- 100 g sweet onion
- 2 g de fresh peeled ginger
- 120 g white turnip
- 120 g potato
- 350 ml dry cider
- 400 ml homemade vegetable stock
- 1 bay leaf
- 50 g rocket
- 10 g hazelnuts
- 1 g ground turmeric
- 1 g ground cumin
- 40 g extra virgin olive oil
- Ground black pepper
- Salt
Method:
1. Peel and chop the sweet onion. Cut the peeled pumpkin, turnip and potato into cubes. Heat a little olive oil in a pot or casserole dish and poach the onion over a medium heat for a few minutes. Add the peeled and chopped ginger.
2. Then add the pumpkin, turnip and potato, lightly season with salt, pepper, cumin and turmeric. Cover with the cider, let it cook for 3 minutes and add the broth. Add the bay leaf, bring to a boil, cover and simmer over medium-low heat for about 20 minutes.
3. Remove the bay leaf and combine with a blender, adjusting the liquid level as needed. Add salt to taste and another dash of black pepper. Peel some hazelnuts, lightly place them in an ungreased pan and chop them into large pieces.
4. Serve the pumpkin soup in individual bowls and accompany it with the rocket sprouts and hazelnuts.




Spring Chickens with honey, mustard and raisins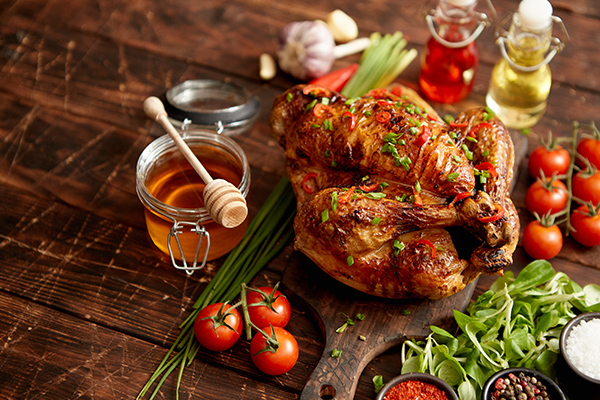 Ingredients (2 people)
- 400 g spring chickens
- 100 g Iberian bacon
- 100 g Corinth raisins
- 40 ml extra virgin olive oil
- 50 mlhoney
- 20 g wholegrain mustard
- 20 cc Pedro Ximénez
- 50 ml water
- Salt and pepper, to taste


Method:
1. Clean the chickens of any fat and feathers. Then chop the bacon into small cubes and place the raisins into a bowl of water for about a minute, to hydrate them quickly. Combine the bacon with the raisins and stuff it into the salted and peppered chickens. Preheat the oven to 180º with top and bottom heat.

2. In a refractory dish pour half the oil, place the stuffed chickens in it, and set aside. In a bowl mix the honey, mustard, Pedro Ximénez and the rest of the oil, and pour over the chickens. Bake for 40 minutes, adding part of the 50 millilitres of reserved water if they are starting to dry out.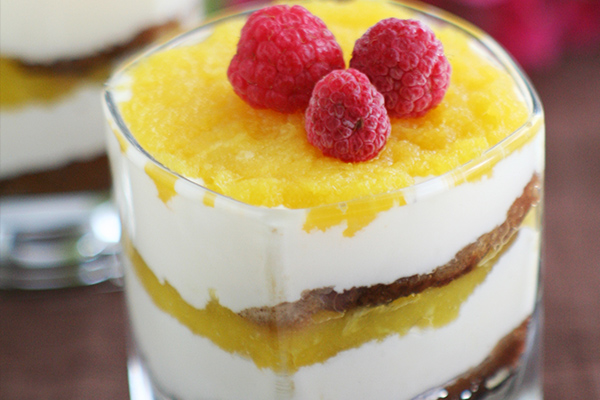 Ingredients (4 people)
- 250 g mango
- 200 g Greek yoghurt
- 80 g sponge cake
- 300 g mascarpone
- Coffee to taste
- 10 g pure cocoa powder
Method
1. In a bowl mix the Greek yoghurt with the mascarpone. Beat with a whisk until you get an even cream. Once the cream is made, let it rest in the fridge for about 5 minutes.
2. While the cream is resting, cut the sides of the mango and make marks forming a grid to cut its flesh into small squares. At the same time, prepare the glasses to serve the dessert in and place a layer of biscuits on the bottom of each one.
3. With a brush, moisten the biscuits with black coffee and remove the cream from the fridge to put the first layer in the glasses. It's important that you do this with a teaspoon so that it doesn't stain the edges of the glass, since the effect of the layers is very colourful.
4. On the layer of cookies place, successively, layers of mascarpone cream and pieces of mango, alternating over and over. Finish with a layer of mascarpone and sprinkle with crushed biscuits, to give it a little crunch, and with cocoa powder.