Snacks are for the summer
Take note of the best snacks for hot days and which drinks to accompany them with. Enjoy them and have a snack each day!


on today's menu
Share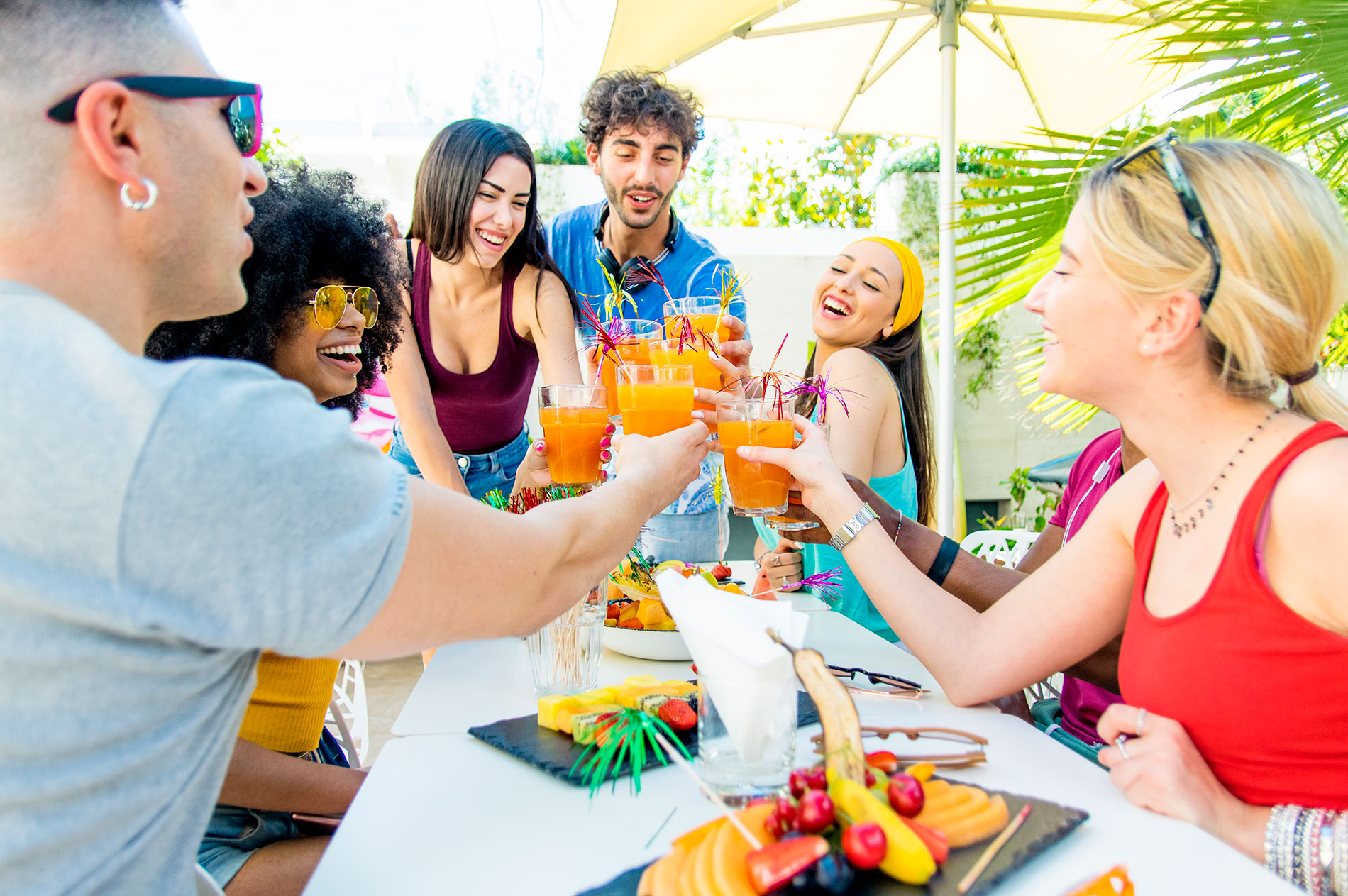 If you had to think about a moment of relaxation and enjoyment to share with friends, family, work colleagues or, why not, just on your own, there's little doubt that you would think about a time for snacks. Add to this the good weather at the end of spring and beginning of the summer and things begin to get interesting.
The secret of a good snack is a combination of small bite-sized pieces of a sufficient size to not fill you up too much, accompanied by a white or red vermouth, a beer or a glass of wine. In other words, eating small portions of food accompanied by a drink.
But not everything is suitable for a small snack. The ideal would be to avoid very processed products and to choose those which are healthier. Vegetables, cheeses, the indispensable potato, olives or seafood are some examples. They can be eaten as they are or they can be used to create more elaborate recipes that will make us enjoy the moment even more.
Although there are many snacks that are common throughout most of the country, with small differences between them, the latest trends in creative and independent cookery have brought new treats to the "snack time" scenario. It is almost impossible to resist savouring the following combinations, along with a cool drink. Take note.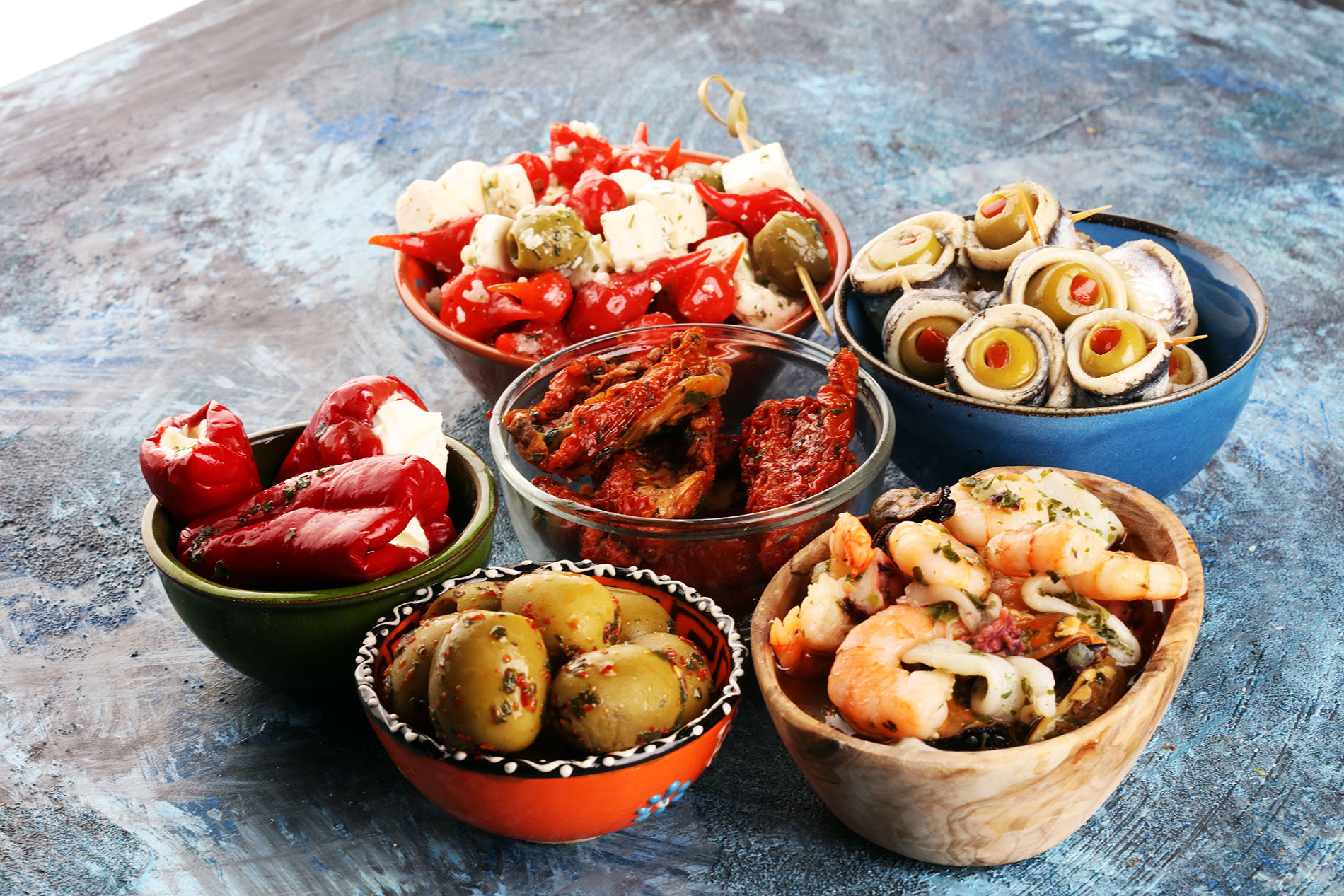 PEPPERS WITH OLIVES AND ANCHOVIES
Ingredients (6 persons)
- 2 garlic heads
- 6 anchovy fillets
- 30 g roasted peppers
- 2 sprigs of fresh thyme
- 3 eggs
- 6 olives, stoned
- 60 g bread slices, toasted
- 30 ml extra virgin olive oil
- 20 g sugar
Instructions
1. Firstly, sweeten the peppers. Cut the garlic into thin slices and fry them in oil until golden. Add the peppers and the sugar. Leave them on a low heat to caramelise for 30 minutes.
2. Then add the thyme. Let it rest for approximately half an hour.
3. Meanwhile, boil the eggs with a pinch of salt for around 8 minutes; then cut them into 3 pieces.
4. Lastly, arrange the slices of bread on a dish and spread some of the caramelised sauce on them. Add the eggs, peppers the rolled up anchovies and the olives on top of the bread.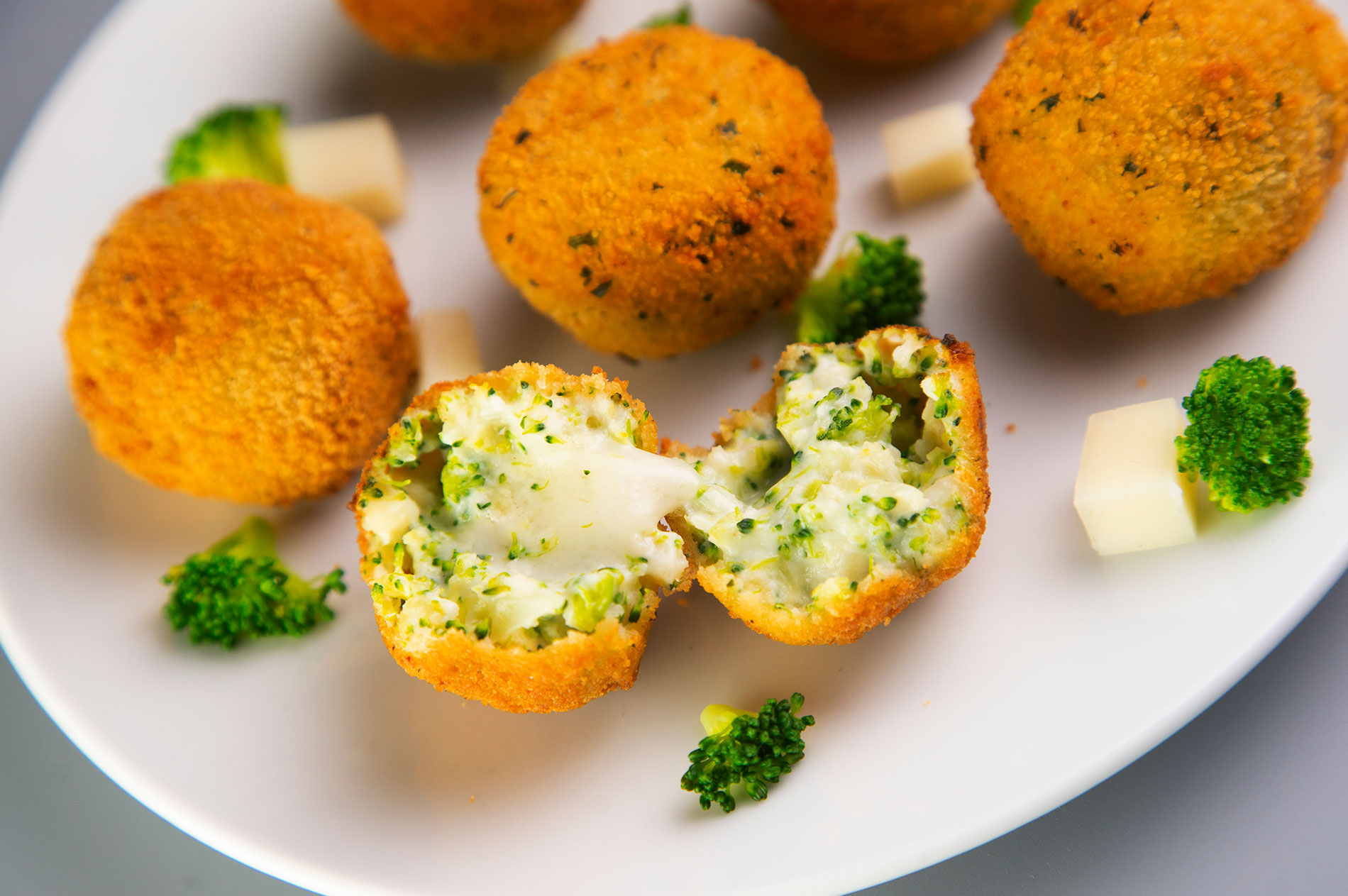 BLUE CHEESE AND SPINACH CROQUETTES
Ingredients (4 persons)
- 200 ml skimmed milk
- 200 g fresh spinach
- 60 g butter
- 20 g wheat flour
- 50 g blue cheese
- 2 eggs
- 40 g breadcrumbs
Instructions
1. Cook the spinach for 5 minutes in salted water. Drain it thoroughly in a colander for a few minutes so that it releases all the liquid. Once it has drained thoroughly, melt the butter in a frying pan on the heat. Lightly cook the spinach in the butter, add the flour and stir until it has been absorbed by the spinach. Then add the milk a little at a time, letting the spinach absorb it at each stage before adding any more.
2. Stir and add milk until you have a green béchamel sauce that is thick enough to shape into croquettes. Stir in the blue cheese so that it melts with the residual heat and spreads well throughout the mixture.
3. Once the cheese has dissolved, let the croquette mixture rest in a dish until it cools.
4. To shape the croquettes, create balls with the mixture and cover them, firstly with beaten egg and then with the breadcrumbs. Fry them immediately in very hot olive oil for a few minutes on each side until they begin to take on a golden colour. Drain them on kitchen paper and serve.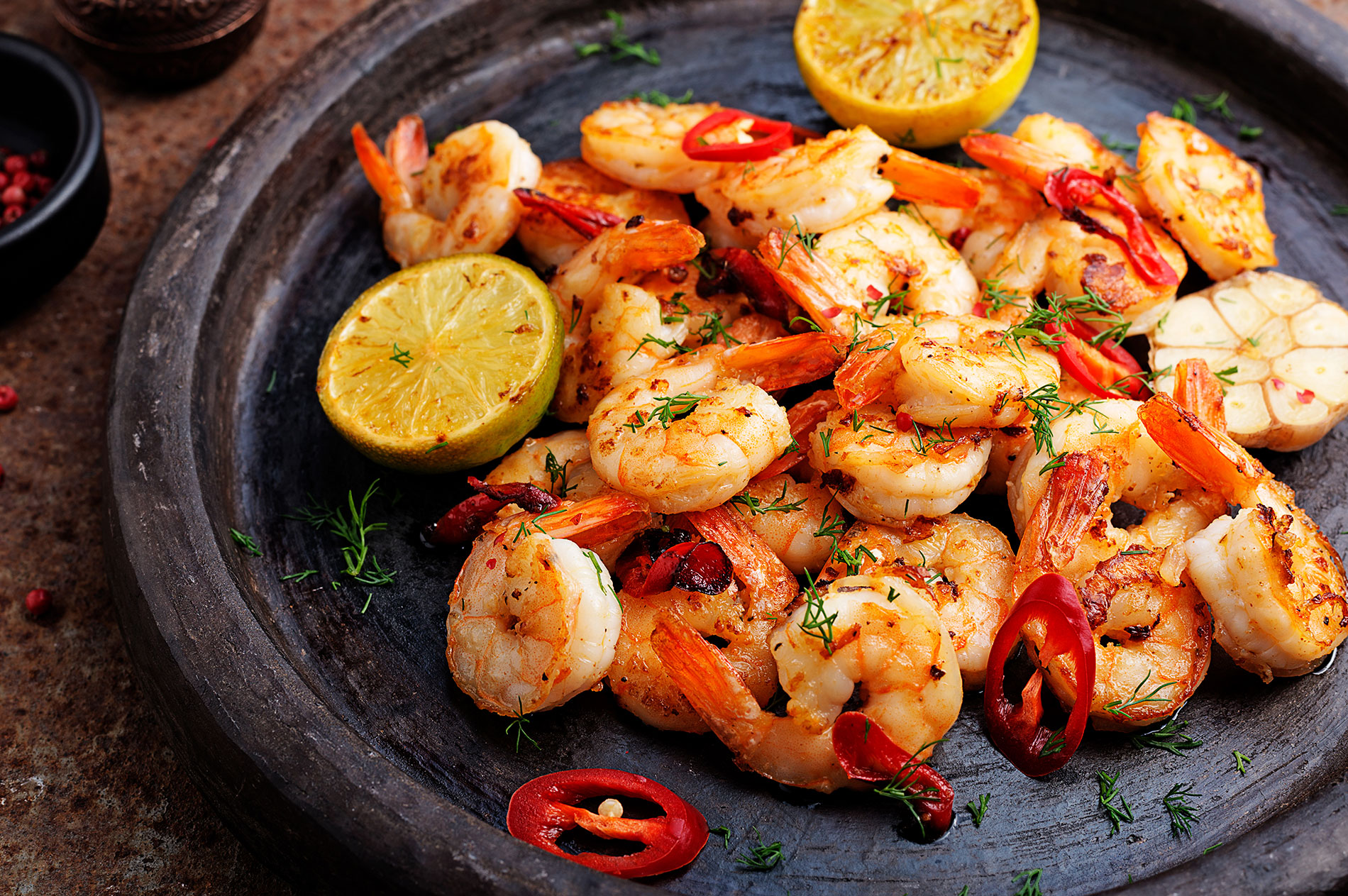 KING PRAWNS WITH HOT GREEN SAUCE
Ingredients (4 persons)
- 16 king prawns


For the hot green sauce:
- 1 garlic clove
- ½ handful of chopped coriander
- 1 pinch of ground cumin
- 40 ml olive oil
- 5 ml wine vinegar
- Salt
Instructions
For the hot green sauce
1. Using a pestle and mortar, crush the garlic, coriander, cumin, and salt. When it is all thoroughly crushed, add the olive oil and a few drops of vinegar.
2.Check for salt and vinegar, the sauce should be slightly acidic.
3.Keep in a cool place.
For the king prawns
1. Remove the heads.
2. Heat up a tablespoonful of extra virgin olive oil in a frying pan and sauté the prawns for two minutes on each side.
3. Add a few spoonfuls of hot green sauce and serve on a plate with a slice of fresh lime.